Finding the Right Overactive Bladder Care: 7 Tips for Women of Color
Was this helpful?
OAB affects almost 23.3% of the U.S. population, and Women of Color may experience additional obstacles when seeking care due to racial disparities in healthcare. However, treatment for OAB is available and can help relieve your symptoms. Talking with a culturally competent doctor can help you find treatment and relief from OAB.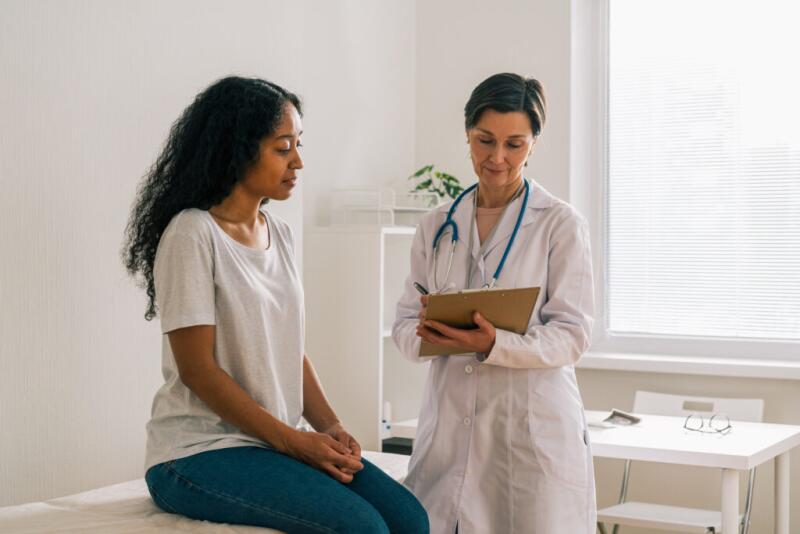 Overactive bladder (OAB) for Women of Color can seem like a minor inconvenience or a condition that just happens with age. However, the American Urological Association says OAB isn't normal nor is it a part of aging or womanhood. More important, OAB symptoms, even minor ones, can be treated.
According to a 2020 study, 5­–6% of Asians and African Americans seek care for overactive bladder symptoms versus 70% of white people. There is limited research into why People of Color do not seek treatment. However, a 2021 study says racial disparities in healthcare, lack of access to health insurance, and socioeconomic factors may create barriers to finding care.
Still, there are resources for Women of Color regarding OAB, the symptoms, and treatment options. This article will offer tips for Women of Color with OAB.
According to a 2002 study, People of Color are generally more satisfied with their care when they can choose a doctor of their own race or ethnicity. Also, a culturally competent doctor with experience treating People of Color will understand how racial and cultural background plays a role in your healthcare journey. For Women of Color, finding culturally competent care could make you feel more confident about asking questions and finding treatment. To find a culturally competent doctor, consider reaching out to friends or family for recommendations, your health insurance provider, or searching online using websites such as Hued, the National Hispanic Medical Association, or the Black Urologists Society.
It is important that you feel heard during your doctor's appointments and that you walk away with clarity about your treatment options. Consider asking for a language interpreter or bring a relative if that makes you feel more confident about interacting with the doctor. Taking care of your health and well-being is an ongoing process, and you deserve medical attention that makes you feel at ease and ready to thrive.
A record of your symptoms and triggers can help you and your doctor find the best treatment option. You can write down how often you need to use the bathroom, what food or drinks you consume before using the bathroom, and the color of your urine. Also, while you're at the doctor's office, you'll want to carefully review any documentation, including any bills you receive. Comparing the bills with what your insurance company should cover will help you spot any discrepancies.
If you have a negative experience with a doctor or don't feel comfortable discussing your health, there are other medical professionals you can consider. Your healthcare appointments should not be a cause for distress.If you want to make a formal complaint, talk with your health insurance or reach out to a patient advisory council, which will tell you about your options.
Incorporate Kegel exercises (tightening and holding pelvic muscles) into your daily routine or seek a physical therapist for additional treatment. Avoid alcohol, soft drinks, or caffeinated drinks like coffee or
tea, which can irritate the bladder. Also, if you can, consider adding fresh foods such as whole grains, fruits, and vegetables into your diet.
There are many tests for OAB to check bladder pressure and flow. A doctor may request a type of bladder scan to check and see how much urine is left in your bladder after voiding. A Cystoscopy may also be ordered. A cystoscopy is a simple in-office procedure that involves inserting a tiny, flexible tube with camera to look inside your bladder for structural issues. Once these tests are complete, you may undergo physical therapy, bladder training (creating a schedule for bathroom visits), or receive medications. Consider asking your healthcare professional about additional treatment options if you are not satisfied.
Managing OAB symptoms can be uncomfortable, but finding culturally competent care, making lifestyle changes, and following your doctor's recommendations can help you feel better. There's no reason to blame yourself for OAB, and you're not alone. A positive outlook and being proactive about your health and wellness as a Woman of Color can help you find the treatment you deserve.
OAB affects almost 23.3% of the U.S. population, and Women of Color may experience additional obstacles when seeking care. However, treatment for OAB and to ease your symptoms is available. Talk with your doctor about how OAB interferes with your daily activities and ask about the best treatment for you.
Was this helpful?