Why People with Weakened Immune Systems Should Get the Shingles Vaccine
Was this helpful?
While doctors don't know exactly why some people develop shingles, it's thought that a weakened immune system could be one factor that increases the risk. That's why individuals older than 50 years, as well as adults who are immunocompromised due to a disease or medication, are recommended to receive the shingles vaccine. If you're wondering whether you should get the new shingles vaccine, ask your doctor. Your doctor knows your health history and can let you know whether it would benefit you to receive it.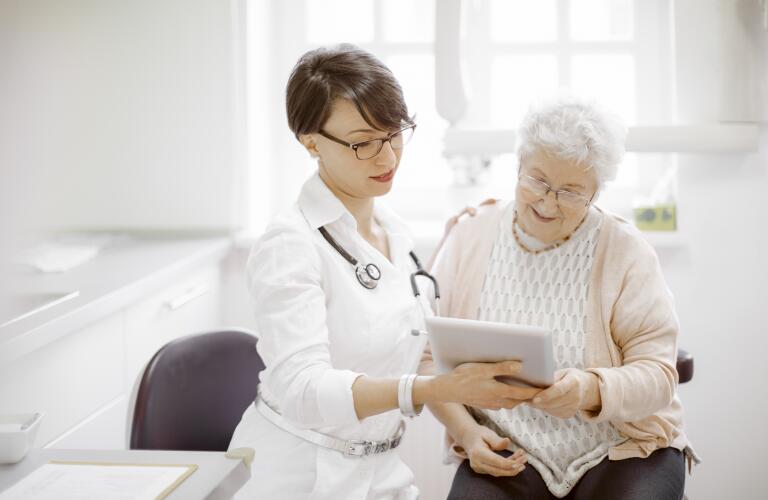 Recently, the United States Food and Drug Administration (FDA) approved Shingrix, a new vaccine that protects against shingles. Shingles occurs because of a virus, and it usually produces a painful rash in adults. While shingles isn't life threatening, it can severely impact your quality of life, especially if you have a weakened immune system.
The same virus that causes chickenpox — the varicella-zoster virus — is also responsible for shingles. After a chickenpox outbreak, the virus can lay dormant inside nerves near the brain and spinal cord. After many years, the virus can reactivate. If this occurs, a person develops shingles. However, not everyone who's had chickenpox will also develop shingles.
As we age, our immune systems naturally get weaker over time. This can mean you're more likely to be affected by infections like shingles. Indeed, the condition is more common in immunocompromised adults. The risk factors for shingles are all tied to events which may weaken the immune system, such as:
Being older than 50: The risk of shingles increases with age as the immune system gets weaker.
Having certain diseases: Some diseases, like HIV/AIDS and cancer, actively weaken your immune system and can increase the risk of shingles.
Taking certain medications: Some medications are designed to lower your body's immune system response, leaving your body open to more infections.
Undergoing cancer treatment: Chemotherapy and radiation therapy both lower your immune system's response to diseases like shingles.
Shingles usually appears as a stripe of blisters wrapping around one side of the torso. However, shingles can also develop around one eye or on one side of the face. Symptoms of shingles include:
fluid-filled blisters that break open and crust over
itching
pain, burning, numbness, or tingling
red rash that appears a few days after the pain begins
sensitivity to touch
Left untreated, shingles may cause serious problems like skin infections, neurological symptoms, and vision loss. A specific condition known as postherpetic neuralgia is also more likely. People with postherpetic neuralgia have pain that continues well after the signs of shingles have cleared.
Getting the new shingles vaccine is the only effective way to prevent shingles and complications like postherpetic neuralgia. The vaccine is not a live virus. Instead, it works by starting a targeted immune system response that clears the viral infection. It's recommended that all adults age 50 or older get two doses of the vaccine. Two doses are also recommended for adults older than 18 years who are at increased risk of shingles due to a weakened immune system caused by a disease or therapy. Usually, these doses are given between two and six months apart from each other.
You can still get the shingles vaccine even if you've had shingles in the past. According to the Centers for Disease Control and Prevention (CDC), the shingles vaccine is 97% effective in preventing shingles in adults aged 50 to 69 years who received two doses of the vaccine. For people over age 70, two doses were found to be 91% effective.
The protection the vaccine offers also extends for several years beyond your vaccination. This is especially important since the risk of shingles and its complications increases the older you get.
The shingles vaccine has been found to be safe, but like any vaccine, it may cause side effects. Most people tolerate the vaccine extremely well, but you should check with your doctor if you've ever had a reaction to a vaccine. Most commonly, vaccinated individuals reported soreness at the injection site. Some also had mild to moderate pain. Other common side effects include:
fatigue
fever
headache
muscle pain
nausea
shivering
stomach pain
If you're older or immunocompromised, getting the new shingles vaccine is a good idea. If you have any concerns about the vaccine, bring them up with your doctor. Your doctor can discuss all possible side effects and let you know how beneficial the new vaccine could be for your health.
Was this helpful?