Myocarditis and COVID Vaccines: What to Know
Was this helpful?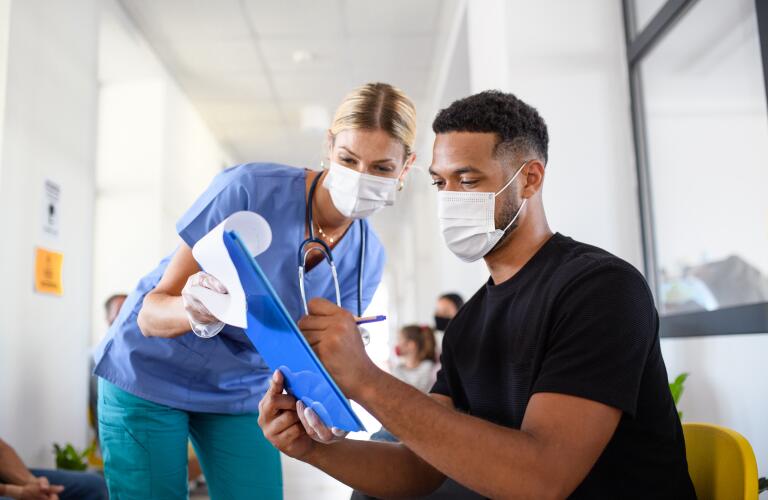 Reports of myocarditis and pericarditis following vaccination with either of the mRNA vaccines (Pfizer or Moderna) are alarming, especially for recently vaccinated individuals and those planning or thinking about getting vaccinated against COVID-19.
Here's what to know about post-vaccine myocarditis and whom it typically affects; myocarditis symptoms, causes and treatment; what the Centers for Disease Control and Prevention (CDC) is doing about it; and what to consider in weighing the benefits vs. risks of COVID vaccination.
The nation's Vaccine Adverse Event Reporting System (VAERS) has received increasing reports of two heart conditions following some COVID vaccinations. One is myocarditis, which is inflammation of the heart (myocardium). The other is pericarditis, inflammation of the membrane (pericardium) surrounding the heart. VAERS is open to patients, parents and providers. It receives reports of adverse events; a team of healthcare professionals verifies select reports to investigate and understand if they are due to vaccination.
Inflammation after vaccination has been reported with both of the two mRNA COVID-19 vaccines, one made by Pfizer-BioNTech and another by Moderna. There has not been an increase in myocarditis reports following the Johnson & Johnson (J&J) COVID vaccine.
The increase in myocarditis reports began in April 2021, nearly five months after the mRNA vaccines were authorized for emergency use (ages 16 and older) to fight the pandemic. The Pfizer COVID-19 vaccine was authorized for those aged 12 to 15 years in May 2021.
Compared to the number of mRNA COVID vaccine doses administered, the risk of myocarditis is low. Of reports in younger people through May 29, 2021, the rate of confirmed myocarditis was 16 cases per million second vaccine doses administered.
As of June 21, 2021, the CDC confirmed 393 cases of either myocarditis or pericarditis in people ages 30 years or younger after receiving a Pfizer-BioNTech or Moderna vaccine.
Most cases of myocarditis have been mild, occurring in adolescent males and young adults age 16 or older, and more often after the second vs. first vaccine dose. Symptoms of myocarditis/pericarditis typically started less than a week after COVID vaccination. Most people who have already received care for myocarditis or pericarditis recovered with medication and rest.
The CDC and other groups are closely monitoring the reports and medical records of the people affected, to learn more about the link between COVID mRNA vaccination and myocarditis/pericarditis.
Both myocarditis and pericarditis are typically the result of your body's immune response to a viral infection. Bacterial infections and other medical conditions can cause it as well, such as lupus, cancer, inflammatory bowel disease, and certain drugs. Both conditions may develop slowly or suddenly. Mild inflammation may not cause noticeable symptoms.
In some cases, treatment is not necessary and inflammation will go away with time and rest. Hospital care may be necessary, but the prognosis is good in most cases. Treatments include medicines that decrease inflammation and treat the underlying cause, if known. Additional medications and surgery may be necessary if complications develop, such as heart valve damage.
Talk to your doctor if you notice any of these symptoms:
Myocarditis signs and symptoms include:
Pericarditis signs and symptoms include:
Chest pain, which oftentimes is sharp and worse with breathing

Difficulty breathing or shortness of breath

Electrocardiogram (EKG, ECG) abnormalities

Elevated cardiac enzymes

Racing heart

The CDC remains steadfast in recommending COVID-19 vaccination for everyone 12 years of age and older, and to get the full dose (two shots of Pfizer or Moderna vaccine and one shot of the J&J vaccine). The known and potential benefits of vaccination in preventing COVID-19 hospitalizations and death outweigh its known and potential risks.
The known benefit is very good protection against getting COVID-19 or requiring hospitalization for it. Immunity lasts at least six months and protects against COVID-19 variants of concern circulating in the United States, including the Delta variant. Widespread vaccination also has the potential to end the pandemic.
Although myocarditis and pericarditis are serious conditions with potential complications, they are rare and most people respond well to treatment. Officials are also still investigating all reports of side effects, including the medical histories of those reporting these heart conditions. COVID-19 is a potentially life-threatening infection that can be difficult to treat, more so than certain vaccine complications. In a town hall with American Academy of Pediatrics experts, the U.S. Surgeon General, Dr. Vivek H. Murthy, noted that the risk of cardiac complications among adolescents with COVID-19 is greater than the risk of myocarditis after vaccination.
Receiving any vaccine or medical treatment is a personal decision. If you have further questions or concerns about COVID vaccination, consult with your doctor or your child's doctor.
If you or a loved one develops any type of health problem after vaccination, please enter it in the Vaccine Adverse Event Reporting System and seek medical care if necessary.

Was this helpful?