Meningitis
(Meningococcal)

Vaccines: What to Know

Was this helpful?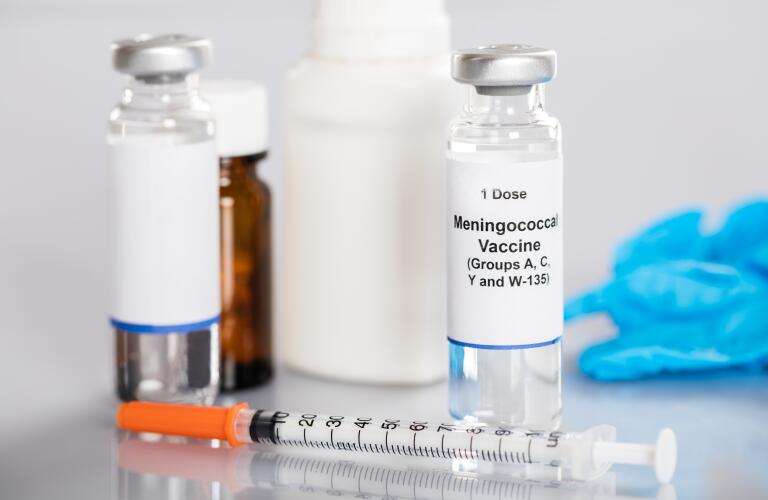 Meningococcal meningitis is a serious bacterial disease that can cause lifelong health complications in the people who survive it. Meningitis, or inflammation of the meninges, can result in brain damage, deafness, and other nervous system problems. Fortunately, most cases of meningococcal meningitis can be prevented simply by getting vaccinated.
The meningococcal form of meningitis is caused by the bacterium Neisseria meningitidis. Multiple strains of this germ cause most of the meningococcal meningitis cases in the United States. These strains, or serotypes, are A, B, C, W and Y.
The meningitis vaccine for meningococcal disease comes in two forms. The meningococcal conjugate vaccine (which may also be called the meningitis A vaccine, brand names Menactra and Menveo) protects against serotypes A, C, W and Y. The serogroup B recombinant vaccine (also called the meningitis B vaccine, brand names Bexsero and Trumenba) protects against serotype B.
All vaccines work the same way: they help your immune system identify threats and fight them off. These meningitis vaccines introduce tiny fragments of specific parts of the meningococcus bacterium to the body. This provokes a strong immune response against the germ if it invades the bloodstream in the future. Your immune system quickly stops the infection before it starts.
Vaccines also are available to fight off two other bacterial causes of meningitis, namely the pneumococcal vaccine for Streptococcus pneumoniae and the Hib vaccine for Haemophilus influenzae type B.
Although both the meningococcal meningitis A and B vaccines contain tiny fragments of N. meningitidis bacteria, you can't contract meningitis from the vaccines. The vaccines don't contain whole, live bacteria. They only include tiny fragments of the germ, such as one of its proteins or a small part of its casing, to help the immune system correctly identify it. Because the vaccines contain only parts of the bacterium, you can't get meningitis from the immunization.
Talk with your doctor about whether you or your children should receive either or both of the meningitis vaccinations. These vaccinations may require booster shots from time to time. Be sure to discuss the timing of booster doses with your doctor because missed boosters can reduce the effectiveness of the vaccination.
In general, the U.S. Centers for Disease Control and Prevention (CDC) recommendations include specific meningococcal vaccination information for babies, children and adults.
Meningococcal Vaccination Guidelines for Babies and Children
Babies and children up to age 10 should be vaccinated with the meningococcal A vaccine if they:
Have a condition called complement component deficiency

Have a damaged spleen or had their spleen removed

Have HIV

Have been exposed to bacterial meningitis

Take a medication called eculizumab (Soliris®), which is a treatment for certain blood disorders
Meningitis Vaccination Guidelines for Preteens and Teens
The CDC recommends all children receive the meningitis A vaccine at age 11 or 12, followed by a booster dose at age 16. If desired, all teens may also receive the meningitis B vaccine between the ages of 16 and 18.
Teens should also receive the meningitis B vaccine if they:
Have a damaged spleen, or if they had their spleen removed
Have been exposed to serogroup B meningitis due to an outbreak in their area

Have complement component deficiency

Take eculizumab
Meningococcal Vaccination Guidelines for Adults
Most adults do not need to be immunized for meningitis because they fall in a low-risk group. But, talk with your doctor about the vaccination if you:
Are a first-year college student living in a dormitory who did not previously receive a meningococcal vaccination or are unsure if you received it

Are a military recruit

Have a damaged spleen or had your spleen removed

Have been exposed to meningitis

Have complement component deficiency

Have HIV

Plan to travel or reside in a country with high meningitis rates

Take eculizumab
Any vaccination can produce side effects, including a severe allergic reaction. Call 911 if you or your child experiences difficulty breathing after any immunization.
Most people tolerate both types of meningococcal meningitis vaccines very well, with few side effects. Any side effects usually go away within a week. Commonly reported side effects include:
Malaise (generally feeling unwell)

Muscle or joint pain

Redness, soreness or mild swelling at the injection site

For generally healthy people, the benefits of the meningitis vaccine far outweigh the discomfort of receiving the immunization. Talk with your doctor about which members of your household should receive the vaccine and when meningococcal booster doses should be given. It's a simple way to protect yourself and your children from meningococcal meningitis.
Was this helpful?