4 Vaccines for People with Compromised Immune Systems
Was this helpful?
Immunocompromised people are vulnerable to viral infections, so keeping up with vaccinations for infections like shingles, COVID-19, influenza, and pneumonia is very important.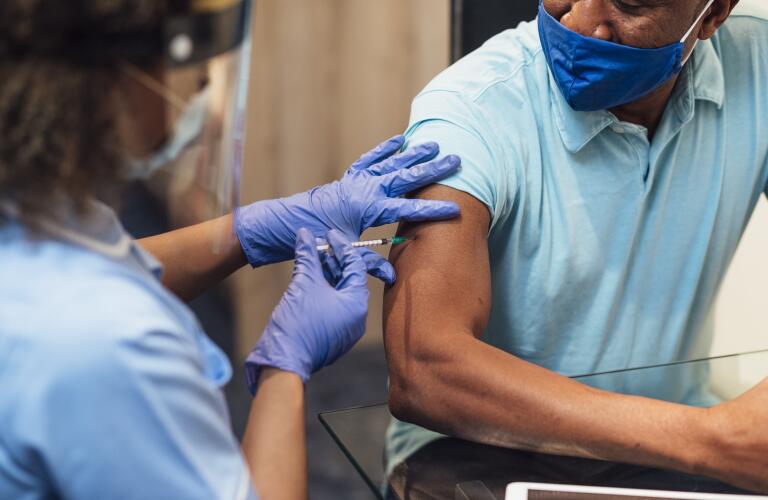 Keeping current with your vaccinations is a standard feature of a good, proactive health strategy. However, for immunocompromised patients, getting a shingles vaccine or other vaccine can raise several questions. You may wonder if, because your immune system is weaker than others', it can respond safely to a vaccine. And would a compromised immune system be able to fight off an infection, even after receiving a vaccine?
However, because immunocompromised individuals are more vulnerable to viral infections, getting vaccinated can be one of the most important steps they take in protecting their health. The key is to keep up with the latest guidelines and talk with your doctors about how the risks and benefits of various vaccines affect you and your specific health concerns.
There are several reasons why a person has a compromised immune system. Certain cancer treatments can lower your immunity temporarily. Immunotherapy is another type of treatment that can diminish the body's immune response. It's used when someone receives an organ transplant or when a person has an autoimmune disease, such as rheumatoid arthritis or multiple sclerosis. And having a condition such as HIV can also leave you with a weakened immune system.
Because there are varied reasons for a person to become immunocompromised, there can't be a one-size-fits-all recommendation for all vaccines. But there are some general vaccination guidelines for people with compromised immune systems. Use these guidelines as the starting point for conversations with your doctors.
Shingles is caused by the varicella zoster virus, the same one that causes chickenpox. It can cause a painful rash, and for some people, the nerve pain can persist long after the skin clears up.
In 2006, the Food and Drug Administration (FDA) approved Zostavax, the first shingles vaccine. It was a live-attenuated vaccine, meaning it contained a small amount of a live varicella zoster virus. Generally, people with severely compromised immune systems should not receive such vaccines, according to the Advisory Committee on Vaccination Practices.
However, a newer, more effective shingles vaccine was developed in recent years. This zoster vaccine (Shingrix) contains no live virus. A 2021 study in the Journal of Infectious Diseases suggests that this new vaccine is safe for immunocompromised people. The Centers for Disease Control and Prevention (CDC) recommends most adults ages 50 and older get two doses of Shingrix, two to six months apart.
Immunocompromised individuals should get a COVID-19 vaccination, according to the CDC, as the coronavirus poses a significant threat to anyone with a compromised immune system. A 2021 report in International Immunopharmacology suggests that because the COVID-19 vaccines are not live-attenuated vaccines, they are safe for most people with compromised immune systems. Researchers also noted that post-vaccination monitoring of these individuals is especially important to ensure a healthy immune response.
Getting an annual flu shot is a more complicated matter for immunocompromised individuals. Research in recent years, including a 2018 study, suggests that people with weakened immune systems should receive a seasonal influenza vaccination because of the severe complications that can develop if they catch the flu. But the American Academy of Allergy, Asthma & Immunology advises that immunocompromised people and those sharing a home with them should get flu shots that do not contain a live attenuated vaccine.
Those with compromised immune systems should consult with their doctors before getting a flu shot.
There are a few different vaccines to help prevent pneumococcal disease, known as pneumonia. The vaccines are recommended for adults over the age of 65 and for younger people with certain medical conditions.
The two main types are the PCV13 and the PPSV23 vaccines. The PPSV23 vaccine is the more widely recommended shot, though the CDC recommends the PCV13 vaccine for people with congenital or acquired immunodeficiency. A 2016 study comparing the two vaccines notes that the PCV13 is both safe and effective for older adults and those with compromised immune systems.
Having a weakened immune system means it's critical that you take vaccine safety seriously. That requires conversations with your doctors as your health changes and as the world's health and medical landscape changes. For example, as you get older, the need for shingles and pneumonia vaccines becomes more important. And as new viruses emerge, it's vital that you take all the necessary precautions to protect yourself. Often that means getting vaccinated and following up with subsequent vaccinations as recommended by your doctor and other medical experts.
Was this helpful?