Finding the Right Doctor for Ulcerative Colitis
Was this helpful?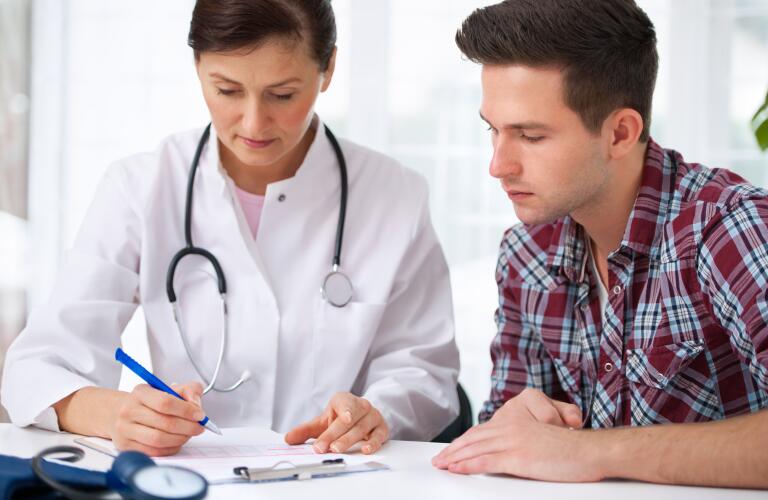 Ulcerative colitis is a chronic inflammatory bowel disease that can cause diarrhea, abdominal pain, dehydration and malnutrition. With appropriate medical treatment, most people with ulcerative colitis are able to experience symptom-free periods of remission and periodic symptom flares, which may require hospitalization or changes to the treatment plan. Ulcerative colitis specialists help patients and their families understand and manage this progressive disease.
An ulcerative colitis specialist is usually a gastroenterologist, or physician who specializes in the diagnosis and treatment of disorders of the stomach and intestines. By knowing how to find a doctor who is best able to perform the necessary diagnostic and therapeutic procedures for ulcerative colitis, you can take the first steps toward effective treatment.
If you are experiencing some of the signs and symptoms of ulcerative colitis (such as diarrhea, abdominal cramping, urgency to defecate, rectal pain, or weight loss), your first appointment should be with your regular healthcare provider. Ideally, this person will already know your medical history and be able to evaluate your symptoms in context. General physicians, including internists and family physicians, are all qualified to perform a full physical exam, including a rectal exam, if necessary.
If, after a conversation and physical examination, your healthcare provider thinks your colon or intestine is a probable source of your symptoms, he or she will probably refer you to a gastroenterologist or colorectal surgeon for a colonoscopy, a medical test that allows healthcare providers to see the inside of your colon.
If you've been diagnosed with ulcerative colitis, you'll need an ulcerative colitis specialist to oversee your care. It may take time to find an effective treatment plan, so you'll want a specialist who listens to you carefully and considers your personal values and goals. You'll also want a specialist who is up-to-date on the latest scientific advances.
If you have a particularly challenging case of ulcerative colitis—one that has failed to respond to common treatments—you may want to look for a gastroenterologist who works at an academic medical center. These physicians are often involved in the latest research and may have access to cutting-edge treatments.
Usually, gastroenterologists oversee the care of patients with ulcerative colitis. Because they specialize in disorders of the digestive system, they are adept at managing symptom flares and have a deep knowledge of the medications typically used to control ulcerative colitis. Gastroenterologists also know ulcerative colitis increases patients' risk of developing colon cancer and can recommend and perform regular colon cancer screening (usually via colonoscopy).
If your symptoms persist or get worse despite medical treatment, your physician may recommend surgery to remove part of or all of your colon. Approximately 30% of people with moderate to severe ulcerative colitis will eventually need surgery. If your doctor thinks surgery may be an option for you, he or she will probably refer you to a colorectal surgeon, a surgeon who regularly performs surgeries involving the colon and rectum.
Because ulcerative colitis can affect nearly every system of the body, you may need to occasionally see other healthcare professionals, including:
Nutritionists or dietitians. Ulcerative colitis affects the body's ability to tolerate foods and absorb nutrients. A nutritionist can help you correct vitamin deficiencies and meet your nutritional needs.
Nurses. Some nurses specialize in helping patients learn how to manage and care for ileostomies, openings in the belly surgically created to allow waste products to drain when the colon and rectum have been removed.
Dermatologists. Occasionally, ulcerative colitis can cause skin rashes. Dermatologists specialize in the care of the skin.
With the right doctor and medical team, you can manage symptoms and live well despite your ulcerative colitis.
Was this helpful?