SOCIAL VOICES

Planning a Wedding with Graves' Disease in the Mix

Was this helpful?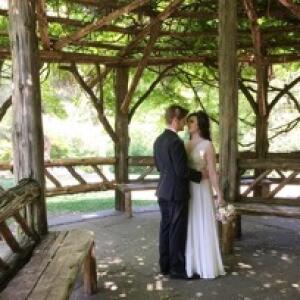 Trigger warning: This article discusses weight gain/loss as a symptom of a serious medical condition.
Receiving a life-altering medical diagnosis is challenging on its own. Add in a major life event and everything surrounding that event can become much more difficult to manage.
My wedding was quaint, intimate, and very personal. My husband and I got married in a quiet corner of Central Park and proceeded to our favorite local restaurant for the reception. Every detail from the invitations (which my husband designed by hand) to the bouquets (which my mother made the night before) were very "us." We disregarded many wedding traditions and focused on the things that were important to us. When it came to my dress, hair, and makeup, I didn't want to look like a glamorous new person; I just wanted to feel like myself. This proved to be incredibly difficult when autoimmune conditions were wreaking havoc within my body.
I began experiencing symptoms of Graves' disease shortly after I got engaged. My primary symptoms included a rapid heart rate, tremor in my hands, heat sensitivity, weight loss, and an enlarged thyroid gland. It was a process to figure out what was wrong, find the right doctor, obtain the correct medication for my needs, and work to balance my thyroid levels, so I experienced many of these symptoms for months.
During this time, my husband and I were shopping for an engagement ring. I had inherited a stone from my grandmother, and we wanted to find the perfect setting together. We found a shop that specialized in vintage recreations and had a ball trying on ring after ring while learning about the history behind the designs. After finding the perfect setting, we were asked to sign a document, and suddenly I became self conscious. I looked at the pen in my hand to find that it was shaking uncontrollably. I felt the shop owner's eyes on me and wondered what he was thinking. He said nothing, smiled gently, and was patient as I finished signing the forms.
I didn't anticipate that my thyroid condition would interrupt the joy of that moment – and it wasn't the only time.
Before I received my Graves' disease diagnosis, when my symptoms were just beginning, I lost 5 pounds due to my undiagnosed overactive thyroid. This change felt minor, like a normal fluctuation. I didn't realize that this was a symptom of a serious medical condition, and I continued to make appointments for wedding dress shopping. After a few weeks of searching, I snagged the perfect dress – it was being discontinued and was on sale. It fit perfectly, and minimal alterations were needed.
Shortly after I hung my dream dress in my closet, I received my Graves' disease diagnosis and was put on medication to block thyroid production. I expected to gain those initial 5 lbs back as my hormones adjusted, so I wasn't concerned. However, as we continued to increase the medication dosage, I continued to gain more and more weight. Then my thyroid levels began swinging from one extreme to another – too low to too high. The weight gain only continued as I struggled to find the right medication dosage.
In the past, I had welcomed weight gain because it meant I was healing from another chronic condition, celiac disease. However, the unexpected, rapid, and uncontrollable weight gain that I experienced this time was a sign that something was seriously wrong with my health.
I felt out of control in my own body, and there was very little I could do as the hormones that controlled my metabolic system were running wild. This made alterations on my once perfectly fitting wedding dress incredibly stressful.
I didn't have the time or spare funds to find, rush order, and alter a new dress. Letting out my dream dress would likely be very expensive and difficult, too – and even if I took those steps, how would my body respond after we changed my medication again? My body felt both out of control and unpredictable. I was a ball of stress leading up to my final alterations appointment. The dress barely fit on the day of my wedding, and just weeks later it didn't fit at all.
Another challenge came with thyroid eye disease, a condition I developed that's related to Graves' disease. I had been planning on doing my own makeup for my wedding and took a lesson with a friend about basic bridal techniques. As I was practicing one day, I realized that something didn't look right. I couldn't pinpoint what was off, so I tried again. And again, and again.
Growing exceedingly frustrated, I sent photos to my mother, who believed I was beginning to experience symptoms of thyroid eye disease. My eyes soon began to push unnaturally forward, and became red, painfully dry, and extremely watery. I did not look like myself, and I didn't know what I could do to help. I decided to hire a makeup artist who suggested specific techniques to help make my eyes appear farther back. I found eye drops that helped to combat the redness and dryness, and thankfully, for our wedding day, I felt a little more like myself.
I also spoke with our photographer about thyroid eye disease. Posing for pictures was becoming increasingly difficult. My eyes always look strained, and I often didn't recognize myself. Investing in photography was something that was important to my husband and I, and I wanted to look back on photos from that day fondly. I didn't want to see myself and think, "Oh, that's when I was sick and struggling."
I briefly explained my situation to our photographer and asked if we could focus on more candid photos, or angles where I was looking in another direction – anything but staring straight at the camera and smiling. She was incredibly kind and receptive, and the day of the wedding, she incorporated those requests without calling attention to them. I felt relaxed. Yes, there were still some photos in the mix that I felt self conscious about, but the majority reflected what I had hoped to see: simply a beautiful and very meaningful day.
Our third wedding anniversary has now passed, and I'm doing much better. My thyroid levels are finally balanced now that I've had my thyroid removed. The hormones that control my metabolism are within normal range, and I feel like my body is working in harmony with itself. The shakiness and high heart rate are in the past. A rollercoaster ride of three surgeries has helped to improve the damage to my eyes caused by thyroid eye disease.
I wish that this time had been easier. I wish that I could have simply focused on all of the normal wedding planning stress. I wish I could have enjoyed the day without worrying about my multiple autoimmune conditions. However, throughout all of the stress and worry, I'm grateful to have had a truly wonderful person by my side who did everything he could to understand what I was going through. While I find there's not a lot of advice I can provide on how to navigate major life events while experiencing a life-changing diagnosis, I can say that if you're reading this and are having a difficult time, you are not alone, and I'm wishing you all the best.
Was this helpful?