SOCIAL VOICES

Finding the Right Doctor for Thyroid Eye Disease: Hindsight is 20/20

Was this helpful?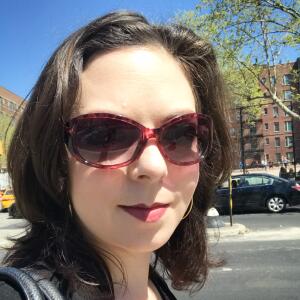 Finding the right doctor can be a stressful process, especially when experiencing scary and vulnerable symptoms like those related to thyroid eye disease (TED).
But what happens when the doctor you trusted during this vulnerable and emotional time turns out not to be the right fit?
After I was diagnosed with Graves' disease, an autoimmune disorder that causes hyperthyroidism, I started to develop the telltale symptoms of thyroid eye disease. My eyes looked oddly red, they became very watery, and worst of all, the muscles behind my eyes had started to swell up, pushing my eyes forward.
My endocrinologist had asked me if I wanted a referral to an eye doctor who specialized in TED, but I declined. I already had an ophthalmologist I trusted, who was widely recognized as an excellent doctor and seemed knowledgeable about numerous conditions. I immediately made an appointment with him. After an examination, I explained my struggles with Graves' disease, and he agreed that perhaps my eyes had changed a bit. However, he said there was nothing to do at that moment but monitor them. At the time there was no indication that this condition was out of his wheelhouse.
I went to see him every few months with increasing concern. I began to suspect he was no longer the right fit. Though I was growing more anxious about my progressing symptoms, appointments felt somewhat casual. There wasn't much talk of treatment, only monitoring symptoms. My fears were confirmed on my last appointment with him when he suggested a cosmetic surgery – a stitch could be placed in the corner of my eye to make my eyes appear smaller. What? I didn't know everything about TED then that I know now, but it was clear that was not a solution for this very serious medical condition. "I'll see you in a year," he said. Wait, what? I was clearly in the middle of a serious illness, and I needed help. "I'll see you in a year," he repeated. I felt betrayed. If he realized he couldn't treat me, why didn't he just tell me in the beginning?
I called my endocrinologist's office and said, "I'll take those referrals now."
"Fingers crossed," I thought as I dialed a new ophthalmologist's number. "Are you looking for a regular eye doctor?" came the voice at the other end of the phone. "Because this doctor works with people with very specific conditions."
"Oh, I have Graves' disease."
A pause. The voice on the other end of the line replied, "Don't worry. We're going to take good care of you." The reassurance in her voice told me that this would be a good fit.
My new ophthalmologist, who was also an oculoplastic surgeon, was, in a word, wonderful. He was one of those people who truly listened and spoke directly to patients. His voice was incredibly calming, and I immediately felt my nerves decrease. After hearing my story, performing an examination, and looking through several photos I brought with me, we had an in-depth discussion about treatment options and the road ahead.
I later found a video of him online speaking about the emotional side of conditions he treats. He said that patients see him during a time of need, and it's important to consider not only the medical data, but how a person sees themselves. A tear came to my eye as I watched.
Looking back on this time, I found several resources available to patients regarding the symptoms of TED, but it was more difficult to find information on treatment options and how to approach a conversation with a doctor. I wish I had asked my original ophthalmologist on day one, "If my symptoms become severe, what is the game plan?" I would have found a new doctor much sooner.
I was eventually scheduled for two orbital decompression surgeries (one for each eye), and I would have two surgeons: my ophthalmologist/oculoplastic surgeon and an ear, nose, and throat specialist (ENT). This time I didn't have a choice in doctors, as I was told to make an appointment with the ENT my ophthalmologist regularly performs surgeries with.
She walked in like a ray of sunshine (I noted later on that she was bright and cheerful at 7am before a surgery – was she always this energized? The nurses said yes). She was bursting with optimism. "This surgery is life-changing." She was genuinely excited for me and gave me a detailed run down of the plan and process.
I felt like I had gotten lucky so many times: my wonderful endocrinologist's office recommended a stellar ophthalmologist, who in turn worked with this amazing ENT.
I had many follow-up appointments with the ENT after my surgeries, and I finally graduated to the point where I didn't need to see her every week. I booked an appointment four months away, for what would hopefully be my final visit. The receptionist said, "Congratulations! We've been seeing you so often – you're almost done!" Sometimes small gestures from other team members are really meaningful, too.
I'll admit not everything was smooth sailing once I found the right doctors. There were bumps in the road caused by the COVID-19 crisis. Not every office manager communicated effectively and quickly. But I was thankful to have the team I did. Hindsight is 20/20, and I hope by sharing my experiences, others will recognize the red flags that I didn't see soon enough.
I want anyone looking for a TED doctor to know: You deserve someone who will listen. You deserve someone who is kind, especially during this vulnerable, anxiety-ridden, and painful time. If something doesn't seem right, see another doctor. Research your condition and potential treatment options as much as possible, so you can recognize the red flags that indicate a doctor doesn't know as much about the condition as they let on. If you find a doctor you click with, ask them for recommendations for other specialists if needed. Finding a doctor with excellent office managers and schedulers who truly care about their patients can be just as important. You are your own best advocate. Help is out there.
Was this helpful?