3 Tips for Black People Living with Graves' Disease
Was this helpful?
A history of racial disparities in healthcare has made it harder for Black people to receive the best treatment for Graves' disease. Learning more about the condition, finding a culturally competent doctor, and advocating for yourself will make a positive difference in your health and well-being.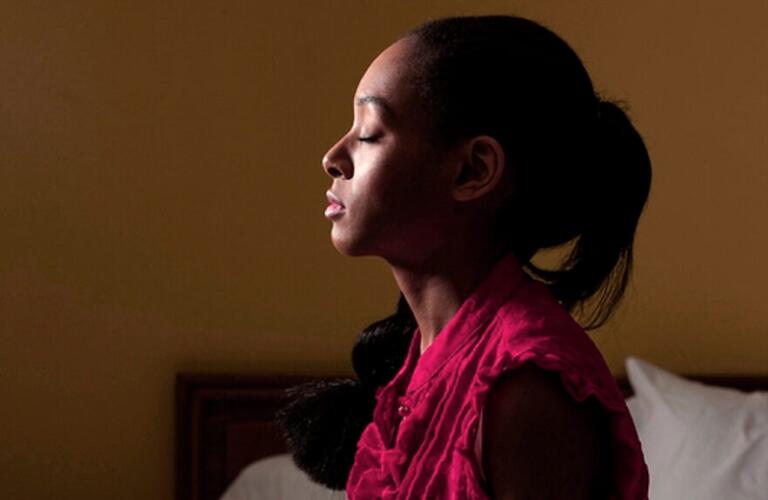 Graves' disease is a type of autoimmune disease that develops when your immune system attacks your thyroid gland, causing it to overproduce thyroid hormone. As with any autoimmune condition, the right diagnosis and the right treatment can make a huge difference in your prognosis and quality of life. A 2014 study indicates that Black people in the United States are at higher risk of developing Graves' disease than white people. However, due to a history of racial disparities in treatment, Black people may not be receiving the care they need.
Learning about racial disparities in Graves' disease treatment can empower you to be proactive while navigating treatment options as a Person of Color. You may benefit from seeing a culturally competent doctor and asking specific questions about treatment to make sure it's right for you.
It's important to be aware of racial disparities Black Americans may experience when managing Graves' disease. You can advocate for yourself to make sure you receive the least invasive, most effective treatment available to avoid complications. High levels of thyroid hormone alter your body's normal functioning. Early intervention can bring your levels back to normal and prevent complications. Untreated Graves' disease can lead to a variety of possible complications, including heart-related problems, osteoporosis, fertility challenges, and vision changes. However, Black people with Graves' disease may face barriers accessing the most effective care or receiving timely treatment.
The most common type of medical treatment for Graves' disease is thionamide, which inhibits the production of thyroid hormone, preventing levels from getting too high. Examples of thionamide include methimazole, carbimazole, and propylthiouracil. Some people take this medication prior to undergoing other treatments, such as radioiodine therapy or thyroidectomy to remove part or all of their thyroid gland. Taking thionamides for a longer period is also an option, as research suggests long-term therapy is more likely to induce remission than a shorter treatment.
However, Black people are more likely than white people to be referred to surgery for noncancerous thyroid conditions like Graves' disease. If you choose to have surgery, you're automatically at risk for general surgical complications. Also, research suggests that Black people who undergo surgery for a thyroid condition have a high rate of experiencing neck hematoma and damage to their recurrent laryngeal nerve, which can cause hoarseness or vocal cord dysfunction after surgery.
Many factors may contribute to these disparities. Research indicates that Black people who undergo thyroid surgery are more likely to have first consultations with surgeons and have surgery when their disease is advanced, which increases their risk of complications. They are also more likely to be treated by a surgeon with less experience performing thyroid surgery compared to white people.
When speaking with your doctor about potential treatments, consider all possible scenarios and any lifestyle changes you may need to implement. If your doctor suggests surgery, be proactive in asking questions, such as:
Why are you recommending surgery for my condition?
What are the potential risks of undergoing this surgery?
How often do you perform this type of surgery?
What kind of treatment would I need after surgery?
What type of work- or school-related adjustments should I make?
What does the long-term prognosis look like?
What other treatment options do I have, and what are the risks and benefits of those?
It's a great idea to prepare a list of questions before your appointment and share any concerns with your doctor.If, after your appointment, you are still hesitant about choosing a treatment option, don't be afraid to seek a second opinion.
Getting the right treatment starts with finding the right doctor. You may feel more comfortable seeing a Black doctor or a doctor who's aware of how certain health conditions specifically affect Black people. A culturally competent doctor will have received training in delivering care that takes your cultural background (and other needs) into account.
You can find a culturally competent doctor using resources like BlackDoctor.org or HuedCo.com. Another great option to find a culturally competent doctor is to ask people you trust for recommendations, such as friends, neighbors, or colleagues. Your insurance company can help you find out which doctors are considered in-network. Remember you can contact any healthcare professional to ask about their experience treating Graves' disease and other thyroid conditions in Black people.
You might be the only person in your family or immediate circle who is living with Graves' disease. It may be helpful to seek out community resources to learn more about this condition, how it affects your life, and how other people manage it. Some helpful resources include:
You can also ask your doctor about any local support groups for People of Color living with autoimmune conditions like Graves'disease. Finding a community can be a great way to connect, learn, and share experiences with others.
Your health and well-being are the most important thing when managing Graves' disease. Remember that receiving the best treatment and care is your right, so use the tools and resources available to help you advocate for yourself.
Was this helpful?