10 Dangers of Overactive Thyroid
Was this helpful?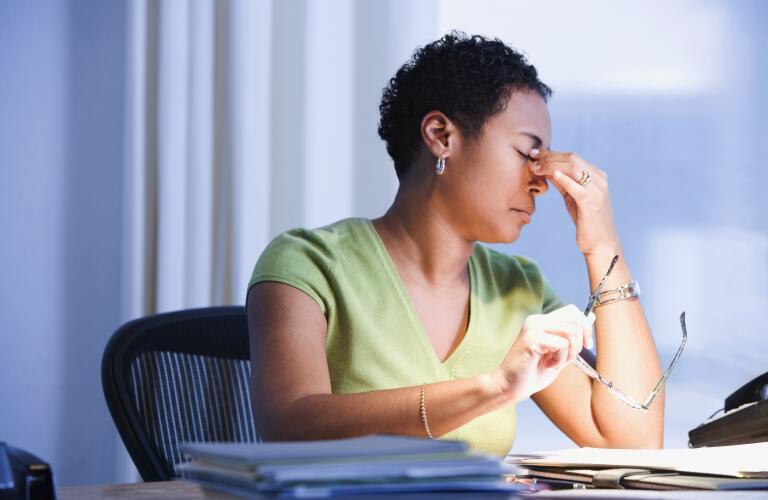 When you have an overactive thyroid, your body's systems run at full throttle. The high levels of thyroid hormone constantly say, "Go!" Left untreated, this condition—called hyperthyroidism—can put your health at serious risk.
Don't ignore these dangers. Seek effective treatment and avoid the following threats to your health and well-being.
Like all your body's systems, your heart speeds up with too much thyroid hormone. As a result, a racing pulse and heart palpitations are symptoms of overactive thyroid. This is not harmless. As the disease progresses, more serious problems can develop. This includes life-threatening irregular heartbeats, dangerously high blood pressure, and congestive heart failure. Treating hyperthyroidism usually reverses these problems.
Osteoporosis—or weak, brittle bones—is another danger of untreated hyperthyroidism. Bones are active tissue. They are constantly going through a process called remodeling. The cycle involves dissolving old bone and laying down new bone. An overactive thyroid can tip the balance toward bone loss and interfere with your body's ability to incorporate calcium into your bones. This weakens your bones, putting you at risk for fractures. Controlling your thyroid problem can stop and even reverse bone loss.
Like your bones, your muscles can also become weakened with too much thyroid hormone. The term for this is hyperthyroid myopathy. It's a wasting away of the muscles. It typically affects the muscles of the shoulders, upper arms, thighs, and hips. But you can also end up with problems controlling the muscles of the face, throat, eyes, and respiratory tract. Restoring thyroid hormone levels to normal will help you regain strength and control of your muscles.
People with overactive thyroid often find they can eat and eat, and not gain weight. In fact, they may even be losing weight. The body's metabolism is working too fast for the calories to keep up. This may not sound like much of a danger—it may even sound helpful. But the initial increase in energy and appetite eventually gives way to the body breaking down. The ultimate result is fatigue and weakness. Your weight, appetite and energy should stabilize with treatment.
With hyperthyroidism, the nervous system always operates with heightened alertness. People with overactive thyroid often have a sense of being in mental overdrive. This leads to nervousness, irritability, tremors and anxiety. It also contributes to sleep problems and inability to relax and wind down. These mental and emotional symptoms can mimic forms of mental illness. Effective thyroid treatment can calm your overworked brain and help you think clearly again.
An overactive thyroid causes faster than normal digestion, accelerating what's called 'transit time.' And it constantly stimulates the muscles in your bowel. This often leads to frequent bowel movements. While this may just seem bothersome, it has the potential to affect your health. Passing stool more frequently—especially loose stool—can lead to dehydration and problems absorbing nutrients. Balancing your thyroid hormone level should return balance to your overall digestion.
When many people think of hyperthyroidism, they associate it with the unmistakable bulging eyes. This is Graves' ophthalmopathy, also referred to as thyroid eye disease. Other symptoms include eye redness and swelling, sensitivity to light, and blurry or double vision. Without treatment, vision problems can become severe and lead to blindness. Some aspects of this eye disease may resolve with thyroid treatment. However, specific treatment for the eyes, including a new medication called teprotumumab (Tepezza) or surgery, may be necessary in some cases.
Although rare, skin problems can occur with overactive thyroid. The condition—Graves' dermopathy—causes skin swelling, redness, and texture changes. It most often affects the skin on the shins and tops of the feet. This can make some people with Graves' disease self-conscious. It can also make it difficult finding shoes to fit your feet. Mild cases usually resolve with thyroid treatment. In some cases, other treatments, such as compression stockings, may help.
An overactive thyroid can affect all aspects of a woman's reproductive health. It can cause irregular or even absent periods. It can also interfere with fertility, making it harder to get pregnant. Once pregnant, having high levels of thyroid hormone puts both mother and baby at risk. It increases the chance of miscarriage, premature birth, and having a low-birth-weight baby. The mother is also at risk of developing life-threatening high blood pressure—or preeclampsia. Controlling thyroid hormone levels will help keep mom and baby healthy.
Thyrotoxic crisis is a sudden worsening of hyperthyroid symptoms. Another name for this condition is thyroid storm. Although it's rare, it's most likely to occur with untreated or under-treated hyperthyroidism. Symptoms include fever, profuse sweating, racing pulse, vomiting, diarrhea, severe weakness, and delirium. Seizures can also occur. Thyrotoxic crisis is a life-threatening medical emergency. Seek immediate medical care or call 911.
Was this helpful?