Intubation Explained and When You May Need It
Was this helpful?
Intubation is inserting a hollow tube into the windpipe to keep the airway open. You may be intubated during general anesthesia or emergencies to keep you breathing with a ventilator. Doctors may also use it in diagnosis and treatment. Doctors use intubation as part of critical care and in anesthesiology. For the latter, intubation keeps the airway open during surgery with general anesthesia. This is necessary because general anesthesia suppresses breathing and other automatic body functions.
Sometimes people need to be intubated if they cannot breathe well or on their own, such as in cases of respiratory failure. Doctors connect the tube to a ventilator to do the work of breathing. During the coronavirus pandemic, many people who became seriously ill with COVID-19 were intubated and put on ventilators.
Keep reading to learn about these and other uses of intubation, how the procedure works, and the risks and potential complications. This article also has an illustration of endotracheal intubation, the most common type.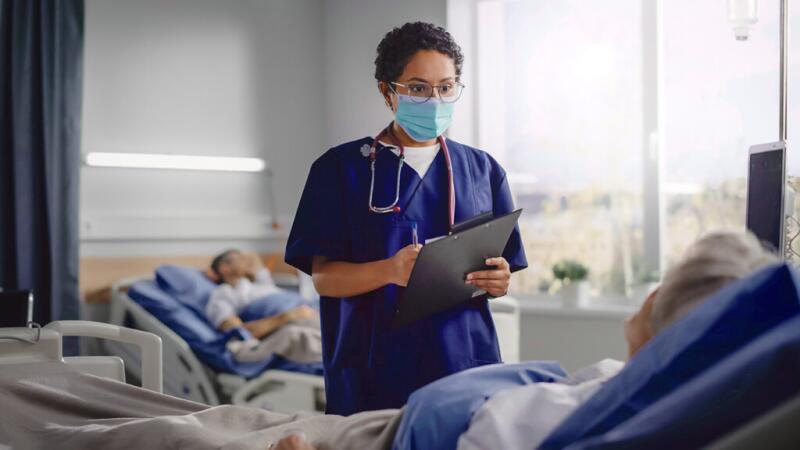 In general, being intubated means you have a hollow, plastic breathing tube in your windpipe, or trachea, to keep it open. It can be a lifesaving procedure to maintain breathing and deliver oxygen. Doctors also use intubation for other reasons, such as to suction fluids out of the airways.
In addition to keeping the airway open, the doctor can view the upper airway with intubation. The upper airway is the mouth and throat, which includes the voice box and vocal cords.
Other names for the procedure include artificial airway and airway management.
There are two main types of intubation procedures:
Nasotracheal intubation: This is intubation through the nose and down in the trachea. Doctors typically use this approach in people awake and breathing normally or there is a need to avoid using the mouth.
Endotracheal intubation: This is intubation through the mouth. It is the preferred method, especially in emergencies, because it is usually faster than nasotracheal intubation.
Healthcare professionals use intubation to:
protect the airway and administer anesthetics and oxygen during general anesthesia
view the upper airway
suction fluids from the trachea
prevent aspiration of fluids into the lungs
protect the airway when there is a blockage, trauma, or unconsciousness
treat respiratory failure due to conditions such as pneumonia and collapsed lung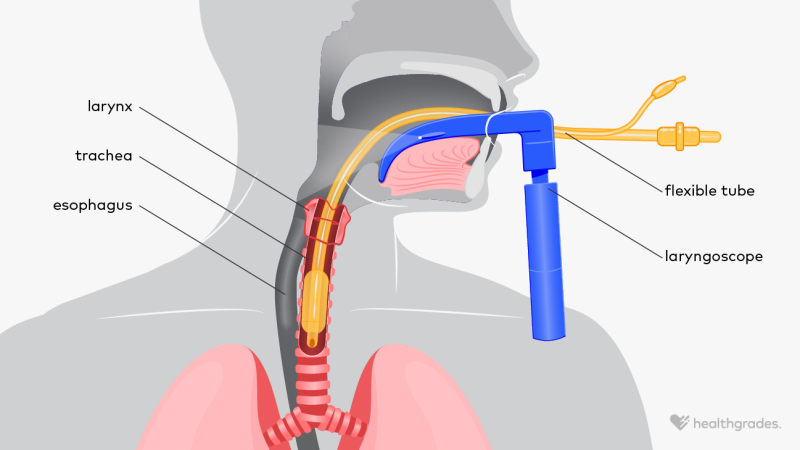 Most often, intubation takes place in a hospital while you are unconscious.
If you are conscious or semiconscious, you receive a sedative and muscle relaxant before the process begins. For example, if you need intubation with anesthesia, the care team administers these by IV or as gases beforehand.
Once unconscious, the doctor inserts a laryngoscope, a device that allows them to see the vocal cords and upper windpipe. Then, the doctor inserts the intubation tube using the laryngoscope to verify placement and removes the laryngoscope.
After the tube is properly placed, doctors can connect it to a ventilator to support breathing.
Because intubation is critical or an emergency, the benefits generally outweigh the risks. Potential complications include:
damage to the windpipe, voice box (larynx), vocal cords, thyroid gland, or esophagus
accidental placement into the esophagus
irregular heart rhythm
low blood oxygen
In a large observational study published in the Journal of the American Medical Association, 45.2% of critically ill patients experienced at least one major complication within 30 minutes of the intubation. The most common was cardiovascular instability, which the study authors defined as a drop in blood pressure, the need for medication or fluids, or both to increase blood pressure.
Medical professionals receive extensive training to perform intubation successfully and safely.
Doctors who perform intubation include:
anesthesiologists
critical care doctors
emergency medicine doctors
An emergency medical technician (EMT) can perform intubation in emergencies outside the hospital.
After you are intubated, you may or may not be conscious. Your care team will continue administering medications to relax and keep you comfortable while the tube remains in place. They may also administer medication to temporarily paralyze nerves and muscles.
You should not feel pain during intubation or with the tube in place. Your doctor will numb your throat before performing the intubation.
Intubation can be a lifesaving procedure. However, you have the right to plan your care, including whether or not you want to be intubated. Choosing not to have intubation and ventilation as part of your care can result in decreased oxygen levels, respiratory failure, and death. Learn more about being on a breathing machine.
If your doctor recommends intubation for you or a loved one, discuss the benefits and risks of the procedure so that you can make an informed decision.
You can also contact your doctor about it before the need arises. If you don't want to be intubated, ask your doctor to include a do not intubate (DNI) order in your medical record.
Other frequently asked questions
Carissa Stephens, RN, CCRN, C.P.N., reviewed the following questions.
What is intubate vs. a ventilator?
Intubate is the action of inserting a hollow breathing tube — typically an endotracheal tube — into the mouth and throat and down into the windpipe. A ventilator is a breathing machine. It attaches to the end of the tube that extends out of the mouth (or nose). It delivers oxygenated air into the lungs and removes carbon dioxide.
Is an intubation life support?
Intubation by itself is not life support, but it is necessary to accommodate certain life support measures, such as mechanical ventilation.
Can you be awake during intubation?
Yes, you may be awake if you are breathing well on your own. According to Merck Manuals, doctors are more likely to use nasotracheal intubation in awake patients to avoid the mouth.
Intubation is a procedure in which a hollow, flexible tube is placed into the windpipe. This keeps the windpipe open, allowing oxygenated air and carbon dioxide to exit. Intubation and attachment to an external breathing machine is a lifesaving procedure for people who cannot breathe well or at all on their own.
Potential complications include damage to structures during placement and ventilation and cardiovascular conditions.
Was this helpful?