What Is Mesenteric Panniculitis? Everything to Know
Was this helpful?
Mesenteric panniculitis is a rare condition that causes inflammation in the mesenteric tissue, which holds the intestines in place. This condition can cause scar tissue and various symptoms to occur. Mesenteric panniculitis is a condition that targets part of the mesentery. The mesentery is a fold of membrane that connects the intestine to the walls of the abdomen. It consists of fat, blood vessels, lymphatic vessels, and other connective tissue. The mesentery holds the small and large intestines in the correct position, so they do not fall into the pelvis.
Mesenteric panniculitis can happen in both males and females assigned at birth. It often occurs in people around 65 years old. It is less common for children and teenagers to have the condition. Researchers believe this may be due to them having less mesenteric fat.
Other names for the condition include:
sclerosing mesenteritis
mesenteric lipodystrophy
retractile mesenteritis
This article discusses mesenteric panniculitis in more detail, including the symptoms, causes, and what foods to include in your diet. It also explains treatment options, risk factors, and complications.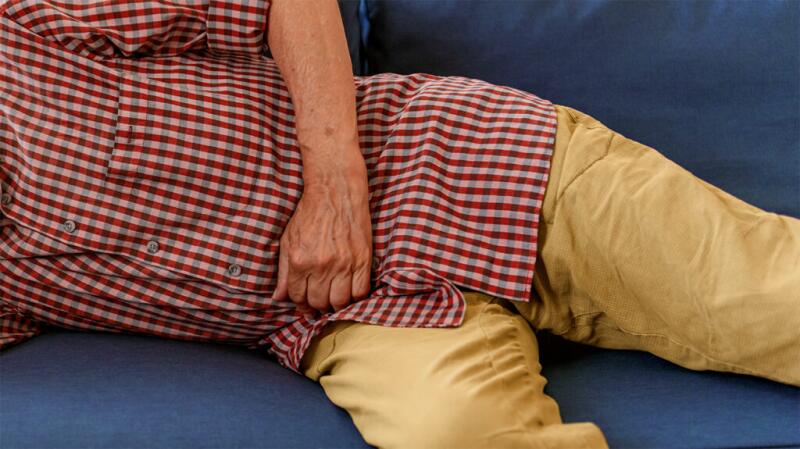 Around 10–15% of people with mesenteric panniculitis have no symptoms or only a few.
For those who have symptoms, they can vary. Possible symptoms include:
pain in the stomach
bloating
feeling full quickly
no desire to eat
tiredness
unexpected weight loss
The exact cause of mesenteric panniculitis is unknown.
However, various factors make it more likely to occur. These include:
abdominal surgery
internal bile or urinary leak
bacterial and viral infection
chemical injuries
Research suggests that mesenteric panniculitis is an autoimmune disorder due to the inflammation in biopsy samples. Additionally, mesenteric panniculitis symptoms are similar to other autoimmune conditions, such as Crohn's disease and rheumatoid arthritis. Learn more about autoimmune conditions.
Blood tests have shown that inflammatory markers are higher in people with mesenteric panniculitis. There is also a link between those with mesenteric panniculitis and those with a family history of autoimmune diseases.
People with mesenteric panniculitis may have an underlying form of cancer, too. The types of cancers include:
colon
renal
prostate
carcinoid tumor
If you do not experience symptoms, your doctor may not recommend treatment for mesenteric panniculitis. However, they may observe you over time in case any symptoms occur.
Treatments for mesenteric panniculitis aim to reduce inflammation. If you have symptoms, your doctor will likely prescribe corticosteroids to reduce inflammation.
Other medications your doctor may suggest include:
colchicine (Mitigare, Colcrys, others)
azathioprine (Azasan, Imuran)
cyclophosphamide (Cytoxan)
infliximab (Remicade, others)
pentoxifylline
In rare cases, a small intestinal obstruction may occur. If this is the case, your doctor may recommend surgery. Your doctor will explain more and answer any questions you may have if surgery is necessary.
There is no diet specifically to treat mesenteric panniculitis. However, eating an anti-inflammatory diet may reduce your levels of inflammation.
Foods that can help reduce inflammation include:
vegetables
fruits
whole grains
beans and lentils
fish
nuts
herbs and spices
olive oil
avocados
dark chocolate
Foods to avoid with mesenteric panniculitis
Try to avoid foods that may cause inflammation. Inflammatory foods may make your symptoms worse. Foods to reduce or avoid are:
processed meats
hydrogenated oils
cakes and cookies
fried foods
cream and butter
Contact your doctor for advice before making any significant changes to your diet. They may refer you to a nutritionist or dietitian who can help develop a meal plan to ensure you get all the essential nutrients.
Find out how to reduce inflammation with an anti-inflammatory diet.
The most common symptom of mesenteric panniculitis is abdominal pain.
There are many possible causes of abdominal pain. As such, you should contact your doctor if the pain persists or if you do not know the cause.
Learn about other possible causes of abdominal pain.
To reach an accurate diagnosis, your doctor may perform a physical examination and ask about your symptoms.
They may then order tests to determine the cause of any symptoms you may be experiencing. Possible tests include:
blood test to check for inflammation or a reduced red blood cell count
CT or MRI scan to examine the part of the membrane that connects your intestine to your abdominal wall
surgical biopsy to examine any affected tissue
Your doctor will be able to explain which tests they order in more detail and answer any questions you may have.
Around 20% of people with mesenteric panniculitis go on to have complications.
The most common complication is a blockage in the bowel or your urine being unable to drain through your urinary tract.
Your doctor may suggest surgery to treat any potential blockages or complications.
Find out more about how doctors treat a bowel blockage.
The exact cause of mesenteric panniculitis is not always clear. As such, it may not be possible to prevent the condition.
However, contacting your doctor as soon as you experience symptoms of mesenteric panniculitis can help reduce the risk of complications.
Mesenteric panniculitis, or sclerosing mesenteritis, is a rare disease that causes inflammation in the mesenteric tissue holding the intestines in place. The main symptom is abdominal pain, and treatments include corticosteroids.
Was this helpful?