A Complete Guide to Pool Exercises
Was this helpful?
Pool exercises, such as walking in water or knee lifts, can provide a slower, sustainable way of staying active and can be especially useful if you are recovering from an injury or another medical condition. Defined by the Chartered Society of Physiotherapists as exercises that take advantage of the properties of water to improve function, aquatic exercises can improve physical well-being.
This article covers examples of pool exercises, describes why they may be beneficial, and explains tips to help you get started.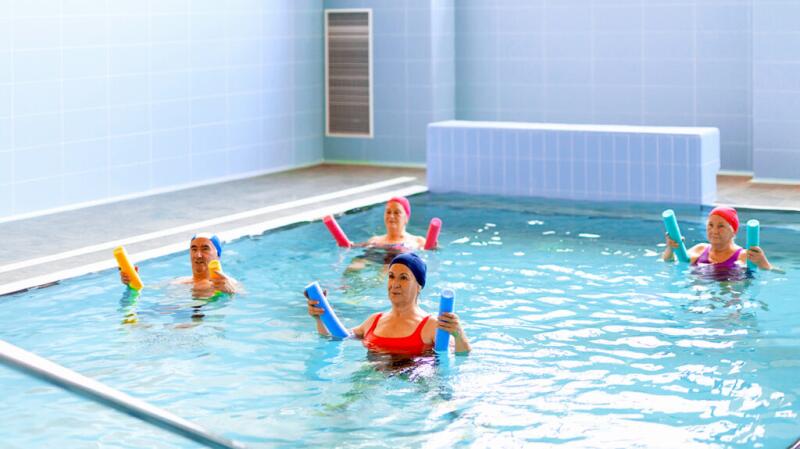 Here are some common examples of pool-based exercises to try.
Walking is a good movement to start with, as it can allow you to learn how to move with the type of resistance that water creates.
Follow these steps to walk in shallow water:
To walk, lengthen the spine, shifting your weight through your heels to your toes

.
Use your arms, moving them as you walk.
Engage your abdominal muscles as you walk.
Complete for 10 minutes.
Lateral lunge with balancing
This movement is optimal in the water, as it eases your balance, yet challenges your lower body due to the water resistance.
The following steps can help you complete a lateral lunge in the water:
Stand with your feet hip-width apart.
Step widely to your left, bending your right knee to a 90-degree angle.
Push back up, lifting your right knee toward your chest.
Complete 2–3 sets with 10–15 repetitions.
This movement challenges your core through balance.
Use the following steps to safely perform knee lifts in the water:
Stand with your feet hip-width apart.
Place your hands behind your head.
Bend and lift the right knee toward your elbow.
Reverse this movement and repeat.
Complete 2–3 sets with 10–15 repetitions.
As well as providing cardio exercise, jumping jack movements work the muscles in your lower and upper body. You can increase resistance through the addition of ankle weights.
Try the following jumping jack steps in a pool:
Stand with feet shoulder-width apart and your arms relaxed.
Simultaneously jump while moving your legs outward and arms above your head.
Jump again, reversing the movements.
Complete 1–3 sets with 8–10 repetitions.
Focusing a workout routine on activities in a pool offers more resistance compared with the same activities people perform on land. The heavier the resistance, the more engaged your muscles will be during the workout.
Pool exercises can benefit people by improving their:
Muscular strength: Particularly between the ages of 50 and 80, people undertaking aquatic fitness see improvements in their lower body strength.
Balance and agility: A small 2019 study showed that stroke survivors noticed improvements in their agility and balance after completing 9 weeks of regular aquatic exercise.
Cardiovascular health: Some pool exercises provide sufficient cardio activity to classify as a high intensity interval training workout (HIIT). HIIT workouts can offer significant cardiometabolic benefits.
Learn more surprising ways exercise changes your body.
The buoyancy that water provides creates support for your joints while you carry out the routine. This presents a unique opportunity to work out harder while putting less pressure on your body compared with exercising on land.
If you experience any of the following conditions, pool exercise can provide an accessible fitness routine when other forms are unsuitable:
It can be great for children
Aquatic exercise or therapy can help improve the social and behavioral traits of autistic children.
A small study in 2021 showed decreased aggressive and disruptive behaviors and increased sociality both at home and at school. It also showed a decrease in typical autism behaviors, such as rolling and turning.
It can reduce the risk of falls
Alongside the number of other benefits for general well-being — improved muscular strength, balance, and agility — pool exercises can help improve general control over your motor skills. A small study from 2019 showed a 9% improvement in balance after 12 weeks of engaging in an aquatic exercise program.
The study showed that pool exercises can help you feel sturdy on your feet, especially you are an older adult. Therefore, this can help prevent falls, which can cause further difficulty with movement.
It can promote weight loss and fat burning
As of 2020, the CDC finds that more than 40% of people in the United States have obesity. Basing your workout routine on pool exercises can provide a creative, low impact, and effective strategy for weight loss and management.
Performing cardio exercises in a pool, such as the jumping jack described above, can increase your heart rate without causing unnecessary stress on your skeleton.
Studies that assess how water-running can improve aerobic fitness show a 10% improvement in aerobic power output after 8 weeks.
Learn more exercise routines that don't involve a gym.
Be mindful of the following safety reminders regarding pool-based workouts:
Remember to drink water. You may not realize how much you sweat.
Use a flotation device if swimming without one feels difficult.
Ensure the pool you use is not too warm.
Wear a hat and sunscreen when outdoors.
Make sure you keep breathing, especially during activity.
If you attend a class, it is likely the facility will provide most equipment for you. Always remember to bring your:
If you do not work out at a facility, try to invest in some of your own gear:
Buoyancy belt: This ensures your head stays above the water, even when doing arm exercises.
Wrist or ankle weights: This allows you to increase resistance if you wish to.
Foam dumbbells: These absorb water when you place them in the water but are weightless when dry.
Kickboard: This is a board that can help you complete leg exercises without having to keep yourself afloat.
Here are some commonly asked questions about pool exercises.
What exercise burns the most belly fat in the pool?
Any cardio-intensive exercise, such as water jogging, can help you lose belly fat from your abdominals.
Can you lose weight by exercising in the pool?
Yes, pool exercises include cardio HIIT training, which is known to be effective for weight loss.
How effective is exercising in the pool?
If you experience mobility conditions, pool exercises are effective ways of getting sufficient physical activity and trying to build strength.
If you are looking for something new in your workout routine, try pool exercises.
Water-based workouts are effective ways of improving your fitness while not putting undue pressure on your joints. They can also be good workouts to progress into more challenging activities on land.
Was this helpful?