Advances in Spine Surgery
Was this helpful?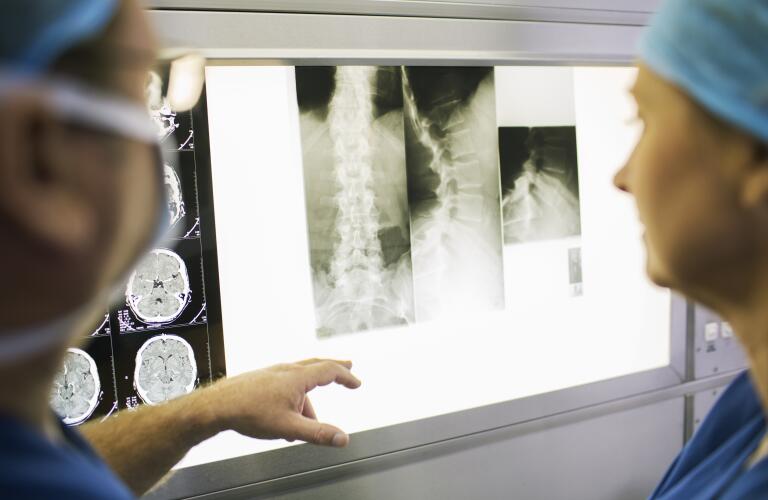 Spine surgeries like lumbar decompression and cervical discectomy can provide pain relief and restore your body's function. Scientific advances in spine surgery are making these procedures less invasive and more successful. These exciting developments aim to help you get good results with fewer complications.
Surgeons have been using small open procedures for years to perform discectomies and other back surgeries. These approaches involve making a smaller but still significant incision, usually 3 to 4 inches in length.
However, technology now enables surgeons to perform truly minimally invasive spine surgery. Like other minimally invasive surgeries, these spine procedures involve one or more small incisions of about one inch coupled with small instruments attached to a flexible scope. Expanding the use of minimally invasive spine surgery is important because, in general, these procedures result in less post-operative pain and possibly a lower risk of infection. The primary surgeries that currently can be performed on a minimally invasive basis include microdiscectomies and vertebral fusions in the lumbar spine.
Key to the advancement of minimally invasive spine surgery is the technology involved. Because so many delicate structures surround the spine, surgeons previously required large incisions to clearly see blood vessels and nerves in the operative area.
Advances in instrumentation have made it possible to perform minimally invasive surgeries. For instance, the invention of the tubular retractor has made it possible for surgeons to approach the spine through a person's side instead of from the front or back. This lateral approach involves making one small incision in the flank, then inserting a hollow tube through the skin, fat and muscle to literally create a tunnel to the spinal column. The surgeon can then insert a lighted scope to view all of the delicate structures in the surgical area while using small instruments to make repairs to the bones or soft tissue.
Robotics represents another key advancement in spine surgery technology. Surgical robots have been used for many years in other specialties and are now being adapted for delicate spine surgery. Robotic technology allows for the precise placement of the screws and other implants required in major spine reconstruction surgeries.
Imaging technology for spinal surgery likewise has advanced. New imaging machines provide high-quality 3D images of the patient's spine during the surgery, so the surgeon can check the placement of implants during the procedure and immediately make any necessary revisions. Implants that are out of alignment by even a couple of millimeters can cause a poor surgical result, so the ability to ensure the accuracy of the surgery during the procedure helps ensure patients achieve the best outcome.
Most spinal surgeries involve placing artificial materials into the spinal column. Depending on the type of procedure, these may include screws, cages, rods or materials like cadaver bone or bone powder. Recent developments have improved all of these materials.
Surgical steel was the earliest implanted material used in spine rods and screws. Later, most implants were made of titanium. However, both of these materials were somewhat susceptible to colonization by bacteria that could cause an infection. Today, a metal called cobalt chrome and a ceramic material called silicon nitride are being used in spinal surgeries. Both of these sturdy, durable materials have exhibited a greater resistance to colonization by infectious bacteria than the traditional metals used.
Biologic materials also continue to rise in use for spine surgeries. Biologics are manufactured proteins that precisely mirror various proteins produced naturally by the body to stimulate activities like bone growth. Two of the most common biologics in use today are bone morphogenic protein (BMP), which is the substance the body produces to stimulate bone growth, and stem cell products to regenerate spinal discs. BMP is in widespread use, while disc regeneration is in the experimental phase. You can expect to hear more about both of these treatments in the coming years. The use of biologics in spine surgery could particularly benefit patients with coexisting medical conditions like osteoporosis that cause spinal fusions to fail.
As a rapidly growing specialty, spine surgery stands to benefit tremendously from advances in surgical approach, technology and the materials used to repair or reconstruct the spinal column. These exciting developments can help more people achieve good results from procedures that aim to eliminate pain and restore function.
Was this helpful?