Types of Providers Who Treat Herniated Discs
Medically Reviewed By William C. Lloyd III, MD, FACS
Was this helpful?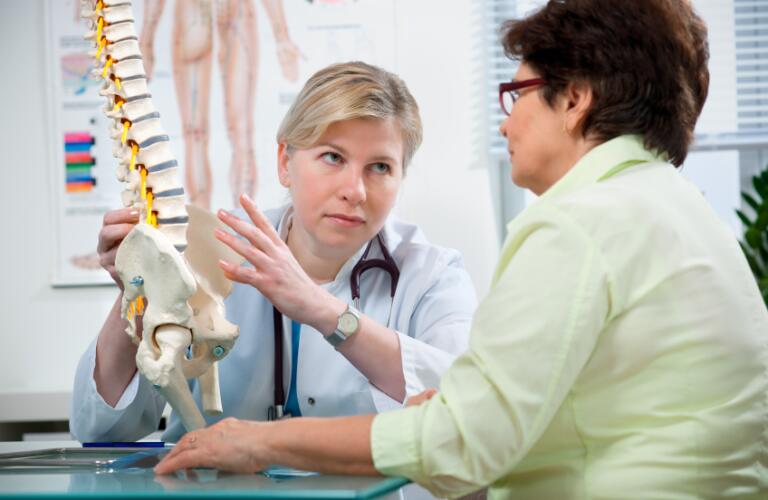 Many types of medical providers treat herniated discs. However, only orthopedic surgeons and neurosurgeons provide surgical treatment for a herniated disc.
The goal of herniated disc treatment is to relieve your pain and discomfort and increase your mobility. In most cases, doctors recommend nonsurgical treatments to reduce pain and discomfort. The top nonsurgical treatments include rest, anti-inflammatory medications, physical therapy, and epidural steroid injections.
Providers who offer nonsurgical treatments for a herniated disc include:
Family practitioners (family medicine doctors)
Internists
Orthopedic Surgeons
Neurologists
Neurosurgeons
Pain medicine specialists
Physical medicine and rehabilitation specialists (physiatrists)
Physical therapists
Rheumatologists
A good place to start is your primary care doctor. You can find some talking points in Talking With Your Doctor About Herniated Disc. If your own doctor does not have much experience with herniated disc treatment, ask for a referral to another doctor.
If your symptoms are severe, and not relieved by nonsurgical treatments within six weeks, you may be a candidate for surgery. The most common type of surgery for herniated discs is to remove the damaged disc. This is called discectomy. Doctors who perform discectomy include orthopedic surgeons and neurosurgeons:
Orthopedic surgeons specialize in the medical and surgical treatment of diseases and conditions of the muscles and bones including the spine.
Neurosurgeons specialize in the surgical treatment of diseases and conditions of the nervous system including the spine.
Orthopedic surgeons and neurosurgeons usually specialize further in a type of orthopedic or neurosurgery. On Healthgrades.com, you can narrow your search to Orthopedic Spine Surgeons and Neurological Spine Surgeons.
When you're searching for a doctor to treat herniated disc, look for someone who has in-depth knowledge about the condition. Find a doctor who has significant experience treating people like you with the same problem.
Take the time to research doctors and other providers, including physical therapists, on Healthgrades.com. Specifically, look for providers who:
Are board certified in their specialty and specialize in spinal care
Have experience treating herniated discs with minimally invasive treatments and surgery
You are comfortable talking with and who answer your questions and concerns
If you are thinking about having surgery, read Finding the Right Doctor for Herniated Disc Surgery. The article covers five steps to finding the right doctor for your surgery, including selecting a spine surgeon who practices at a hospital known to have high-quality outcomes in spine surgery.
Was this helpful?