New Therapies Offer Hope for People With Chronic Insomnia
Was this helpful?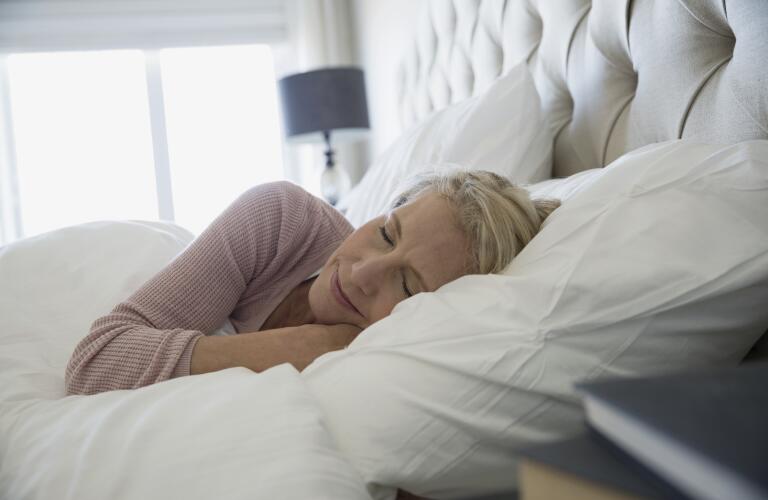 According to some estimates, as many as 30% of American adults live with insomnia. While it's common for many people to experience bouts of insomnia occasionally, up to 10% of adults have chronic, or long-term, insomnia.
Insomnia makes it difficult to fall asleep or stay asleep throughout the night. Insomnia may also cause you to wake up too early and not be able to get back to sleep. Fortunately, there are many behavioral changes and medications that can help people catch more z's. There are pros and cons to each therapy; some create a physical dependence, which means people may have withdrawal symptoms after stopping them–but some newer drugs don't have this addictive quality. Some medicines can cause drowsiness the next day, whereas others are better tolerated. If you're concerned about chronic insomnia, ask your doctor if a new chronic insomnia treatment could benefit you, and work together to find the one that's best for you.
Chronic insomnia is any insomnia that lasts for one month or longer. In many cases, this type of insomnia occurs as a result of stress, major life events, or other lifestyle habits or practices that disrupt sleep. Common causes of chronic insomnia include eating too much too late in the evening, consuming caffeine, nicotine, or alcohol, poor sleep habits, stress, or travel or work schedules. Certain medical conditions can also cause insomnia, as can medications you're taking. It's important to determine the root cause of insomnia, since doing so can help prevent complications related to the condition. If you have insomnia, you may also experience:
Higher risk of accidents due to slower reaction time
Increased risk and severity of other chronic diseases, like heart disease or high blood pressure
Lower performance at work or school
Mental health disorders, such as depression, anxiety, or substance abuse
There's no one way to treat chronic insomnia; instead, your doctor will help you determine which therapies may work best for you. New chronic insomnia treatment plans often feature a combination of insomnia medications and behavioral therapies.
Many doctors recommend cognitive behavioral therapy for insomnia (CBT-I) as a first-line treatment. This approach uses a combination of behavioral treatments, such as:
Compression to increase sleep pressure
Relaxation training to counteract hyperarousal
Sleep hygiene education
Sleep restriction
Stimulus behavior therapy to help connect the bed with sleep
But not everyone with chronic insomnia will benefit from CBT-I alone. Instead, many use CBT-I along with medication. Older insomnia medications, like benzodiazepines or Z-drugs, can be very effective; however, they can cause a physical dependence, making it hard to stop taking them. However, the new classes of drugs that have been developed carry a lower risk of dependence while still being effective. One new class of drugs, called dual orexin receptor antagonists (DORAs), are already helping people rest easier. These drugs work by decreasing the signals that travel throughout the brain, helping to regulate feelings of sleepiness and wakefulness.
Another class of drugs, hypnotics, may help you get a better night's sleep if you live with chronic insomnia. Within the brain, one chemical neurotransmitter known as GABA helps your body and mind relax and fall asleep. Hypnotics work by enhancing the action of GABA within the brain, which causes sedation and prevents activity in regions of the brain responsible for waking. Your doctor may suggest a hypnotic if you have difficulty going to sleep or cannot maintain an effective sleep routine.
For many, long-term use of these new insomnia medications isn't linked to any decrease in their effectiveness. Also, it doesn't appear that long-term use contributes to drug abuse, withdrawal effects, and any development of new adverse effects.
Chronic insomnia can make daily life difficult, but insomnia treatment advances offer hope for many. If you've had insomnia symptoms for a month or more, talk with your doctor about how you can get better sleep. Doing so can help you feel better quickly, avoid potential insomnia complications, and enjoy a better quality of life.
Was this helpful?