PHYSICIAN VOICES

Meet the Sleep Medicine Specialist: Insomnia

Was this helpful?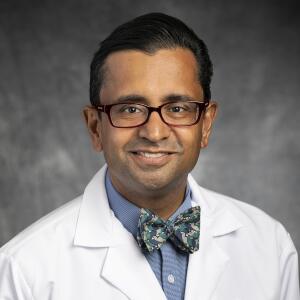 Dr. Susheel Patil is a board-certified sleep medicine specialist with University Hospitals in Cleveland and practices at the Cleveland Medical Center. In our "Meet the Specialist" series, we highlight the perspectives of various medical specialists on the types of patients they see and what they find rewarding and challenging in their daily practice.
I've been a sleep specialist for about 20 years now, and one reason I went into this field is the impact I can make on a person's wellbeing and quality of life in a short period of time. There are many areas of medicine where unfortunately, we may be able to make a diagnosis, but we may not necessarily have a good treatment to offer. With sleep medicine, while we can't treat every sleep disorder as well as we might like, we do have effective treatments.
Sleep disorders like insomnia don't just affect someone at night. Insomnia is characterized by difficulty falling or staying asleep, associated with problems of daytime functioning. It can be a short-term or long-term problem. A lack of sleep can permeate into all aspects of your life; it impairs your ability to perform productively and safely at work, at school, or at home. It hinders your mental health and raises your risk of anxiety and depression. Insomnia can also be related to other health problems such as worsened short-term memory and digestive issues. When patients first come see me, they're often frustrated and, of course, exhausted. The best part of my job is when a patient comes back in and says, "I was so sleepy or tired before and I couldn't get through the day. Now, I feel great. I have lots of energy and I feel like myself again." My goal is to help patients spend more time doing the things that are important to them by improving their sleep, and I'm grateful to be able to do that every day.
I chose to become a physician for two reasons. When I was young, my father told me to pursue medicine because we had no doctors in our family. I was the first-born son, and I wanted to follow his guidance, so I set my mind on becoming a physician. But as I got older, it became clear it was the right choice for me for other reasons, too. I had a passion for science, and I loved interacting with people. Healthcare is obviously a good place to be from that standpoint, so I ended up in the right place.
In my training, I was fascinated by how common it was for patients to be admitted to the intensive care unit with breathing issues. I specialized in pulmonary and critical care medicine to focus on these patients, and eventually that triggered my interest in the relationship between breathing and sleep. As I explored sleep medicine, I realized there was a lot more to it that intrigued me, and I became a board-certified sleep specialist as well.
The study and science of sleep is going through a technological revolution at this time. Early in my training, I was looking at sleep studies on paper and transitioning into electronic data collection. Today, the technology has evolved tremendously. One of the hardest parts of my job can be getting a good history from the patient. We aren't with them night after night when they're trying to sleep. We don't get to always observe the consequences a poor night's sleep has on their day-to-day activity. Sleep studies–in which a patient sleeps while their vitals and movements are observed by specialists–can reveal a lot, but it used to be that a patient needed to come into a clinic for an overnight stay. Now, a patient can take a special monitor home to perform a sleep study in their normal environment. Event fitness trackers and even mattresses are tools that can help assess a person's sleep quality. That data can be helpful, although we're still discerning how best to interpret the information in relation to gold standards such as sleep studies. Besides advancements in sleep diagnostic assessments, we understand more about treating insomnia than ever before to help people improve their quality of life and feel rested during the day. Whether it's behavioral interventions, psychological guidance, or pharmaceutical therapies, people with sleep disorders like insomnia should feel confident that, in working with a sleep specialist, they can find strategies to help them stay healthy and get the quality sleep they need.
Was this helpful?