How Discrimination Can Lead to Insomnia for People of Color
Was this helpful?
There are many potential causes of insomnia, including an irregular sleep schedule, certain medications, and mental health conditions. Discrimination and the effects of racism can also cause insomnia for People of Color.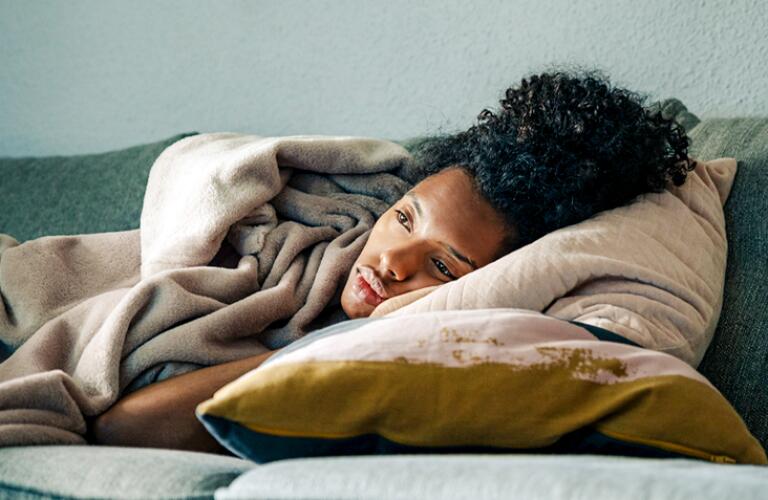 Insomnia is a common sleep disorder that makes it hard to fall asleep, stay asleep, and get enough sleep. A lack of sleep can increase the risk of health conditions such as type 2 diabetes, stroke, depression, and cardiovascular disease.
Everyone needs sleep, but not everyone gets it in the same quantity or quality. In a 2020 study, Black Americans reported more restless and less restorative sleep than white Americans. Native Americans, Hispanic and LatinoAmericans, and Asian Americans also miss out on sleep. A variety of studies in recent years suggest a link between racism and sleep challenges, and a lack of sleep could worsen some of the other health disparities that People of Color already face.
Studies suggest that People of Color take longer to fall asleep, wake up more often during the night, and spend less time in the deeper restorative stages of sleep than white people. Factors rooted in systemic racism may be among the reasons People of Color do not get enough good quality sleep.
Research indicates that discrimination may cause insomnia and other sleep problems. People of Color face not only obvious incidents of racism, but also "microaggressions." These subtler, everyday versions of racism take the form of comments like, "You're so articulate!" or incidents such as being mistaken for a restaurant server or valet.
Whatever form discrimination takes, it can act as a chronic stressor. Other stressors that disproportionately affect People of Color include financial stress, unsafe working environments, and exposure to pollution and noise.
Any type of stress puts the body into a state of high alert called "hyperarousal." Racism and other stressors can weigh so heavily on a person's mind that it affects their ability to sleep. Research indicates that people who experience chronic stress due to discrimination have more difficulty falling asleep, experience more disrupted sleep, and have worse sleep quality than those who do not face this type of stress.
In one study, people who were exposed to racial discrimination had more severe insomnia than those who weren't exposed. Whether a person felt discriminated against was a bigger factor in their ability to sleep than their race.
Certain studies have examined racism's effects on sleep in the Hispanic and Latino communities. Hispanic is a term that describes someone from a Spanish-speaking background, whereas Latino describes someone from Latin America. Some members of these communities have embraced the gender-neutral term, "Latinx" rather than "Latino" or "Latina," however, because "Latinx" may not resonate with everyone, and because most studies use the term "Latino" at this point, we've chosen to use it as well. Hispanic and Latino people who have immigrated to the United States face stressors such as assimilating into a new culture, and, regardless of where they were born, they may experience discrimination based on their ethnicity. These types of social stressors contribute to poor sleep, insomnia symptoms, and daytime sleepiness in members of these communities.
A 2017 study indicates that Asian Americans who report more racial microaggressions on average tend to report lower sleep quality and shorter sleep duration. The study also looked at the concept of stigma consciousness. This is the extent to which a person expects to be stereotyped by others. Asian Americans who anticipated and prepared for racial discrimination reported higher rates of sleep difficulty, and additional studies looking at other racial and ethinc groups also noted this association.
Young adults and people assigned female at birth may be especially vulnerable to racism's effect on sleep. Females have more sleep problems than males overall. Middle-aged and older Black women in one study were more likely to experience insomnia if they were exposed to higher levels of racism on a daily basis. Worry in college students who identified as Latinx was associated with more insomnia, as well as greater levels of anxiety and depression.
Sleep is essential. When you sleep, your body repairs and renews itself. Sleep affects everything from your immune function to your heart rate and blood pressure.
Insomnia is linked to an increased risk of many health conditions, including:
depression
anxiety
heart disease
diabetes
obesity
Black, Latino, Hispanic, and Asian people are already at higher risk of these conditions than white people. The term "health disparities" describes the unequal burden of these and other health conditions in People of Color. Insomnia due to racism could make these problems even more severe, further increasing health disparities.
Unlike other disparities, such as income inequality and food insecurity, insomnia is one disparity for which we have tools to treat. Cognitive behavioral therapy for insomnia (CBT-I) is a common treatment in which a therapist works with you to help you identify and change the thoughts and behaviors that are keeping you awake.
CBT-I is very effective at helping people fall asleep faster and sleep better. It works equally well in People of Color and white people.
If you have difficulty sleeping, a good place to start is with your primary care doctor. They can identify whether a medical issue is keeping you awake. A psychologist or sleep specialist can help you manage any stressors that are weighing on you so that you can work toward falling asleep more easily and sleeping more soundly.
Was this helpful?