5 Things You Need to Know About Sleep Apnea
Was this helpful?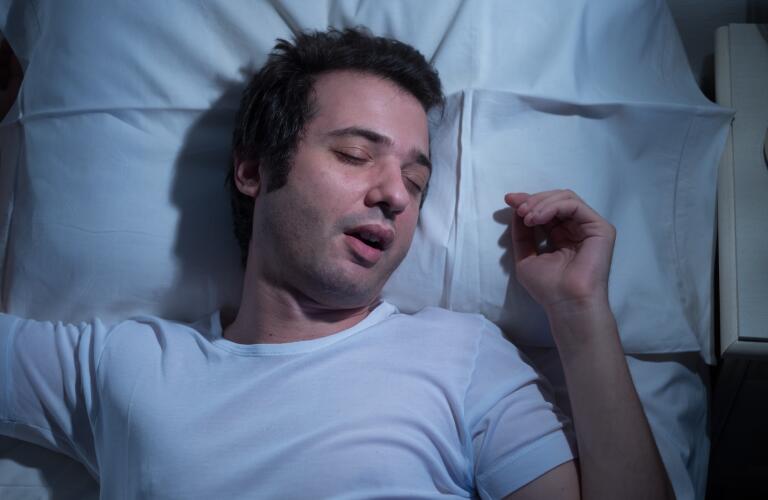 Sleep apnea is a medical condition in which you temporarily stop breathing, or breathe very shallowly, while you are asleep, often occurring repeatedly throughout the night. Sleep apnea affects close to 20 million Americans, but it remains undiagnosed in about 80% of cases. This is significant because left untreated, sleep apnea can affect your health and daily routine. Here are some important sleep apnea facts you should know.
Sleep apnea can occur for different reasons. There are three main categories:
During periods of not breathing, the levels of oxygen in your body may decrease while levels of carbon dioxide rise. This often triggers you to wake up and take a breath, but it may occur without you even realizing it.
5 Things You Didn't Know About Sleep Apnea
Though it's possible to snore and not have sleep apnea, snoring is one of the most common symptoms. Other signs and symptoms include:
If this sounds like something you're going through, talk to your doctor.
Anyone can experience sleep apnea, including children, but some things can make you more likely to be affected by this sleep disorder:
There are some risk factors you can't do anything about, like your sex or age, but others are considered modifiable, meaning you can change them. For example, losing weight, quitting smoking, or avoiding alcohol may help improve sleep apnea.
If the oxygen levels in your body drop as a result of sleep apnea, it can make your heart work harder and affect your nervous system. Serious complications can result, especially if your sleep apnea goes untreated. In terms of your cardiovascular system, this may lead to high blood pressure, abnormal heart rhythms, and stroke. Your risk of diabetes increases as well.
The fatigue associated with sleep apnea can carry into your daily life. You may have a hard time completing tasks or functioning at work. You may find yourself making mistakes more frequently. Studies even suggest people with obstructive sleep apnea have a 2.5 times greater risk of being involved in a car accident.
In addition to making healthy lifestyle changes as discussed, there are several treatment options available for sleep apnea. Depending on the cause and severity, your doctor can guide you to the right choice. Some common sleep apnea treatments include:
If you think you might have sleep apnea, or your sleep partner reports loud snoring or pauses in your breathing, make an appointment with your doctor. In addition to a medical history and physical exam, you may be referred for a sleep study, which may sometimes be done at home, to monitor your breathing patterns, heart rate, brain activity, and oxygen levels while you sleep. This will allow your doctor to make a proper diagnosis and get you on the road to treatment.

Was this helpful?