SOCIAL VOICES

Winter Skin Care for Sensitive Skin

Was this helpful?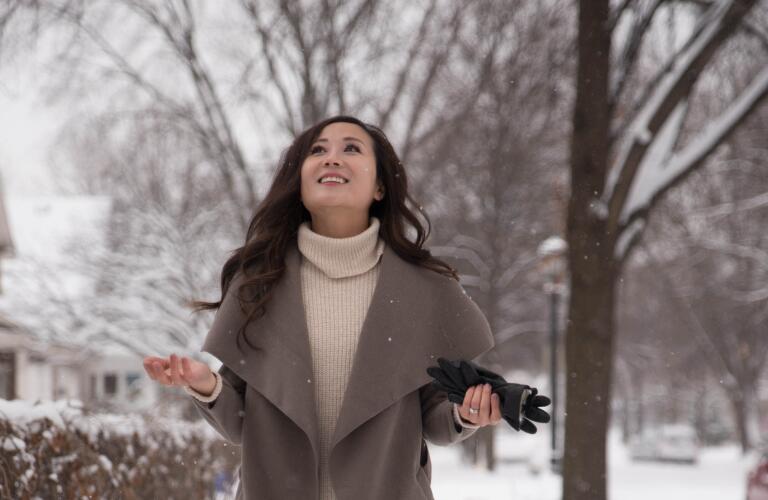 Winter can be a challenging time for those of us with sensitive skin, thanks to colder and drier weather that can be harsh on skin. As a dermatologist, dry, itchy skin is a common concern I see in patients during the winter.
Fortunately, there's a lot you can do to help your skin win the battle. Follow these tips to keep your sensitive skin hydrated, healthy, and protected all winter long.
Daily showers or baths are recommended, but limit your time in the water to 10 minutes or less.
Avoid super-hot water. Although it feels great, hot water can dry out your skin–and winter weather will make it even dryer.
Use soap sparingly, as it can dry out your skin as well. Believe it or not, we only really need soap to wash our armpits and groin, as well as any areas that are visibly dirty.
Avoid soaps that get extra sudsy, as they are often too harsh. Instead, opt for gentle cleansers and cleansing lotions. These are less drying and may even contain moisturizers within the formula.
If you love a good sugar or salt scrub, cut back and only use it once a month. While it's great to rid your body of built-up dead skin, excessive use of these scrubs can be overly irritating and do more harm than good.
After you get out of the bath or shower, don't rub or scrub with a towel when you're drying off. Pat your skin lightly and make sure to use a new towel every few days to prevent exposing your skin to bacteria.
Always slather moisturizer all over your body immediately after bathing. Moisturizer applied to damp skin does a better job at keeping skin hydrated than moisturizer applied to totally dry skin.
Look for thicker moisturizers that contain ceramides, which are fats found naturally in the uppermost layers of your skin. Ceramides help keep your skin healthy and provide a shield to prevent environmental threats from causing irritation, and often people with sensitive skin don't have enough of them.
For those with extra dry or flaky skin, look for moisturizers that contain alpha hydroxy acids. These can exfoliate the top layers of your skin and help to remove dead skin build-up. However, use these products with caution if your skin is inflamed or rashy, as they can cause further irritation or even a burning sensation upon contact.
Avoid going to saunas and steam baths. The temperature is extra drying on sensitive skin, and the steam keeps your pores open and more susceptible to infection. Plus, going from the steamy, hot sauna or bath back into the cold winter air can give your skin a shock and cause irritation.
Avoid tight or scratchy clothing, especially items made from wool, as they can often irritate sensitive skin and make you very uncomfortable throughout the day. Try out a laundry detergent made specifically for sensitive skin, as well, so chemicals from your detergent don't add more irritation to your already-dry skin.
Use a humidifier while you sleep; the added moisture in the air soothes dry skin, keeps it hydrated, and can prevent and relieve chapped skin on your nose and lips.
Avoid using heated blankets or comforters. Although jumping into a super warm bed sounds lovely in the dead of winter, that heat will not only dry out your skin, but also make itchy skin even itchier, keeping you up at night.
With winter comes snow days, fires in the fireplace, and cozy sweaters–and no one wants to add itchy, dry skin to that list. Fortunately, you don't have to suffer as a result of cold weather. Follow these tips to keep your sensitive skin strong all season long.

Was this helpful?