What Your Nails Can Tell You About Your Health
Was this helpful?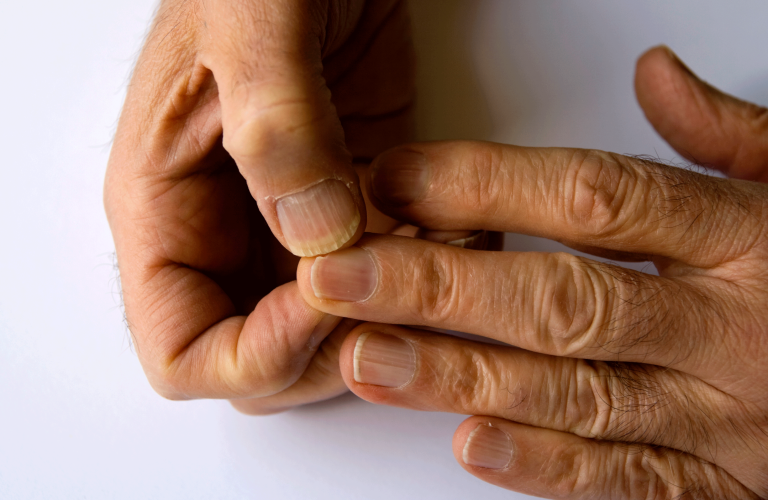 You may not think your nails reveal much other than the length of time since you last clipped or filed them. But in fact, changes in the color, thickness or health of your nails can often point to underlying health issues, from anemia to diabetes to heart disease. Watch for these nine warning signs of health conditions first visible in your fingers and toes.
In this condition, all your fingernails thicken and expand, causing a bulb-like appearance. You might also hear them called watch-glass nails or drumstick fingers. Most often, they indicate an underlying lung disease, such as chronic obstructive pulmonary disease or lung cancer. People with liver conditions or celiac disease can develop them, too.
Unlike club nails, which puff out, spoon nails take on a concave shape. A few cases are hereditary.
5 Tips For People With Psoriasis From People With Psoriasis
But most often, they point to anemia linked to iron deficiency. Poor nutrition, stomach bleeding, gastrointestinal cancers, and celiac disease can all lead to low iron levels and cause this condition, also known as koilonychia.
In some people—especially those with dark skin—vertical bands running from the base to the tip of the nail are perfectly harmless. But in other cases, they signal a case of the deadly skin cancer melanoma. If you notice a new band or one measuring more than three millimeters wide—or if you have light skin, a family history of melanoma, or a band on only a single nail—see your doctor for a biopsy.
Depending on exactly how many white lines cross your nails and whether they change as your nail grows, your doctor may suspect different underlying issues. Mees lines, which stretch the width of your nail and move as your nail grows, could indicate kidney disease or heavy metal poisoning. Meanwhile, Muehrcke lines—pairs of white lines in the nail bed that don't migrate—occur with kidney or liver disease.
Sometimes, traumas, such as stubbing your toe or slamming your finger in the door can create these red-brown, vertical lines. In other cases, they serve as a sign of a heart infection called endocarditis.
Changes in nail color often point to a bacterial, fungal or yeast infection. Left untreated, these infections can spread—and they're often difficult to cure. Your doctor will do a culture to determine the bug that's invaded, as well as the best treatment. Options include oral and topical antifungal or antibiotic medications.
Stretching horizontally across the nail plate, creases called Beau's lines occur when the formation of new nail cells is disrupted. This could point to several different underlying conditions, including Raynaud disease, a blood vessel disorder that interrupts circulation to your fingers and toes.
Though many people find them concerning, brittle, soft or thin nails typically don't mean you have underlying diseases or nutritional deficiencies. Most often, they occur after repeatedly getting your hands wet. You can prevent them by using lotions with alpha hydroxy acids or lanolin, wearing gloves when cleaning or performing other chores that involve water, and asking your doctor about biotin supplements.
About half of people with the skin disease psoriasis see signs in their nails as well. In some cases, shallow or deep holes called pits occur in the finger and toenails. In others, nails thicken, turn yellow-brown, or separate from the nail bed. Your doctor will talk with you about treatment for your psoriasis and for your nails specifically. You may need injections of corticosteroids directly into your nail beds.
Was this helpful?