How to Get Rid of Dandruff: 10 Fast and Effective Remedies
Was this helpful?
There are many different methods for treating dandruff, from medications, like steroids, to home remedies, such as baking soda and tea tree oil. Dandruff is a common condition. According to 2015 and 2020 research reviews of the condition, dandruff is present in 18% of children and 1–3% of adults in the United States.
This article will outline a variety of home and medical remedies to reduce your symptoms of dandruff. Read on to find out how to manage your dandruff symptoms quickly and efficiently.
Always contact a doctor if you are concerned about your symptoms.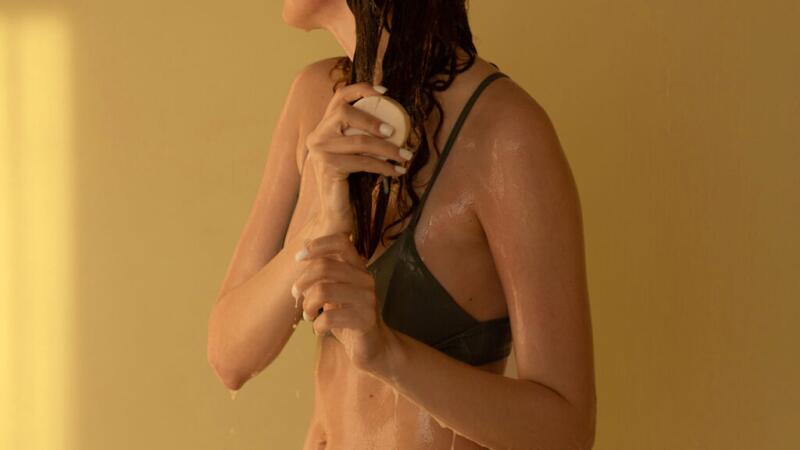 Baking soda can act as a quick, cost-effective, and convenient dandruff remedy. It can act as an exfoliant and has antifungal properties.
A 2012 study measuring the antifungal effects of baking soda on types of fungi from skin and nail infections showed that baking soda completely limited growth on 79% of samples after a week.
Baking soda is also known to help with psoriasis, but experts need more research to confirm this. One 2019 study showed that baking soda did not affect psoriasis or skin redness.
Sprinkle some baking soda directly onto your scalp and leave it on for 2 minutes.
Essential oils, particularly peppermint oil, can have antibacterial and antifungal properties.
In a 2022 study that compared three different oils in their antifungal properties, peppermint oil inhibited the growth of fungal colonies the most.
Dilute peppermint oil with a carrier oil and apply it directly to the scalp. Massage it through the roots. Leave it in place for 2 minutes, then continue to shampoo as usual.
Probiotics are types of bacteria known to have many different health benefits, such as improved mental health and reduced symptoms of asthma.
These bacteria may improve the performance of your immune system. This can help your body clear the fungal infections that cause dandruff.
One small 2017 study involving 60 people showed significant improvements in dandruff symptoms after 56 days of taking oral probiotics compared with the placebo group.
Probiotics are widely available from pharmacies as supplements.
The acidity of apple cider vinegar can stimulate the shedding of dead skin cells on your scalp.
However, experts need more research to support the improvement of scalp conditions in people who experience dandruff symptoms.
Add a few tablespoons of apple cider vinegar to your shampoo.
A natural moisturizer, coconut oil has numerous applications to improve your health, including helping reduce dryness on your scalp. This can decrease the severity of your dandruff symptoms.
Coconut oil helps by providing additional moisture to a dry scalp. A lack of moisture causes the characteristic flaking of dandruff. A 2017 study showed that virgin coconut oil even has anti-inflammatory abilities, which help soothe various forms of dermatitis — another cause of dandruff.
Coconut oil helps boost the scalp microbiome. A healthy scalp microbiome provides essential vitamins to the skin. A 2021 study involving 140 women shared that within 12 weeks, the application of coconut oil lead to significant improvements in the scalp microbiome, which paired with a decrease in dandruff symptoms.
Combine coconut oil with warm water and use as an in-shower treatment, massaging into your scalp. Alternatively, leave it in overnight.
Salicylic acid, a substance in the same medication class as aspirin, can treat some skin conditions due to its anti-inflammatory properties.
When applied to the scalp, salicylic acid can ease dandruff symptoms and even prevent them.
Salicylic acid can gently exfoliate the scalp and promote the regeneration of damaged skin.
Alongside this, salicylic acid can prevent future flare-ups of dandruff by preventing the growth of bacteria and fungi that may cause irritation.
Salicylic acid is in some anti-dandruff shampoos, but simply adding crushed aspirin tablets to your shampoo can help remedy your symptoms.
Researchers are still studying the links between diet and the development of dandruff. However, there is some evidence to say that increased consumption of sugar can increase your risk of dandruff.
Improving your gut microbiome can help reduce the production of a substance called sebum on your scalp. Excess sebum production links closely to dandruff because the fungal infections that cause dandruff rely on sebum to survive.
Foods you may want to limit include:
refined carbohydrates
sugary foods and drinks
highly processed foods
Tea tree oil can help treat many skin conditions, including acne.
The effectiveness of tea tree oil in treating acne is due to the antimicrobial and anti-inflammatory properties present within tea tree oil — it is these that help tea tree oil effectively treat dandruff.
Research shows that tea tree oil has antifungal activity, which is helpful when tackling dandruff. This is because of allergies to fungal species that naturally occur on your scalp, often causing dandruff.
A 2003 study involving 126 participants showed that daily use of a shampoo containing 5% tea tree oil showed a 38% symptom reduction within 4 weeks. Participants saw reduced itchiness and greasy patches on the scalp.
However, tea tree oil can be harsh on sensitive skin and may cause irritation.
It is important to dilute tea tree oil before applying directly to your skin. Try mixing it with a carrier oil such as olive oil before application.
If you cannot reduce your symptoms with at-home remedies, your healthcare professional may prescribe you medications. These can include topical steroid creams, such as hydrocortisone creams, and immunomodulatory to regulate your immune system, such as calcineurin inhibitors like tacrolimus.
There are a variety of possible treatments for dandruff symptoms, most of which are easy to access and cost-effective.
The earlier you notice the symptoms, the easier they can be to alleviate. If these do not help you, get advice from a medical professional who can work with you to organize stronger treatment.
Was this helpful?