7 Ways to Soothe Your Newborn's Sensitive Skin
Was this helpful?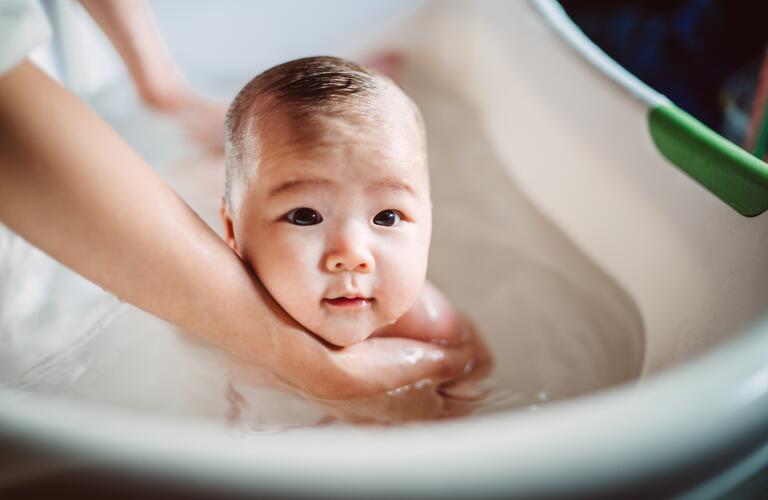 When you have a new baby, you devote a lot of time and energy into taking the best possible care of your bundle of joy, and that includes their sensitive skin.
In this hectic, life-changing period where everything is new, there are several things you can do for your baby to heal any irritated skin and prevent potential problems.
You can take all the precautions in the world to keep your baby's skin soft and supple, but you can't prevent some things from happening. For example, some babies develop eczema, or atopic dermatitis, in which skin is dry, itchy, and easily irritated. And many babies develop temporary skin conditions, like "baby acne," tiny white bumps called milia, that go away on their own. But there are other things you can control. Try to monitor your baby's sensitive skin as much as you can, so you'll notice if their cheeks start looking dry or scaly, or their diaper area starts looking red and inflamed. Then you can take action to address the problem before it gets worse.
There's almost nothing more adorable than a chubby baby in a bathtub. Enjoy the moment, but to prevent your baby's sensitive skin from becoming irritated, don't let the bath last too long; 10 minutes should be long enough. Make sure the water's warm, but not too warm. Hot water can scald your baby's delicate skin and dry it out, too. Skip the soap, since soap often contains harsh chemicals that can irritate sensitive skin, and use a gentle, unscented cleanser. And finally, you don't have to give your baby a bath every day. Every few days should be fine, unless there's a good reason (like that inevitable diaper blowout).
Stock up on gentle moisturizing creams to use on your baby's delicate skin. One of the best times to moisturize your baby's skin is right after a bath. Use a soft towel to carefully pat skin dry, then apply a gentle, unscented moisturizer all over her body while her skin is still a little damp to lock in moisture.
Babies go through lots and lots of clothes, blankets, and burp cloths. You may feel like you need an industrial-strength detergent to get the stains and smells out. But those strongly-scented detergents can leave behind a residue (and fragrance) that can irritate your new baby's skin. Leave them on the shelf and choose a gentle, baby-friendly, sensitive skin-tested detergent instead. And skip the fabric softener, as it's often heavily scented and potentially irritating to sensitive skin.
Diapers are a lot more absorbent today than they used to be, but urine and feces can still irritate your baby's skin. Be vigilant about changing your baby's diaper when it gets wet or soiled, and keep your baby's skin clean and dry. Many experts also recommend applying a thick layer of protective diaper cream after every diaper change to ward off a painful diaper rash. And when you can, let your baby have a little bit of diaper-free time so their skin can dry and breathe, which may help ward off a rash.
Heat can cause a rash to develop on your baby's skin, and wind and cold weather can chafe and irritate a newborn's sensitive skin. Keep an eye on the weather outside and the temperature inside so you can protect your baby from temperature extremes in either direction. When dressing your child, choose soft cotton clothing and hats that can protect your baby's delicate skin from the elements, too.
If you switch shampoos, or diaper rash creams, or moisturizers, be sure to test a small amount on your baby's skin first. Then wait for a little while. If a rash appears, or it looks like the skin is dry or chapped, don't use the product. If nothing happens, you're probably good to go. Don't forget to wash new blankets, hats, and clothes before your baby wears them for the first time, too, to reduce the likelihood that any of the dyes from the clothing will transfer to your baby's skin and cause a rash.
Was this helpful?