COVID Booster and the Shingles Vaccine: Can You Get Both at the Same Time?
Was this helpful?
Both the COVID-19 vaccine booster and the shingles vaccine produce similar side effects. And if you have them scheduled at the same time, you may be wondering how they'll affect you. The good news is that it's safe to take them at the same time.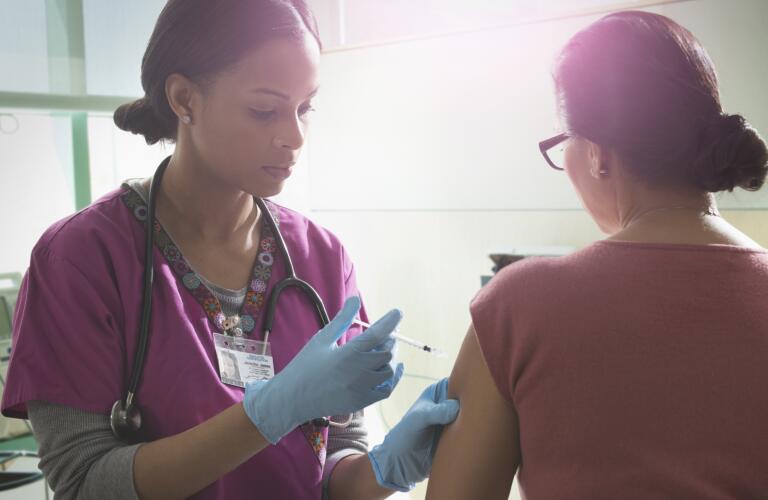 The Centers for Disease Control and Prevention (CDC) has recently expanded its recommendation regarding who's eligible for a COVID-19 booster. If you fall into this category and are also due for another shot, such as the shingles vaccine, you may have wondered if you can knock both out during the same appointment. Or would it be better to spread the two apart? Here's the latest guidance.
If you've had chickenpox, you're at risk of developing shingles when you get older. The same virus that causes chickenpox can reactivate many years later in your body, perhaps due to a waning immune system, and cause the painful, blistery rash known as shingles. According to the CDC, adults over 50, as well as people 19 and older with compromised immune systems, are encouraged to get the shingles vaccine to prevent shingles infection.
It's a good idea to discuss your individual situation with your doctor, but in most cases, you can get the shingles vaccine and the COVID-19 vaccine at the same time. Early on, as researchers were continuing to gather information about the COVID vaccine, it was recommended to space it out a few weeks from other immunizations. However, as experts learned more, the CDC announced it was safe to give the COVID-19 vaccine along with other vaccines, even on the same day.
If you experienced any side effects after your original COVID-19 vaccinations, you may have a similar outcome after your booster. Common side effects include:
sore or swollen arm near the injection site
tiredness
headache
fever
swollen lymph nodes
The shingles vaccine tends to produce similar side effects to the COVID-19 vaccine. The good news for both shots is side effects often resolve within a day or two. You can minimize your discomfort by placing cold compresses on your arms, and using acetaminophen or ibuprofen as needed. Getting plenty of rest and staying well hydrated can help, too.
Serious side effects from either of the vaccines are rare, but call your doctor or seek medical attention if you have any concerns.
We're learning that the COVID-19 vaccines may become less effective over time, especially against new variants of the virus. Getting a booster shot, however, can increase your protection from the COVID-19 virus. Everyone is encouraged to get a COVID-19 booster, provided they meet the following criteria:
Anyone 12 years and older can receive a Pfizer-BioNTech booster if it's been at least 5 months since they completed their COVID vaccinations.
Adults 18 or older who received the Pfizer-BioNTech vaccine or Moderna vaccine series at least 5 months ago can get any authorized COVID-19 booster.
Adults over 18 who received the Janssen/Johnson & Johnson vaccine at least 2 months ago can get any authorized COVID-19 booster.
In general, the Pfizer-BioNTech or Moderna vaccines are preferred over the Janssen/Johnson & Johnson COVID-19 vaccine, according to the CDC.
The CDC recommends that adults over the age of 50 get Shingrix, the newer shingles vaccine. Adults older than 19 with compromised immune systems are also eligible to get this vaccine. It's given in two doses, 2 to 6 months apart. It is more than 90% effective at preventing shingles, as well as postherpetic neuralgia (PHN), a common complication of shingles. PHN is a nerve condition that causes continued pain well after the rash has cleared.
You should get the shingles vaccine even if you've had shingles before. The CDC also recommends getting the newer shingles vaccine if you had the Zostavax vaccine in the past. Zostavax is an older version of the shingles vaccine that's less effective, and it's no longer available in the U.S.
Talk to your doctor about getting these two important vaccines. It may be convenient to receive them on the same day, but if you have any concerns, your doctor can provide guidance and help you make the best decision for you.
Was this helpful?