How Sex Can Help Improve Your Sleep
Was this helpful?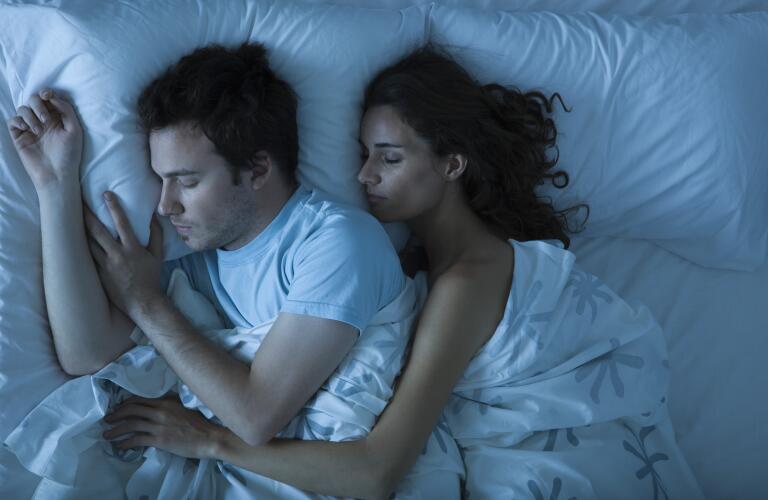 Having trouble sleeping? Have sex.
Research—and plenty of anecdotal evidence—has shown solo or partnered sex can promote sleep. In one study of nearly 800 adults, almost 71% said their sleep quality improved after sex with a partner; masturbation to orgasm led to improved sleep quality for more than 50% of respondents. Partnered sex and masturbation both helped people fall asleep more quickly as well.
Here's how sex improves sleep (and overall health).
Sexual activity causes the body to release extra oxytocin, the so-called love hormone that helps people feel connected to one another. The body also secretes more prolactin, another feel-good hormone, in response to sexual activity. (Prolactin levels spike the most when orgasm occurs during sexual intercourse.)
After sex, these hormones tend to act like sedatives, causing both men and women to feel sleepy and relaxed. Sex also decreases the amount of circulating cortisol in the blood; cortisol is a stress hormone associated with the fight-or-flight response.
Women experience elevated estrogen levels after sex. Extra estrogen can enhance REM sleep, a stage of deep sleep, according to the National Sleep Foundation.
Sexual intercourse isn't required to gain the sleep-enhancing benefits of sex. A variety of studies suggest orgasm (however you may achieve it) might be the key to a good night's sleep. A study of 460 adults between the ages 18 and 70 found that 64% of respondents sleep better after an orgasm. Healthcare professionals suspect that's because orgasm results in a surge of sleep-producing hormones, including prolactin.
Orgasm before sleep is also associated with improved quality of sleep.
Sexual activity benefits the body—and your sex life—in other ways as well. Frequent sex (once or twice a week) increases the amount of circulating antibodies in your bloodstream, says the American Academy of Family Physicians. Antibodies are designed to fight off infection, so people who have sex regularly are more likely to stay healthy. And people who are healthy are more likely to have sex. (Do you want to have sex when you have the flu?)
Sex is a natural pain reliever as well. When you orgasm, your body releases endorphins, or pain-relieving hormones. So, sex might also help relieve the back pain that normally keeps you awake at night.
Your heart loves sex too. Sexual activity is similar to exercise in many ways; it raises the heart rate and strengthens the heart muscle. High levels of cortisol, the stress hormone, are related to the development of heart disease, but sex lowers cortisol levels, so sexual activity may protect the heart. There's evidence to show sex decreases blood pressure too.
Sex keeps the reproductive system healthy as well. In women, sexual activity is associated with increased vaginal lubrication and elasticity. In men, sex helps maintain prostate health.
Instead of staring at the ceiling the next time you can't sleep, try sex. You can probably orgasm and drift off to sleep more quickly than you if you simply continued to obsess about the minutes ticking by. You'll probably sleep more soundly too.
Was this helpful?