8 Ways Your Ob/Gyn Can Help You Have Better Sex
Was this helpful?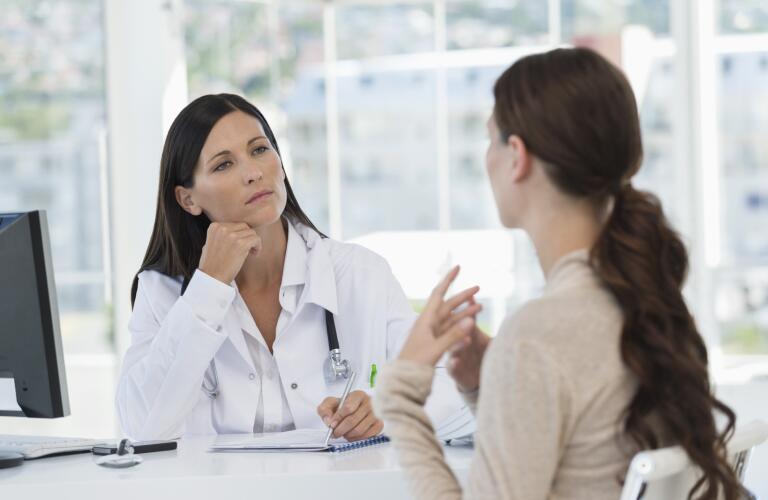 Beyond performing your annual exam, your ob/gyn has a wealth of knowledge you can tap to improve your sex life. Although you may feel awkward bringing up an iffy odor or itchiness, your doctor is well versed in the treatment of common--and not-so-common--issues and conditions that can make sex uncomfortable. From low libido to vaginal dryness, broaching the following eight topics could significantly improve your sex life.
Many women struggle with arousal, which stems from a variety of medical issues. Talking to your doctor can pinpoint your problem and lead to treatments to address it. Your ob/gyn may help identify lifestyle issues, like sleep, stress, or relationship dynamics, as the culprit. Alternatively, tests could reveal you have decreased hormone levels, or that certain medications you're on—like antidepressants or anti-seizure meds—can be shifted to increase libido.
It's natural to feel self-conscious about your vaginal odor, and talking to your doctor can allay insecurities. Everyone has their smell—a product of body odor and secretions that varies with diet, sexual activity, and hormonal fluctuations. However, when a smell is overly strong it can indicate something's going on, like an infection, hygiene issue, STD, or even a forgotten tampon. Your doctor will discern whether the scent is normal or a sign of something needing treatment.
Around one in three women struggle to climax; it's a common problem your doctor is prepared to troubleshoot. At your appointment, you'll likely review your medical history and undergo a physical evaluation. Armed with this information, you'll have an informed discussion about whether you should try altering lifestyle factors like smoking, treat an underlying condition, or address a hormonal deficiency. Your doctor may even prescribe a topical cream that increases blood flow to the clitoris or an FDA-approved stimulating device.
Sex shouldn't hurt. The medical term for painful intercourse is dyspareunia, which refers to persistent genital pain before, during, or after sex. It stems from various causes, including endometriosis, cysts, or vaginal skin problems. Your doctor will guide you toward a treatment based on the source, setting you up for pleasurable, pain-free sex. Treatment could include therapy, a particular type of lubricant, or vaginal exercises, like Kegels.
Once you enter menopause, shifting hormones cause your vaginal lining to become dry, thin, and less flexible. This can make sex painful, as a dry vagina is susceptible to tearing and even bleeding. Your doctor can evaluate your hormone levels and recommend an appropriate treatment. For some women, having regular sex, which keeps the vagina moist, and using lubricant can help. For others, targeting low estrogen with hormone therapy can make sex pleasurable again.
Your vagina hosts yeast colonies and bacteria which, when in balance, keep the region feeling comfortable. However, when one of these elements increases, it causes itchiness and discomfort. Your doctor may find an infection, treatable with antibiotics, or the itching could stem from an allergy—from latex, if you're using condoms, or to a spermicide or lubricant. Your ob/gyn will help you identify the irritant and offer solutions to eliminate the discomfort.
Sex is generally safe up until your water breaks, as long as you have the okay from your doctor. In fact, you may find the sex more pleasurable as your hormones fluctuate and blood flow increases to your erogenous zones. However, only your doctor can say whether you're cleared for sex, and if there are any limits on positions. Once you get the go-ahead, you'll have the knowledge needed to experience the full benefits of those pregnancy hormones.
If you're new to contraception, ask your doctor to discuss the methods that best fit your specific needs. Devices you insert inside your vagina give you total control. Or, if you're looking for a more long-term—but still reversible—solution, your doctor may guide you toward an implantable rod, intrauterine device, shot, or vaginal ring. Some methods can even protect you from pregnancy for up to five years, and you don't have to worry about taking a pill every day.
Was this helpful?