PATIENT VOICES

My Tardive Dyskinesia Story: Working With the Card I'm Dealt

Was this helpful?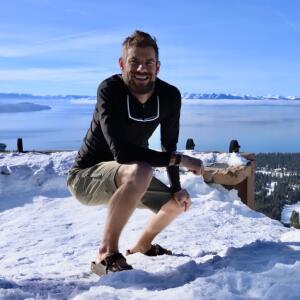 Skiing, to me, is the ultimate freedom. My mom got me into skiing as a young child, and since then, I've savored the rush of bombing down a hill, breathing fresh air in a controlled free fall. And in the last several years, skiing has offered me another freedom: a respite from the constant, involuntary movements I experience as a result of tardive dyskinesia (TD).
Of course, skiing demands a high level of focus. When you're skiing, you're always looking 200 yards ahead, analyzing everything around you so you don't hit another person or crash into a clump of snow. Until my Deep Brain Stimulation (DBS) surgery in 2018, the intensity and focus of skiing was my only relief from TD symptoms.
TD is a movement disorder that's actually a side effect of taking certain medications that interfere with dopamine in your brain. In my case, the uncontrollable, repetitive movements of TD developed as a result of the many antipsychotic medications I took to manage my Tourette's syndrome and anxiety. My Tourette's isn't audible–it involves little twitches and shakes, and it wasn't really a big issue growing up. I only started taking medication for it once I graduated college because I wanted to enter the business world. I think of this phase as my "Tourettication" because I tried multiple medications over the next few years, even though nothing seemed to work.
Four years after graduation, I began experiencing high levels of anxiety. I struggled with terrifying panic attacks; heart racing, I escalated any thought that entered my mind and felt sure every action would lead to disaster. My doctor prescribed me additional medications to treat the anxiety, but nothing helped. He never told me about potential side effects. I just wanted to be fixed.
Not even a year after starting on the anxiety medications, I remember looking at my cell phone to send a text, and my neck started jerking, my head pulling back. Any time I was in that position, whether texting or ringing up a customer at the ski resort where I worked, my head would jerk like a pigeon's. I began a new job at a car dealership, and my arms started to flail around out of my control. Rude coworkers would compare me to the classic dancing inflatable tube man found in front of used car lots, telling me to go stand up front and wave in some sales. That was followed by facial pulls, lip smacking, tongue movements, cheek stretches that looked like an extended yawn, and more movements I could not control. I got a new doctor, who started pulling me off medications and trying smaller doses of other ones. Ultimately, I tried 11 different medications, and each made the previous one's effect on me worse.
I left the car dealership after a year and focused on my own business, selling season passes for ski resorts and other outdoor activities. Being able to work from my laptop on my own schedule at that time was huge, because my TD symptoms were debilitating. I would roll on the ground, flipping side to side. I'd have trouble typing or doing anything physical. I ended up breaking three ribs due to uncontrollable stomach muscle movements. I tried to make a joke out of my situation, extolling the virtues of my "Twitch Pack Abs" and the "workout" program I called "Body By Tension." I had a bald patch on the back of my head where I constantly rubbed anything I was sitting or standing near, to try to put pressure there and offset the other movements of my body.
My anxiety skyrocketed, depression set in, and I ended up staying a week in a psychiatric ward at one point. The medications caused delusions and other side effects beyond the TD movements. It was a terrifying, miserable period of my life. I reached a point where I just couldn't leave the house–not even for a walk, much less a ski trip.
Finally, in 2018, I was sent to a movement disorders specialist, Dr. Joy Antonelle de Marcaida, where I first heard the words tardive dyskinesia. The scans of my brain showed a giant white cloud in the center, representative of the excess dopamine that was leading to my uncontrollable movements. My case was on the severe end of the spectrum and my healthcare team decided, after lots of tests, that the best way forward was to perform brain surgery for Deep Brain Stimulation, more commonly used for Parkinson's disease, epilepsy, and essential tremors. My doctor wrote a deposition letter to the U.S. Food and Drug Administration (FDA) to fight for my case. It was approved and I arrived for my surgery two months later.
I'm a very optimistic person, but the surgery was something I tried not to be hopeful about. If I got my hopes up and it didn't help, I knew I'd go right back into the funk of depression I'd been in for years. Before the surgery, I had to sign some paperwork acknowledging that one of the risks of the procedure is death. As I read it, I realized death wasn't what I was afraid of most; the worst-case scenario for me would be waking up after the surgery and still getting no relief.
For my DBS, a surgeon first inserted electrodes into the area of my brain that makes dopamine. On my birthday, a few weeks later, I went back and they implanted a battery pack in my chest that sends electrical signals up to the electrodes to regulate the amount of dopamine produced. It's one of the best birthday gifts I've ever gotten. Eighty-six days after the surgery, I was able to ski on opening day at my favorite mountain in Vermont. I've still got the occasional twitch or jerk, but I got my life back.
Advocating for TD awareness has become a passion of mine. If I'm going through this battle, it's not for nothing; it's got to benefit other people as well. I post videos about my experiences to my YouTube channel and share photos and thoughts on my social media accounts and website. TD education is huge because the more people who know about it, the more likely it is they will look into possible medication side effects to avoid TD altogether. And for others who have TD or similar movement disorders, I want them to not feel so alone.
Tardive dyskinesia is different for every body–and I separate those two words intentionally. My case was pretty severe, and the treatment path for others might be different than mine. In addition to my DBS, managing stress and getting enough sleep is really important for me. I know people for whom yoga has been helpful. Movement therapy and physical activity can make a difference, even if it just means dancing on your own to your favorite song or hitting the slopes as often as you can.
I think about life as a deck of cards. Every morning, we're dealt a new card. On a bad day, that card might be a two, but I work hard every day to make my quality of life or my mental game a little bit better so I don't feel victimized or hit a slump; I just focus on how I can turn that two into a five, that five into a seven, that seven into a jack, and that jack into an ace.
Was this helpful?