PHYSICIAN VOICES

Meet the Neurologist: Tardive Dyskinesia

Was this helpful?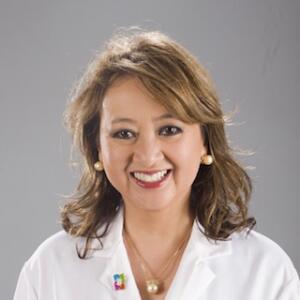 Dr. Joy Antonelle de Marcaida is a board-certified neurologist and Medical Director of the David & Rhoda Chase Family Movement Disorders Center at Hartford HealthCare. In our "Meet the Specialist" series, we highlight the perspectives of various medical specialists on the types of patients they see and what they find rewarding and challenging in their daily practice.
I became a neurologist–a doctor who treats disorders related to the brain or any part of the nervous system–because I like a challenge. In medical school, neurology was known to be a difficult field of study. But the more difficult it was, the more exciting I found it to be. And among neurologists, subspecializing in movement disorders was even less popular, so I knew I had to explore it. However, although my interest was piqued due to my competitive nature, I soon fell in love with my patients. People with movement disorders, like tardive dyskinesia (TD), dystonia, Huntington disease (HD), and Parkinson disease (PD) have chronic conditions for which we have no cure, yet their spirits are so strong. It's been a privilege to have worked with these patients for the past 22 years, celebrating their milestones and sharing in their frustrations. This is a sentiment you'll hear from many movement disorder specialists: we truly love our patients and it's a distinct honor to be part of their lives.
Every day, I meet with tardive dyskinesia patients and their care partners. Tardive dyskinesia is a neurological condition characterized by involuntary movements of the face, trunk, and limbs. People with TD might smack their lips repeatedly, blink excessively, or jerk their neck constantly without being able to control it. These movements aren't happening because of a naturally-occurring problem in the brain or nervous system, but because of a medication that induced them. The medications that can cause TD, known as dopamine blockers or dopamine antagonists, interfere with a chemical called dopamine that influences mood, regulates movement, and plays a role in how brain cells and nerves communicate with the body. These medications effectively treat bipolar disorder, schizophrenia, depression, gastrointestinal disorders, and other conditions, but may also lead to the development of TD. A class of drugs called antipsychotics are the most common culprit, but medications such as antiemetics, which prevent nausea and vomiting, can also lead to TD.
When it comes to TD, today we know more than we ever have, with a variety of treatment options available to help patients manage their health while reducing or even resolving TD symptoms. We'll work with patients and their psychiatrists to taper off their medication, try a new dosage, replace the offending agent with another one, or even explore surgical options such as Deep Brain Stimulation. We can also prescribe newer medications specifically designed to treat TD so patients can continue their other treatments.
We also know more about the importance of preventing TD. If you've been diagnosed with a psychiatric or gastrointestinal condition and your doctor wants you to try an antipsychotic or antiemetic with dopamine blocking properties, it is crucial to have a thorough discussion with them about the drug. Always ask your doctor if your condition is disabling enough to merit treatment with a dopamine blocker, as well as the risks and benefits of the medication being considered for you. Always ask if a lower dosage or if alternative medications might be a viable option instead.
The best part of my job is working with patients and their families. Watching them stay hopeful and optimistic inspires me every day. I have so many stories about their strength and perseverance. On a long, hard day, I'll often say to myself, "How can I ever stop fighting when they never stop fighting?" Due to the nature of their chronic conditions, I've cared for some of my patients for decades. When they come in to see me, we of course discuss their symptoms and treatment plan, but we also look at photos of their new puppy or their grandchild's wedding. I'm grateful for the opportunity to care for these patients and forge meaningful, long-term relationships with them.
Was this helpful?