Medications That Can Cause Tardive Dyskinesia
Was this helpful?
Tardive dyskinesia is a medication-induced condition that causes uncontrolled and repetitive body movements. It can appear after long-term use of certain medications, or sometimes after stopping the medication or changing the dose.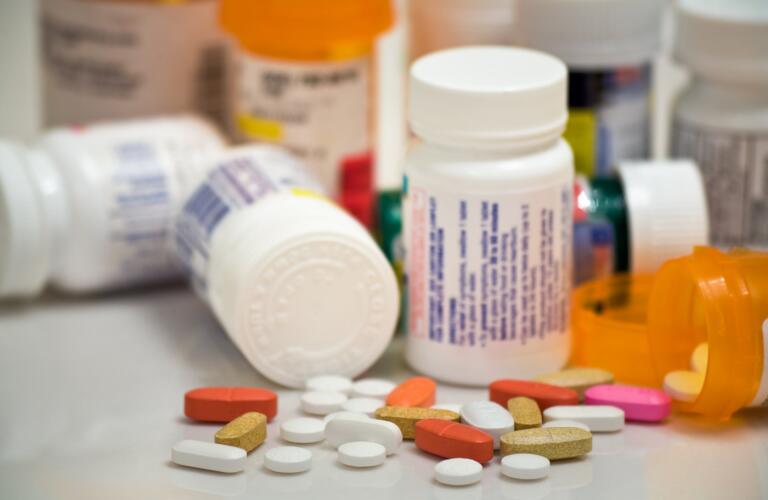 Though older antipsychotics are often implicated in causing tardive dyskinesia, other drugs may also be associated with its development. Here's what you need to know about which medications can cause tardive dyskinesia and what can put you at higher risk.
Antipsychotic medications are used to treat mental illnesses, such as schizophrenia, bipolar disorder, and severe depression. They are divided into two main categories—older and newer antipsychotics.
It's estimated at least 20% of patients treated with older (also referred to as "first-generation" or "typical") antipsychotics develop tardive dyskinesia. Older antipsychotics bind very strongly to dopamine receptors in your brain, which affects communication within your brain cells. This can lead to involuntary movements, primarily of your mouth and face but can also include your extremities and trunk. Examples of older antipsychotics are:
Chlorpromazine (Thorazine)
Haloperidol (Haldol)
Thioridazine (Mellaril)
Fluphenazine (Prolixin)
Newer (also called "second-generation" or "atypical") antipsychotic drugs bind weakly to dopamine receptors making them much less likely to cause tardive dyskinesia, but it can still occur. Of the newer antipsychotics, clozapine (Clozaril) appears to have the lowest incidence, while risperidone (Risperdal) and paliperidone (Invega) have a higher risk of causing tardive dyskinesia.
Tardive dyskinesia's abnormal movements, such as grimacing, sticking out your tongue, or tapping your feet, can also occur after taking other medications for an extended period of time. Some of these medications have a similar effect on dopamine receptors like antipsychotics, while others may have a different mechanism of action. Researchers continue to study this. Other drugs that may cause tardive dyskinesia include:
Drugs to treat nausea and vomiting, such as metoclopramide (Reglan) and prochlorperazine (Compazine)
Antidepressants, such as amitriptyline (Elavil) and fluoxetine (Prozac)
Medications to treat Parkinson's disease, such as levodopa (Sinemet)
Seizure medications, such as phenobarbital (Luminal) and phenytoin (Dilantin)
Mood stabilizers, such as lithium (Eskalith, Lithobid)
Though tardive dyskinesia is caused by certain drugs, some people have an increased likelihood of developing this condition. Known risk factors include:
Prolonged medication use: The longer you take a drug that has the potential to cause tardive dyskinesia, the greater the risk.
High dose of medication: As medication dosage increases, so does the chance of tardive dyskinesia.
Older age: Adults over the age of 55 are at a higher risk, and it continues to increase with age.
Cognitive impairment: A decline in mental abilities is associated with a higher risk of tardive dyskinesia.
Sex: Women, especially post-menopausal, are more likely to have tardive dyskinesia than men.
Substance abuse: Alcohol, illegal drugs, and cigarettes increase the prevalence of tardive dyskinesia.
Tardive dyskinesia can sometimes be reversed by stopping the medication that's causing it or by switching to a different one. Other times, you may require treatment with drugs specifically approved to treat the symptoms of tardive dyskinesia, including valbenazine (Ingrezza) and deutetrabenazine (Austedo).
Keep in mind, the best chance of full recovery occurs when tardive dyskinesia is diagnosed early. If you are taking a drug that can cause this condition, be sure to notify your doctor immediately if you begin having movements you can't control.
Was this helpful?