How Tardive Dyskinesia Affects the Tongue
Was this helpful?
Tardive dyskinesia typically results in involuntary movements of the face and body, including the tongue. But you don't have to be stuck with these side effects; treatments are available.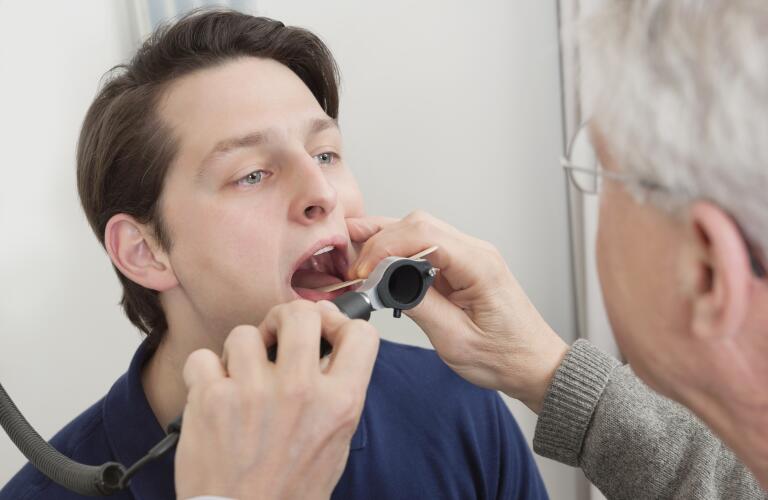 Tardive dyskinesia (TD) is a condition that some people develop when they take neuroleptic drugs for many months or years for a mental health condition such as schizophrenia or bipolar disorder. These medications are also called antipsychotic drugs. They can cause tardive dyskinesia by altering brain receptors for dopamine, a chemical messenger that controls movement.
Common TD symptoms include repeated, uncontrollable movements of the face and body, like blinking, grimacing, and chewing. Tardive dyskinesia can also cause tongue thrusting and other tongue movements. These unintended movements can be frustrating and sometimes upsetting.
That's why it's important to let your doctor know about any side effects your medication causes. You may be able to switch to a different drug that doesn't cause this side effect, or start another treatment to reduce the severity of TD.
Uncontrolled movements of the tongue are a symptom that affects up to 1 in 5 people with this condition. Tardive dyskinesia tongue protrusion looks like you're sticking out your tongue. You might not realize you're doing this until someone tells you that it's happening. TD can also cause other repeated motions of the tongue, such as rolling or biting.
This symptom not only can affect you in social settings, but it might also damage and weaken your teeth if you do it long enough. That's why getting treatment for tardive dyskinesia is so important. It's also a good idea to see your dentist regularly, especially if you experience frequent tongue movements.
You're most likely to have tardive dyskinesia symptoms after you've taken an older antipsychotic medication for a long period of time, including chlorpromazine (Thorazine), fluphenazine, haloperidol (Haldol), perphenazine, prochlorperazine (Compro), thioridazine, and trifluoperazine.
Some antidepressants, drugs that treat Parkinson's disease, and the drug metoclopramide, which treats a stomach problem called gastroparesis, can also cause this side effect.
The most common tardive dyskinesia symptoms are involuntary movements of the face and body, including:
face grimacing
mouth sucking
lip puckering
jaw swinging
chewing motions
puffing out of the cheeks
fast eye blinking
jerking movements with the arms and legs
finger movements, like you are playing an invisible piano
If you've been experiencing TD tongue movements or any other abnormal motion of your face or body, talk to your doctor. Though you could be tempted to stop taking your medication altogether, that might not be helpful if you need it to manage a condition like bipolar disorder or schizophrenia.
Lowering the dose of your antipsychotic medication, switching to another type of drug, or shortening your treatment can all help to reduce this symptom. The solution might be as simple as changing from an older antipsychotic medication to a newer one like clozapine (Versacloz, FazaClo) or quetiapine (Seroquel). Another option is to take a newer medication like valbenazine (Ingrezza) or deutetrabenazine (Austedo) to control tardive dyskinesia symptoms.
If your TD symptoms are severe, your doctor might use a surgical technique called deep brain stimulation (DBS). DBS places electrodes into your brain to block the abnormal signals that cause your movements. A generator implanted just under the skin of your chest powers the electrodes.
Whether you've just started noticing tardive dyskinesia tongue movements and other symptoms, or you've had them for a while, you don't have to live with these uncontrolled body motions. The sooner you see your doctor for treatment, the faster you'll be able to stop the progression of TD without compromising your mental health care.
Was this helpful?