Rheumatoid Arthritis and Disability: A Guide to Social Support
Was this helpful?
Rheumatoid arthritis (RA) is a chronic condition that occurs when the body's immune system mistakenly attacks healthy cells. This can cause inflammation and pain in the joints, as well as several other parts of the body. Rheumatoid arthritis can be severe enough to make daily activities difficult, and it can be disabling for those with the condition. RA can be severe enough to make simple activities such as walking and sitting difficult. This can disrupt a person's life.
Many institutions define the term "disability" on a legal and medical basis only. This means that for a disability to officially qualify as a disability to certain regulatory bodies, the condition must meet specific eligibility requirements.
In some cases, RA fits these definitions.
This article explains RA and its qualification as a disability. Read on to find out how to apply for disability benefits.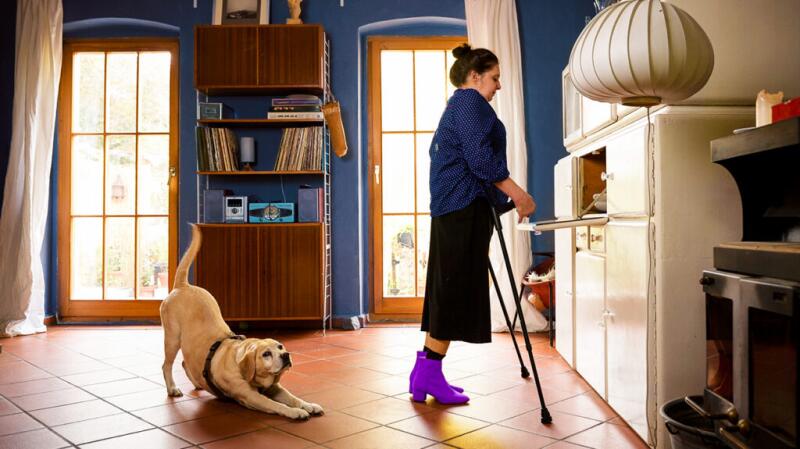 RA can cause pain, inflammation, and stiffness in the joints. It can affect many sites in the body at once. Along with other symptoms such as fatigue, weakness, and fever, these symptoms may become debilitating.
This can affect mobility and the ability to perform simple tasks.
In a very advanced state, the condition typically qualifies as a disability.
Learn more about RA with our online RA information center here.
Definitions of disability
Definitions of disability vary according to what experiences the defining body takes into account.
The World Health Organization (WHO) notes that disability can be dynamic, complex, and multidimensional. The WHO includes considerations for both the health condition one experiences as well as contextual factors that contribute to disability.
According to the WHO's definition, disability refers to experiences including:
impairments, such as problems with function or changes in body structure
activity limitations and difficulty in carrying out activities
participation restrictions that present problems with involvement in any area of life — for example, workplace discrimination
However, the Social Security Administration (SSA) defines disability as any condition that has all of the following characteristics:
It impairs a person's physical or mental abilities.
It makes it impossible to engage in any meaningful, profitable activity, referred to by the SSA as a substantial gainful activity (SGA).
It has the potential to be fatal or is continuous, lasting 12 months or more or with the expectation that it will last 12 months or more.
In children, the SSA stipulates that in addition to the above criteria, a condition can be a disability if it causes either physical or mental impairment, or if it presents a combination of impairments that result in marked and severe functional limitations.
Certain institutions such as the Social Security Administration will use the word "disability" as a legal or regulatory term with precise and limited definitions to inform their operation.
However, social definitions of disabilities can be much more diverse.
Health conditions affect everyone uniquely, and people's experiences with disability will be different according to many social, individual, and medical factors. Factors external to a person and their disability, such as systemic barriers, can also affect their experience, so defining a person's disability by personal medical features only may not fully encompass the experiences they face.
This means that legal or regulatory definitions of disabilities may not necessarily support everyone with a disability or their experiences.
Even if the SSA or other bodies do not recognise your disability, its profile as a disability and the effect it has on your life is still valid.
The SSA runs two disability benefit modules. Both of these programs are outlined below.
Social security disability insurance program
This module provides benefits for people who have worked and contributed to the social security fund for a number of years.
The benefits available vary from person to person and are based on a person's work credits.
The SSA computes work credits based on a person's previous annual earnings according to their age.
Supplemental security income program
This module provides benefits for people who have a low income or limited resources, including children.
To qualify for supplemental security income (SSI) for a disability, a person must have a condition that meets the SSA's definition of a disability and have limited income and resources.
What benefits can I claim with rheumatoid arthritis?
If the SSA determines that you are eligible for benefits, they will add you to a payment program.
The amount payable will depend on individual factors such as your work history, your age, and the date of your disability's onset.
Certain members of your family may also be eligible to receive benefits without the need for work credits. This can include paying benefits to your spouse, children, or dependent parents.
Additional benefits may be available depending on your individual circumstances or if you are able to return to work. These can include any expenses incurred to assist you at work, health insurance with Medicare, and financial support when returning to work.
Benefits from SSI may also be payable in addition to any other federal benefits you receive.
Find a complete overview of available employment supports with the SSA here.
According to the Americans with Disabilities Act, employers with 15 or more employees must provide reasonable accommodations to workers with disabilities. These accommodations may include:
making the workplace physically accessible
providing ergonomic equipment
modifying schedules
allowing leave
reassigning you to an appropriate vacant job
The SSA also offers programs to assist people with disabilities in the workplace. This can include continuing cash benefits, help with medical bills or work expenses, and vocational training.
According to a 2017 study, not all symptoms of RA are the result of the disease itself. Instead, physical and cognitive activity can have significant effects on your RA, causing fatigue.
In this case, it may be best for your health to refrain from working.
Additionally, while some people with RA may be able to continue work with appropriate adjustments, others with severe cases of the condition may not be able to work at all. Also, not all occupations or workplaces may accommodate accessible changes.
Aside from helping you take care of yourself and your family, benefits can help you pay medical bills and cover the costs of adjustments needed at work.
The SSA provides online guides that list the information and documents a person needs to apply for benefits.
Some of the required details include:
birth date and place
marital status
names of children and dependents
work history
medical history and conditions
If your RA itself does not qualify you for benefits, severe secondary conditions that occur as a result of arthritis, such as fibromyalgia, may also be eligible for support.
It is a good idea to consult your doctor and insurance provider when applying. They can support your claims with their records and increase your chances of qualifying.
Some people may also find the services of a disability benefits attorney useful. Their professional advice may help you draft a stronger application.
If the SSA at first denies you disability benefits, you can appeal the decision.
To apply, be sure to first find out whether you are eligible.
You can follow this link to visit the SSA's benefit eligibility screening page.
If you have passed the eligibility screening, you may proceed to this page to apply for benefits.
Finally, if you want to learn more about the application review process, you can visit the SSA's publications page here.
If RA has affected your quality of life or your ability to do certain tasks or activities, support may be available even if you do not meet SSA requirements.
The United States government outlines additional financial and support services available for some people with disabilities. This includes support accessing and affording housing, help with medical bills and insurance, and access to service animals, vouchers, and savings accounts.
Additionally, five states offer state-sponsored disability plans with their own eligibility guidelines and employment requirements. These states include California, Hawaii, New Jersey, New York, and New Mexico.
It may also be worth checking your entitlement with any private disability program you may have paid into as an individual or as an employee benefit.
Social support can include programs or groups to provide support in managing and living with a disability. The Centers for Disease Control and Prevention (CDC) lists approved programs that can help foster confidence in and provide tips for managing your arthritis.
Check for local programs near you that can help you manage symptoms of your disability, improve your quality of life, or find support.
Here are some common questions about RA as a disability.
Can you still work with rheumatoid arthritis?
RA can make it hard to perform everyday activities and can make it difficult to work.
However, everyone's condition is unique. If your symptoms are not too severe, you may be able to keep working, especially with adjustments for accessibility.
If your symptoms are severe, you may want or need to refrain from work and apply for benefits instead.
When should you stop working with rheumatoid arthritis?
Consider stopping work if you experience severe or worsening symptoms, including symptoms of severe inflammation, such as fatigue, fever, and weight loss.
Additionally, if your work is extremely demanding and causes you fatigue or worsens your condition, it is advisable to stop.
What types of arthritis qualify as a disability?
There are many disorders that limit a person's ability to perform work-related activities, including RA and other types of arthritis.
The SSA lists the requirements necessary to qualify for benefits for each condition. This guide includes the requirements for certain types of inflammatory arthritis under sections 14.00 and 14.09.
Is it hard to get disability support for rheumatoid arthritis?
To receive disability support from SSA, you must meet the eligibility requirements and show this with evidence.
Your application may get priority if you are a regular contributor to the social security trust fund.
Additionally, if you have more than one disability, you may have a higher chance of qualifying.
RA is an immune system disorder that causes inflammation in the joints and other parts of the body.
In severe cases, the condition typically qualifies as a disability with the SSA.
The SSA runs two benefit programs. The first one is for social security contributors. The second one is for people who have a low income, including children under 18 years of age.
To qualify for benefits, a person's condition must fit SSA's description of a disability and other eligibility requirements. Contact your doctor and insurance provider when applying to receive their input and support.
You can check your eligibility here. If you are eligible, proceed to this page to apply for benefits.
Was this helpful?