When Psoriatic Arthritis Strikes the Hands
Was this helpful?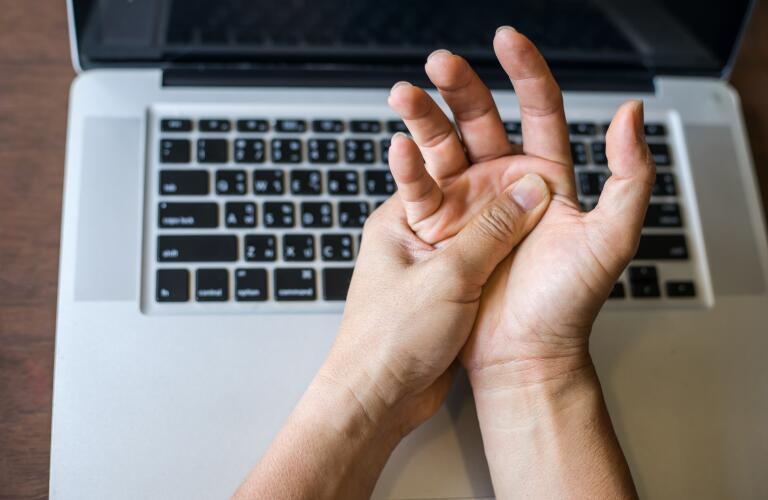 Psoriatic arthritis is a type of arthritis that develops in people who have the skin condition psoriasis. It affects about 30% of psoriasis patients. In most cases, psoriasis appears first and psoriatic arthritis develops later. But it is possible to have joint problems first. Both psoriasis and psoriatic arthritis are autoimmune diseases. In psoriatic arthritis, the immune system targets the joints, most commonly the spine, hands and feet. Pain and stiffness in the hands can make life difficult. Here is what you need to know about the symptoms and treatments for psoriatic arthritis in the hands.
Psoriatic arthritis can cause joints to be painful, stiff, swollen, and warm to the touch. When it affects the hands, these symptoms most often involve the finger joints. It causes stiff finger joints and finger swelling. Symptoms often start off mildly, but will worsen without treatment. Joints in the rest of the hand and the wrist usually do not have symptoms.
5 Tips For People With Psoriatic Arthritis From People With Psoriatic Arthritis
Psoriatic arthritis symptoms in the hand can include:
Joint deformity, particularly in the joint at the tip of the finger

Nail problems including pitting, crumbling, splitting, yellowing, or separating from the nail bed. These symptoms can make the nail look like it has a fungal infection. Blood spots may also appear under the nail. Nail symptoms are often the first sign of psoriatic arthritis.

Sausage fingers due to dramatic swelling and inflammation. The medical term for this is dactylitis. It most often affects the middle finger joint.
Some people will develop a severe form of the disease called arthritis mutilans. It typically affects the bones in the fingers. It destroys the bones, causing severe and permanent deformity and disability. Over time, it makes it nearly impossible to use your hands. The most effective way to relieve psoriatic hand problems is to treat the underlying disease.

Psoriatic arthritis treatments will also help preserve joint function and improve your quality of life. Doctors use several classes of medications to treat psoriatic arthritis. They target the inflammation that causes joint destruction. There are different classes of psoriatic arthritis medicines:
Biologics decrease the immune system's activity. These drugs should be first-line therapy whenever possible according to current treatment guidelines. Biologics often help people achieve and maintain remission of symptoms. This may help prevent or slow joint damage.

Corticosteroids are powerful anti-inflammatory medicines. Doctors use them for short-term control of severe flares to relieve symptoms quickly.

DMARDs (disease-modifying antirheumatic drugs) suppress inflammation to slow or stop joint damage.

NSAIDs (nonsteroidal anti-inflammatory drugs) relieve pain and reduce inflammation. Doctors typically use NSAIDs to manage mild disease.
Current treatment guidelines recommend "treating to target." This means the goal should be remission or minimal disease activity. Reaching the goal can take some trial and error. Your doctor may need to change your dose or drug or even add a drug. Tell your doctor if side effects become an issue. It's important to balance the benefits and risks of a drug. There may be other options or ways to manage any side effects you have.

Medications are a vital part of your treatment plan, but self-care also has a role. For hand symptoms, it's important to give your hands a break. You use your hands for just about everything throughout the day. Give them opportunities to rest. This is especially helpful if you are doing repetitive, fine-motor motions, such as typing or writing. It can also help to stretch your hands regularly. Other tips include:
Apply cold compresses to help relieve joint pain and swelling. Separate the compress from your skin with a towel to protect your skin from irritation. Use the compress for 10 minutes at a time, then give it a break. If heat feels better, use warm compresses instead.

Care for your nails to prevent scratches and small tears in the skin around your nails, which can trigger a flare. Trim your nails, but remember not to trim your cuticles. And moisturize your hands and nails on a regular basis. If you want to paint your nails, choose a clear or very light color. This will allow you to see your nails and monitor nail symptoms.

Pamper your hands with massage to help relieve pain and increase circulation. If you massage them yourself, use it as an opportunity to rub in moisturizer.

Protect your hands with rubber gloves while washing the dishes or cleaning. They will keep your skin from drying out, which can worsen psoriasis. Gardening gloves and work gloves are also useful for avoiding injuries to your skin and nails

Wear hand or finger splints to protect, stabilize and support your joints. Keeping the joint immobile can also relieve pain. However, being constantly immobile isn't good for your overall strength and joint health. Work with your doctor if you want to wear a splint. It may be most useful during certain tasks or at night if pain interferes with your sleep.
Was this helpful?