Psoriatic Arthritis Rash: Identification and Treatment
Was this helpful?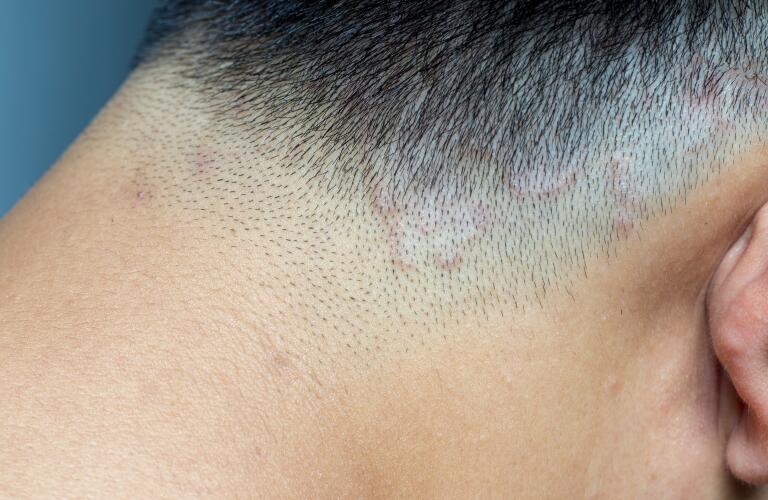 About 30% of people previously diagnosed with psoriasis (PsO) go on to develop psoriatic arthritis (PsA). In most cases, the disease appears between the ages of 30 and 50. There is no cure for psoriatic arthritis, and the condition may affect both large and small joints throughout the body.
Like other forms of arthritis, psoriatic arthritis causes the tissues inside the joints to become swollen and painful. Also, some people develop a rash that's similar to the rash that occurs during a psoriasis-flare up. It's possible for this rash to come and go over time, which may lead to difficulty in making a diagnosis. However, certain signs and symptoms may be used by your doctor to differentiate psoriatic arthritis rash from other skin conditions.
PsA rashes usually appear similar to a typical plaque psoriasis rash—the skin is often red and raised with silvery scales. These areas of skin may also be itchy and painful. While they may appear anywhere on the body, PsA rashes usually only develop in certain locations, such as the scalp, elbows, lower back, and knees.
In some cases, psoriatic arthritis rashes may also appear between the buttocks and around the belly button. Also, some people with psoriatic arthritis rash experience changes in their nails. Fingernails may become pitted or ridged, or they may crumble over time. These symptoms are usually accompanied by swelling of the finger joints, which, left untreated, may eventually cause deformities and make daily life difficult.
Since a rash is a possible symptom of psoriatic arthritis, treatment typically centers on managing the rash and the underlying condition. Fortunately, psoriatic arthritis rash treatments can help you manage uncomfortable symptoms while also preserving your joint health. Your treatment plan will likely progress in stepwise fashion with a focus on managing skin symptoms, protecting your joints, and slowing or stopping the progression of the disease.
Based on your clinical response to treatment, your doctor may recommend a combination of over-the-counter and prescription medications, including:
Biologics which block certain chemicals and proteins responsible for inflammation
Corticosteroids to help ease inflammation throughout your body
Immunosuppressive medications that stop your immune system from attacking healthy cells
Nonsteroidal anti-inflammatory drugs (NSAIDs) to help you manage pain and swelling caused by the rash
Additionally, ultraviolet (UV) light therapy may help keep any PsA rashes in check. This treatment involves exposing areas of skin with a rash to UV radiation for small periods of time, several times each week.
Taking proper care of your skin is also beneficial for managing a rash. Be sure to protect your skin by keeping it moisturized, avoiding scratchy or rough fabrics, and wearing loose-fitting clothing.
Keep in mind that a rash is just one symptom of psoriatic arthritis itself. As such, your doctor may also recommend other activities to help keep your joints healthy, such as:
Heat and cold therapy
Physical or occupational therapy
Regular exercise
Stress management
Not everyone with psoriatic arthritis will develop a rash, but this symptom can be especially unpleasant, especially if it covers large areas of skin. However, your doctor can make a diagnosis based on your health history and the symptoms you're experiencing. If you think you may have a psoriatic arthritis rash, ask your doctor to help you determine whether this is the case.
Was this helpful?