What to Do If You Notice Joint Pain With Psoriasis
Was this helpful?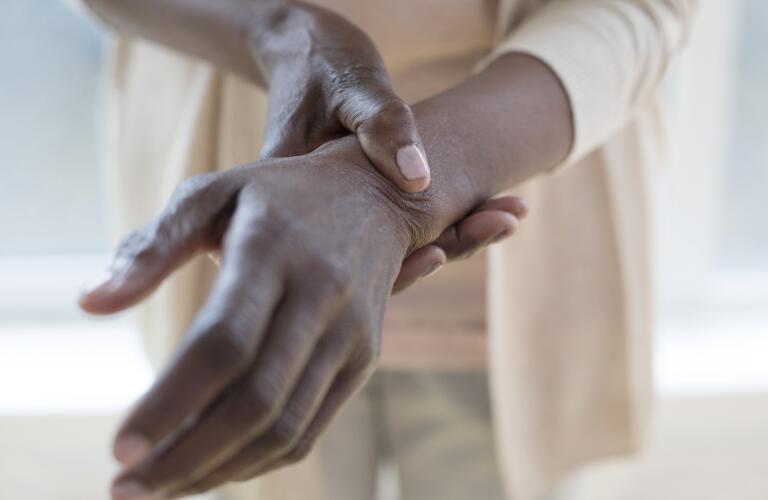 Nearly a third of people who have psoriasis, an autoimmune disorder that affects the skin, also develop psoriatic arthritis (PsA), an autoimmune disorder that affects the joints. If you have psoriasis and start feeling joint pain, don't ignore it; it could be psoriatic arthritis, and it's best to start treatment early. Learn what symptoms to watch for and track, share the details with your doctor, and work together to find the right treatment strategy.
If you have psoriasis, be on the lookout for psoriatic arthritis symptoms so you can tell your doctor right away and start treatment. PsA symptoms include pain, stiffness or swelling in one or more joints. Joints most likely to be affected include the neck, shoulder, elbow, wrist, finger, base of your spine, knee, ankle, and toe.
Your symptoms may make it harder to get around or limit your range of motion ̶ how far you can move a joint in different directions. You may also have pitting in your fingernails or toenails, or your fingers and toes may take on a sausage-like appearance from swelling. Many people with psoriatic arthritis also experience significant fatigue.
It's important to track symptoms so you can work toward an accurate diagnosis and personalized treatment plan with your doctor, who may refer you to a rheumatologist. Left untreated, PsA can not only continue to diminish your quality of life but also lead to progressive joint damage over time. Many effective treatments are available to cover you on both fronts, and the sooner they begin, the better, in most cases.
Details matter, but they can be hard to remember days, weeks, or months later. Get in the habit of monitoring your symptoms and writing them down in a health journal as they occur, or at the end of each day. See if you can spot any patterns over time. For example, does pain or stiffness start around the same time each morning? Does it get better or worse as the day goes on? Is there a connection with stress or exercise? Look for recurring triggers. Describe the pain as specifically as you can, and note the joint affected, date, time and symptom duration. Common PsA triggers include:
Skin damage like a cut, insect bite, sunburn
Strep throat
Stress
Cold weather
Smoking
Drinking alcohol in excess
Side effect of medications including beta blockers, lithium, and antimalarial drugs
Capture even the mildest symptoms, as well as days you have no symptoms. Joint damage can be advancing regardless of how you're feeling. This information helps your doctor better understand your condition, and can help you identify what's triggering your symptoms.
If you're not a paper person, many easy-to-use health trackers are available online and in app stores. Choose the format that fits most easily into your everyday routine, at home, on the go, and to and from appointments. If you're using telehealth for appointments, it can be helpful to send your doctor symptom updates in advance. Your symptom tracking approach doesn't have to be perfect. Set the small goal of giving tracking a try and know you can refine it as you go.
Schedule an appointment with your doctor as soon as you can. Your dermatologist or general practitioner might refer you to a rheumatologist, a doctor who specializes in arthritis and other conditions affecting the joints, muscles, and bones. Be honest about what you're experiencing and share your symptom tracker. Receiving a diagnosis of psoriatic arthritis can be overwhelming, but there are many effective treatments that can improve symptoms–and some of those treatments improve psoriasis at the same time. It's best to treat PsA early, so don't delay reaching out to your doctor for an assessment.
Was this helpful?