SOCIAL VOICES

Understanding the Anti-Inflammatory Diet – and How It Helped My Psoriasis

Was this helpful?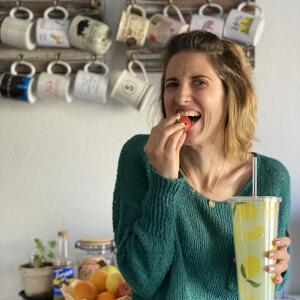 What does an anti-inflammatory diet have to do with psoriasis? That is the exact phrase I Googled when I started educating myself on what psoriasis really is and how nutrition could play a key role in managing it. I've had psoriasis for 20 years and I've tried everything under the sun when it comes to diet and lifestyle changes. By looking online, talking to other people with psoriasis, and testing different strategies, I'm here to say that, at least for me, focusing on anti-inflammatory foods can make a huge difference.
First, let's get this out of the way: I don't like the word "diet." Changing how you eat in order to better manage your health is more of a lifestyle change, but you get the point. It's also about understanding what exactly you're putting into your body and how that affects your immune system – and therefore, your psoriasis. I learned all there is to know about an anti-inflammatory diet and making this change has helped my psoriasis immensely.
As part of my Google search, I found the National Psoriasis Foundation (NPF). By researching on their website and talking with my doctor, I learned that inflammation is a key player in psoriasis. With psoriasis, the immune system is dysfunctional, which causes inflammation in the body. Visible signs of inflammation include the plaques and scales that so many of us with psoriasis experience. I was craving more information about how diet and nutrition are tied to inflammation, so I turned to The Complete Guide to Anti-Inflammatory Foods, a book by Lizzie Streit, MS, RDN, LD. Streit writes, "Chronic inflammation is comparable to a fire in your body — one that can be stoked by certain foods, lack of sleep, and stress — that gets bigger over time. Fortunately, antioxidant-rich fruits and vegetables, healthy fats, and high-fiber foods may help 'put out' this fire."
Okay, this started to make more sense. Understanding inflammation and its relation to food and psoriasis — check.
In order to do this right — you know, get my inflammation under control — I needed to understand more about the inflammatory foods that I was eating.
I found myself wanting a quick list of foods to avoid, so based on Streit's book and other research, I wrote one out for future reference. Pro tip: write these on a sticky note and post them on your fridge. Or, write them in your phone's notes app so you can refer back to it when you're grocery shopping!
Foods that are inflammatory include:
products containing saturated and trans fat, like fried foods, packaged baked goods, hydrogenated oils, refrigerated doughs, some frozen foods, shortenings and margarines, pie crusts, and microwave popcorn
fatty cuts of meat
cured and breakfast meats
refined sugars, such as those found in candy, sodas, and baked goods
pastries, doughnuts, cakes, cookies, and other products made with white flour or refined carbohydrates
alcohol
I eliminated a lot of the above, particularly saturated and trans fats, alcohol, and refined sugars, which are known to promote inflammation.
5 Tips For People With Psoriasis From People With Psoriasis
Pro tip: If you don't know where to start, pick one or two and stop eating those items for a few weeks. Or, just decrease your consumption if you tend to eat more than you like. After some time, you can cut out another ingredient, and then another. Don't try to do it all at once, because that can be really overwhelming!
Go one step further by opening up this conversation with your dermatologist. They can make notations in your chart about what you try, any symptoms that may occur, and how to move forward.
Now, I know what foods not to eat. But what foods should I be eating? I learned these are anti-inflammatory ingredients:
olive oil
walnuts
salmon
berries
beets
Olive oil is a staple in my house. I'm still trying to add walnuts to my snacking habits. Salmon is a daily food in my household — we love it with quinoa and in wraps, and even my kids like it! And berries are non-negotiable with us. No lie, beets will probably never be on my list – I just can't stand the taste!
A little about H2O: It's known that dehydration is linked to chronic inflammation. And what's a trigger for psoriasis? Inflammation. Drinking water isn't the only way to hydrate your body. Eating more foods with a high water content, such as cucumbers, watermelon, strawberries, oranges, lettuce, and cantaloupe, can help a lot, too.
I know that's why you all came here, so let's get to it. Please note: every single person is different when it comes to living with a chronic disease like psoriasis. Results may vary from person to person.
After eliminating many of the inflammatory foods, increasing my water consumption, and adding more antioxidant-rich foods to my diet, my psoriasis plaques were less red and less flaky, and my skin in the plaque area was less sensitive.
For about 60 days, I was stringent on the foods I did and didn't consume. I wanted to see how my body, immune system, and psoriasis plaques would react to those specific changes. It was incredibly surprising to see those results, even after just 60 days. I was able to identify some food triggers for my psoriasis and I can make better choices when it comes to nutrition.
Now, before you start rolling your eyes, know this: I am a big proponent of everything in moderation. So if I want to enjoy a baked good or a glass of wine every now and then, I won't beat myself up over it. And you shouldn't either.
Knowing that you have the power to make the changes you want in your diet and lifestyle is something to be proud of and take ownership of. I used to roll my eyes when I would hear the phrase, "knowledge is power." But it really is. When you understand what foods affect your chronic disease and why, then you start to look at what you put in your body in a totally different way. Your changes mean that much more. Now, go enjoy your anti-inflammatory foods and your psoriasis will thank you later.
Was this helpful?