SOCIAL VOICES

Psoriasis Treatment: What Works for Me

Was this helpful?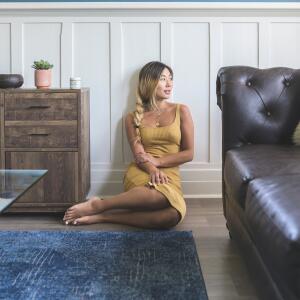 Everyone has an opinion when it comes to healing psoriasis. After I received my diagnosis, I tried several different options before finding what works for me. Whether you are choosing the medication route, the holistic route, or a combination of both, there is no wrong or right answer. It is about what is best for you and your body, and this can change over time.
Of course, each treatment affects everyone differently, and my experience is just that – my experience. Personally, I took the medication approach first. My body was covered in psoriasis and it seriously affected my mental health and self-image, as well as my general comfort. I was unbearably itchy. I was put on a steroid cream at first (literal buckets of it). The steroid cream did nothing for my psoriasis plaques other than make them worse. In fact, I think I was beginning to get addicted to it because it relieved the symptoms of itching for a short period of time, and I was aching for that relief.
After no skin-clearing success with the steroid cream, I was put on a systemic medication, a pill that reduces inflammation in the body. However, after about 6 months, I'd made no progress, which was really frustrating, and I was dealing with a lot of side effects. While side effects are different for everyone, I experienced terrible ones with that pill, such as throttling migraine headaches and gastrointestinal issues. I kept a thorough record of my symptoms and side effects so that I could notice the patterns and share them with my doctor.
I'd hoped the pill would do the trick, but I was not going to let the disappointment stop me from finding alternative therapies and other treatments. I refused to settle for side effects and compromise my wellbeing! I always voiced my concerns and how I was feeling with my dermatologist and she listens to me thoroughly. It's so important to have a doctor who recognizes your pain and takes you seriously. I also did my research on all the different types of psoriasis medications so that I could bring up other options with my doctor. I was confident and empowered to find something that really worked with and for me.
Eventually, my dermatologist prescribed me a biologic medication. Biologics target specific parts of the immune system to stop it from overproducing skin cells, cutting down on psoriasis plaques. It was very new to the market at the time and I was a bit wary at first, but after about 3 months, I was fully clear of psoriasis on my body, although it still appeared in my ears and on my scalp.
However, after 6 months, I was unable to continue dealing with the side effects of the biologic, and ultimately decided to get off the medication. I wasn't sure if my symptoms were lingering effects of the previous medication, or if they were related to the biologic, but I couldn't keep living with the bone aches and headaches I was experiencing. Even though my skin was finally clearing, I knew I needed to get off medication, at least for a little while. Side effects are different for everyone – just because I experienced them doesn't mean other people will. But I knew I had to make this choice based on my personal needs.
I did get some pushback from my doctor about stopping the biologic. We had finally found a medication that physically cleared my plaques and she believed that we were on a good path. And while I agreed, I no longer wanted to compromise my quality of life and other aspects of my health over it. It was a really tough decision and a scary one, too. I had no idea if my psoriasis would immediately flare after stopping the medication. But deep down, I knew it was the right decision for me, no matter the outcome.
My dermatologist advised me to keep my stress levels low, protect my skin as much as possible from the sun, and to prioritize my overall health. From there on, I took it upon myself to figure out a plan to control my psoriasis. It was time to research anything and everything that could help me.
I knew I needed to establish a solid skincare routine; it's something I am still working on today and probably will forever. I promised myself I would continuously test out different skincare products to find the best ones for psoriasis and dry skin. There are still not many psoriasis-specific skincare brands out there, so I have to find ones that work based on research and ingredient labels. The trial-and-error process is incredibly frustrating but also rewarding. I often look for products that are labeled as "super moisturizing," "for sensitive skin," and "for irritated skin." I've found many products that work well for me, and I keep trying new ones, because skincare research keeps evolving and improving.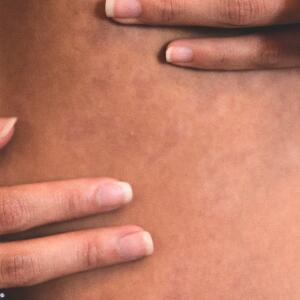 Beyond taking care of my skin on the surface, I also committed to a healthy lifestyle to keep my immune system strong and avoid flares. I limit my alcohol intake, monitor the types of food I eat, and try to focus on getting vitamins and nutrients I need. Of course, sometimes we all need to indulge in pizza and wine, but I enjoy it in moderation. Also, I consistently exercise (looking at you, Pilates), and keep my mental health in check, since stress is a trigger for my psoriasis.
It's now been more than 2 years since I stopped taking medication. My skin has stayed clear with very minimal spots showing up and disappearing within weeks. I can't say for sure if I'm still clear because of the medication or because of the lifestyle changes I've made. I do believe that the combination of both medication and lifestyle methods have helped me avoid a flare. More importantly, my quality of life is better without the side effects of the medication, and I'm happy with the choice I made.
Whatever path you decide on is the right one for you. Don't be afraid to stand up for yourself if you feel your medication is quite right, or if your doctor isn't listening to you or taking your concerns into account. You are the expert on you.
Was this helpful?