Psoriasis May Cover More Body Surface In People of Asian Descent
Was this helpful?
Although research suggests Asian people are more likely to experience severe cases of psoriasis, this community may be undertreated due to racial disparities in healthcare. Some doctors may not recognize how psoriasis flare-ups appear on People of Color, so it's important to learn all you can about this chronic skin condition and be your own advocate.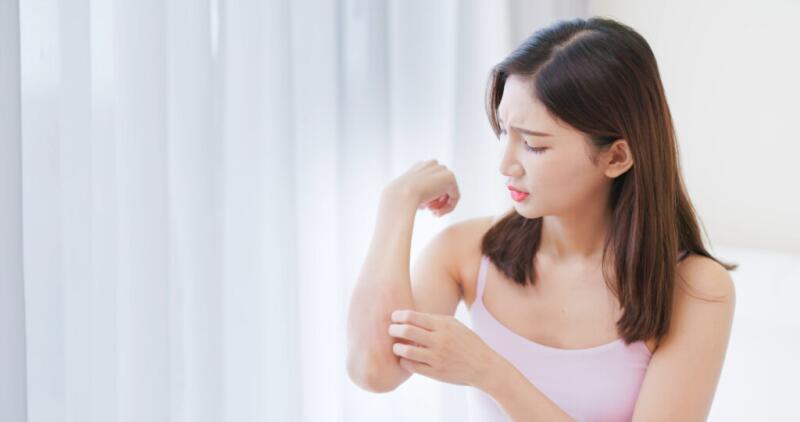 Psoriasis affects more than 7.5 million adults living in the United States — approximately 3% of the population. However, research suggests that People of Color with psoriasis are underrepresented in that total, meaning they may be less likely than white people to receive a diagnosis.
Psoriasis can also appear differently in People of Color. Research suggests that Asian people are more likely to have severe cases of psoriasis. If you're of Asian descent, understanding this disease may help you be better prepared to seek treatment to manage your condition.
As with most diseases, you can have a mild case of psoriasis or a much more extensive case – or something in between. The severity of your psoriasis is determined by how much of your skin is affected or covered by the plaques:
Mild: Plaques cover less than 3% of your skin surface.
Moderate: Plaques affect between 3–10% of your skin surface.
Severe: Plaques cover more than 10% of your skin surface.
If you're Asian, you may experience a severe case. A 2011 study of more than 2,500 people with psoriasis found that Asian people had the highest percentage of body surface area involvement – more of their skin was affected by psoriasis than people in other ethnic groups. A 2017 analysis of about 850 people in California also found that people of Asian descent had "significantly more severe psoriasis" than the white people in the study.
According to the American Academy of Dermatology (AAD), there's no cure for psoriasis, but there are many treatment options. If you've tried one treatment and it didn't work, keep learning and asking your doctor about other options. Make sure you're receiving treatment that is appropriate for your specific case of psoriasis.
A topical treatment for a mild case, like a cortisone cream, might not help if you have a more severe case. Topical creams, ointments, and moisturizers may help you manage some of the itching and pain, but you may need a prescription medication such as apremilast or methotrexate.
However, your treatment options continue to increase. Several new options are available that weren't just a few years ago, and one of them might work for you. For example, some people with moderate to severe plaque psoriasis are now finding relief from treatment with a biologic drug called an interleukin-23 inhibitor, which includes ustekinumab, guselkumab, tildrakizumab, and risankizumab.
Consider these reasons for finding the right treatment for your psoriasis:
You'll have clearer skin.
You won't be as self-conscious about your appearance.
You can slow the progression of your psoriasis and keep it from getting worse.
You won't have to cope with pain and itching.
You may sleep better at night.
Some risk factors, such as psoriatic arthritis, heart disease, obesity, and depression may be avoided. Talk with your doctor about your medical family history and lifestyle changes that could be beneficial for your overall health and well-being.
One caveat: People of Color with psoriasis often develop dark patches (hyperpigmentation) or light patches (hypopigmentation) that may be more noticeable than on someone with a lighter skin tone. Also, fading of the patches may take longer time. Let your doctor know if you notice light or dark spots appearing on your skin.
Once you find a treatment that works for your psoriasis, you might be tempted to completely rely on it. However, you may still benefit from a few simple lifestyle changes to minimize the impact of psoriasis, such as:
wearing sunscreen, as sunburn can further irritate your skin and exacerbate your psoriasis
using moisturizer, even if you're taking a prescription medication
using cold compresses to cool inflamed skin
skipping long hot showers, which can dry out and irritate your skin
avoiding your triggers, whether it's stress or cold temperatures
Regardless of how dark your skin may be or not, People of Color should definitely be proactive. It's possible your doctor may not be as familiar with psoriasis flare-ups among people of Asian descent. If you think your psoriasis is more severe and warrants a different treatment than you've been taking, talk with your doctor about additional options.
Was this helpful?