Psoriasis in People of Color: 4 Ways to Overcome Obstacles to Care
Was this helpful?
People of Color often have more severe psoriasis than white people and experience a greater impact on their quality of life. However, there are ways to improve psoriasis care, including finding a culturally competent doctor, educating yourself about treatment options, connecting with others in similar situations, and even joining a clinical trial.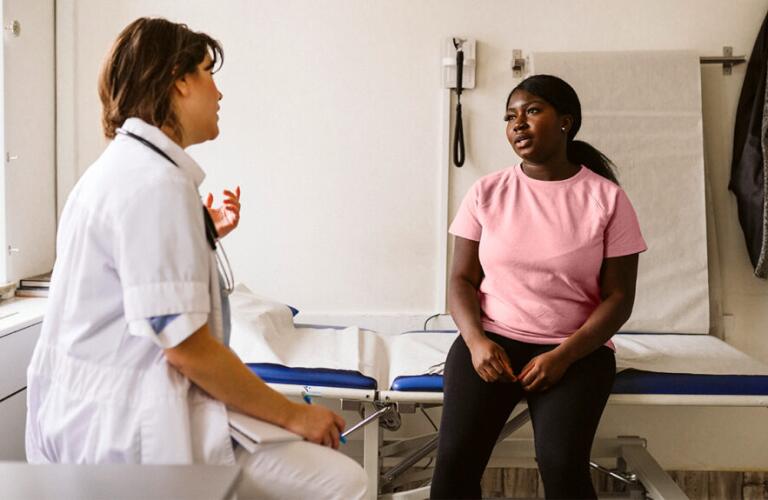 Our knowledge of psoriasis continues to evolve. It is now recognized that psoriasis is more prevalent in People of Color than once believed. However, significant challenges remain when it comes to diagnosing and treating psoriasis among different racial and ethnic groups.
If you are a Person of Color living with psoriasis, here are some tips to help you address these barriers and find the best treatment.
Psoriasis is often described as involving itchy, scaly, and reddened patches of skin. Yet in reality, there is considerable variation in how psoriasis presents on different skin colors. Psoriasis symptoms in People of Color may appear more violet or gray, rather than pink or red. On skin of color, psoriasis is also more likely to result in areas of hyperpigmented (darker) or hypopigmented (lighter) skin.
People of Color may be more likely than white people to develop certain types of psoriasis, as well. For example, Asian and Hispanic people are more likely to have pustular psoriasis, which is a rare form that results in small, pus-filled blisters. Asian individuals also experience a greater incidence of erythrodermic psoriasis, which can cause a peeling rash over the body. These types of psoriasis are not only more uncommon but often more severe.
Doctors aren't always trained to identify psoriasis in skin of color, which is one reason they are more likely to misdiagnose psoriasis in People of Color. These groups are also more likely to receive a delayed diagnosis. To avoid this, it may be helpful to search for a dermatologist who specializes in skin of color. Organizations such as the Skin of Color Society and the American Academy of Dermatology can help you locate a specialist to meet your needs. There are also a number of Ethnic Skin Centers throughout the country with dermatologists who have expertise in skin of color.
As with any medical condition, the more you can learn about psoriasis and its treatments, the better you can advocate for yourself. However, this responsibility isn't solely yours. Work with your medical team, ask questions, and take an active role in your care.
This is important because research suggests that there are racial disparities in psoriasis treatment. For example, Black people are less likely than white people to receive biologic medications, which are powerful and often effective treatments for psoriasis. One study indicates that this may be due to a lack of familiarity with and understanding of biologics as a potential treatment option.
The costs of treating psoriasis can be another issue. An online survey suggests that high costs are an obstacle to seeking care for People of Color. If finances are preventing you from pursuing a particular psoriasis treatment, be aware that assistance is available. Look for copay cards provided by drug manufacturers, enroll in a Patient Assistance Program, or ask about making payments on a sliding scale based on your income. You may be able to find ways to make treatment more affordable.
Psoriasis affects more than just your skin. It can impact your daily life. In fact, research indicates that Black, Asian, and Hispanic people with psoriasis experience a greater impact on their quality of life than white people regardless of their psoriasis severity.
Consider finding support from others who are living with psoriasis or who can help you navigate your care and treatment. Talk with your doctor about joining a support group or check out the resources available through the National Psoriasis Foundation. You can make connections online or in person, so you don't have to feel like you are managing your condition all alone.
Clinical trials are necessary to add to our medical knowledge and develop new and effective treatments. However, People of Color are historically underrepresented in these studies. A 2020 report from the Food and Drug Administration (FDA) found that white people made up 75% of clinical trial groups. In contrast, Black, Hispanic, and Asian Americans made up 8%, 11%, and 6%, respectively.
Think about asking your doctor if you are eligible for a clinical trial for your psoriasis treatment. You may get access to some of the most cutting edge therapies. You will often be reimbursed for treatment costs or travel expenses. On a larger scale, you will also be helping Communities of Color; the more information we have about how psoriasis affects people of different backgrounds, the better equipped we will be to improve care for everyone.
For People of Color with psoriasis, receiving a diagnosis and appropriate treatment can be a challenge. However, you're not alone on this journey and there are tools and resources available to help you get the best care.
Was this helpful?