SOCIAL VOICES

Psoriasis and Your Love Life: You Have to Love Yourself First

Was this helpful?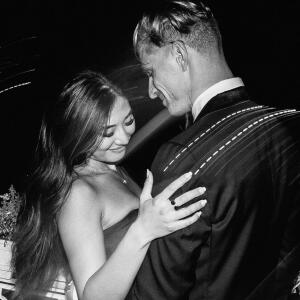 Let's get real. Psoriasis is a pain in the butt when it comes to your love life and sex life, especially when you're getting used to your diagnosis or if you're in the beginning of a new relationship. How do you overcome it?
I hope my story sheds a hopeful light for you.
I was diagnosed with psoriasis about 3 years ago after experiencing a severe flare that covered my entire body. For months, my new treatment wasn't working and I hid out in my apartment, hating my skin and myself. Eventually, though, I reached a breaking point. After suffering for so long, I started to come out of my depression, find support from others with psoriasis, and try to accept my skin. It took a while, but I decided that I was done hiding my skin and wanted to embrace my beauty – with or without my "cheetah marks," as my friends called my psoriasis patches.
My friends and I were traveling to Arizona, and we were invited to a pool party. I put on the tiniest bikini I could find and went out to party and enjoy life. I felt liberated from my own negative thoughts and so excited to bring life to this new version of myself: the version that didn't care what people thought and didn't let anything get in her way.
I arrived at the party and of course, stares were sent my way. "What is that on her skin?" "Dang, she must be pretty confident to go out like that." "Do you think it's contagious?" I heard it all as I walked through the party. But I still kept true to myself. It was okay. I was okay.
As the party went on, a drunk guy came over and picked me up as we were all dancing to a song. The second he touched my skin and then looked at it, he dropped me and screamed, "IS THAT HERPES?"
That was the moment for me. I broke down and couldn't keep my confident composure any longer. I was mortified at what he said and horrified at myself.
I started crying and turned around to run to the bathroom, but then a guy that came to the party with our friend group gave me a giant hug, told me I was beautiful, and told me to stay. That small simple gesture made me feel loved, safe, and beautiful.
Fast forward 3 years later?
He is my biggest support system and has held my hand through my entire psoriasis journey.
Having a supportive partner makes all the difference.
I know my story sounds unrealistic and is a "fairytale" example. But I was able to find my love because I ultimately put myself out there and was vulnerable.
Of course, it isn't perfect or easy all the time. When we started to date, I was insecure about my naked body and often tried to hide the plaques on my torso and thighs. It wasn't about my partner not showing me enough love; it was me getting in my own head and telling myself that there was no way psoriasis could ever be sexy or appealing. How could he love my body and skin if I myself hated it so much? I knew I needed to do some internal work.
Look at your naked self. Embrace every flaw, every plaque, every curve, every mark. And do this every single day. I know it sounds unrealistic and incredibly hard, but what you tell yourself every day becomes your reality. After a while, and with repetition, you can change your perception of yourself. I did this and it really helps.
Another tip? Take photos of yourself that make you feel good and share them with the psoriasis community or keep them for yourself! I found so much strength and love in the psoriasis community on social media. Everyone has helped me feel so beautiful in my own skin.
The biggest thing that helped me, my love life, and my sex life was to build my confidence. Once I felt beautiful, regardless of the marks on my body, psoriasis could no longer bring me down. Sure, not every day is rainbows and butterflies. But most of the time, I can put on clothes that show my skin and embrace it. I can endure the stares. I can embrace the touch from my partner. I can accept and even love my own skin even in its worst condition.
When you love yourself, you can also accept love from others. It all begins with you
Was this helpful?