Your Guide to Palmoplantar Psoriasis
Was this helpful?
Psoriasis is a condition that causes dry and scaly patches of skin to develop, commonly on elbows and knees. However, rarer forms of the condition cause it to develop in other parts of the body. Palmoplantar psoriasis is a type of psoriasis that develops on the palms of hands and soles of feet. It can be difficult to treat and can have a significant impact on quality of life.
This article will look into the symptoms of palmoplantar psoriasis, the levels of severity, as well as possible causes and triggers. It will also look into potential treatments for the condition, as well as potential management strategies.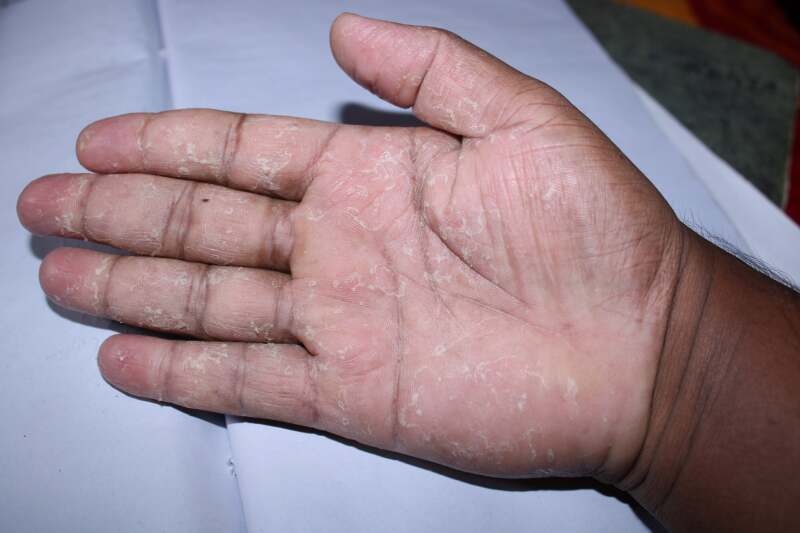 The severity of the condition can vary.
Santosh kumar parida/Shutterstock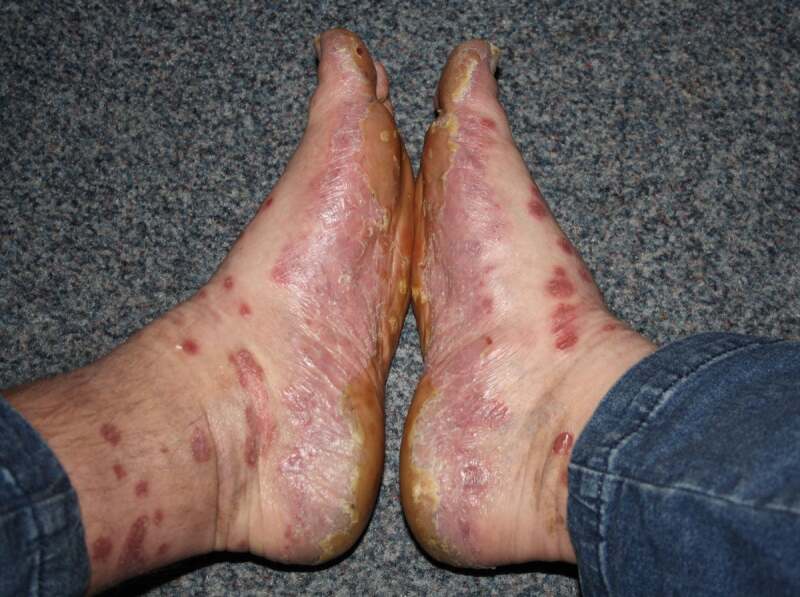 Flushed, scaly patches along with pustules can also develop on the skin.
Photography courtesy of MCvanVeen/Wikimedia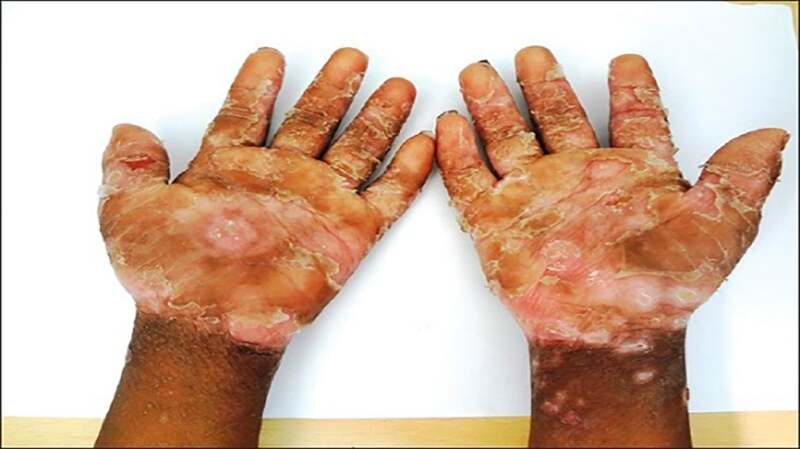 Palmoplantar psoriasis symptoms can include pustular legions and scaly plaques on the soles and hands.
"Murugaiyan R, Sengottian KL, Karthikeyan K. Crusted scabies presenting as palmoplantar psoriasis in Down's syndrome. Indian Dermatol Online J. 2015 Mar-Apr;6(2):140-1. doi: 10.4103/2229-5178.153025. PMID: 25821745; PMCID: PMC4375766.
The symptoms of palmoplantar psoriasis can vary, from pustular legions to scaly plaques on the palms of the hands, the soles of the feet, or a combination of both. These can develop on one or both of the hands or the feet, and there's typically a clear differentiation between healthy skin and the affected areas.
In addition to the pustules, flushed, scaly patches of skin can also develop on the affected skin. These can appear silvery, though they may have a grayer hue on darker skin tones.
Skin can become hardened with deep cracks in more chronic stages of the condition. Many people with the condition report itching, pain, and fissuring in the affected skin.
Learn about palmoplantar pustulosis here.
The severity of the condition can vary and is measured using the Palmoplantar Psoriasis Area and Severity Index (PPPASI). It measures erythema (skin reddening), induration (skin hardening), and desquamation (skin shedding) all on a scale of 0 to 4, with 4 being the most severe.
These key factors are used in determining the severity of the condition, with more severe cases having more severe presentations of these symptoms.
Learn more about psoriasis on the hands here.
When diagnosing palmoplantar psoriasis, a doctor will take a thorough history as well as a detailed physical examination. This is to determine any potential triggers and exposures that may have caused the symptoms.
To rule out a fungus called dermatophytes, the doctor may apply a potassium hydroxide preparation to the area. In addition, a biopsy may also be needed to release eczema and tinea (ringworm), both of which can present with identical symptoms.
Palmoplantar psoriasis is due to a combination of genetic and environmental factors. It can affect individuals of all ages and genders.
Immune system dysfunction is thought to have a key role in psoriasis, and 30% of patients with psoriasis have a family history of the condition, according to the Skin Health Institute.
Learn more about the causes of psoriasis here.
While the exact causes of palmoplantar psoriasis are unknown, there are several possible triggers for the condition that can make it worse. These include:
stress
irritants
trauma
friction
These triggers are thought to initiate the condition in those genetically susceptible to it, activating the relevant cells and causing a protein called IL-20 to be released, causing the symptoms.
Learn more about the triggers of psoriasis here.
The initial treatment for palmoplantar psoriasis is a topical application of strong corticosteroids to the area, twice a day, though doctors may reduce the dosage over time. Alternatively, people may take acitretin orally, once a day, with effects being at their peak between 3 and 6 months.
If there is no effect from these initial treatments, light therapy can help treat the condition as a second-line therapy. Doctors may also prescribe methotrexate or cyclosporine as a second-line treatment for palmoplantar psoriasis, with the former prescribed over 3 to 6 weeks and the latter for a maximum of a year.
Learn how to find the right treatment for psoriasis for you here.
Managing palmoplantar psoriasis
Medical professionals should oversee the management of palmoplantar psoriasis because the condition currently has no cure, and drug treatment will likely be needed .
Reducing your risk of exposure to potential triggers, such as smoking and friction, can be helpful.
It's also important to take medication as prescribed and try to take good care of your skin.
Learn our tips for keeping up with new psoriasis treatments here.
Here are some frequently asked questions regarding palmoplantar psoriasis.
How serious is palmoplantar psoriasis?
The severity of palmoplantar psoriasis can vary. However, over time, the condition can get worse, and eventually stronger medication and more severe treatment may be necessary.
How do you get rid of palmoplantar psoriasis?
If diagnosed with the condition, your doctor will prescribe topical applications or oral medications. This treatment — combined with avoiding triggers — can help you manage the condition. However, it can take months before you see any changes.
Can palmoplantar psoriasis go away?
While medication and other treatments can help you reduce and relieve your symptoms, it can take months before they have any effect. In addition, relapses are quite common, and over time, more potent treatments may be necessary. It's important to know that these treatments may cause adverse reactions.
Learn about pustular psoriasis here.
Palmoplantar psoriasis is a type of psoriasis, a condition that causes skin to harden, flush, and shed. It affects the palms of the hands and the soles of the feet.
Palmoplantar psoriasis is the result of a combination of genetic factors and environmental triggers, including smoking, friction, stress, and trauma.
While there is currently no cure for the condition, treatments include topical corticosteroids and oral medications; however, these treatments can take quite some time to have an effect.
In addition, relapses are common, and over time, more potent treatment may be necessary.
Was this helpful?