SOCIAL VOICES

Living with Psoriasis: It's a Roller Coaster Ride

Was this helpful?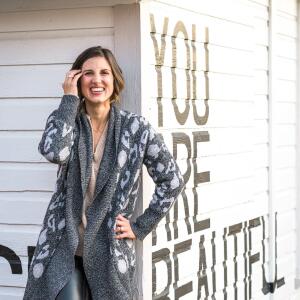 I can only describe life with psoriasis as a roller coaster. There are continuous twists, turns, and loops; a flurry of doctors appointments, emotions, plaques, itching, medication that helps and then doesn't, educating yourself, educating others, lifestyle changes, and more medication. Fortunately, after 22 years, I've learned how to stay grounded even when I'm thrown for a loop.
The ride started when I was a freshman in high school. I felt the pressure of new friends, new hormones, awkward growth spurts, acne, periods… The roller coaster was making its way up, and I didn't know how high it would go.
Then, I reached the moment at the top of the first incline, right before the drop, where you have no idea what to expect. Two red, flaky spots appeared on my left knee – and they are still there 22 years later. My life barreled forward and I felt out of control. I was thrust into this brand new world of unpredictable twists and turns, and the ride just kept getting faster and faster.
My saving grace? My mom. She helped me make it through the ups and downs, through doctor's appointments, new treatments, discomfort, stress, and frustration. She had been on this ride before.
5 Tips For People With Psoriasis From People With Psoriasis
My mom talked about her psoriasis sometimes, but not often. I always saw her massaging her elbows and itching her scalp. When I was finally old enough to talk to her about her life, she told me, "This is psoriasis. It's a hereditary disease and it shows up on your skin like this," showing me her dry, red, scaly elbows. She continued, "My hope is that you don't get it, because I have tried everything and nothing has helped." Then she kissed me and went back to cooking.
You can imagine her surprise and sadness when I came home from school one day and showed her the spots on my knee. She hugged me and said she knew the kind of doctor we needed to see.
We searched for dermatologists in the Houston area. We finally narrowed it down to a dermatologist who specialized in psoriasis and took our insurance. The earliest appointment was three weeks away. While we waited, another twist: new spots started surfacing on random areas of my body, including my elbows, legs, and stomach. What the heck was going on? I felt like I had chickenpox. I didn't want to go anywhere or do anything. My body was now 90% covered.
We finally saw the dermatologist, who gave me a diagnosis of plaque psoriasis and talked us through our limited options, since there weren't a lot of treatments approved for adolescents at the time. We settled on daily topical creams and weekly tar baths – yes, tar baths. My mom would drive me to the dermatologist's office every week after school for 4 weeks, and I would sit in a bath filled with tar. Honestly, I thought it was normal. I didn't know any other girls my age who had this disease, so this was my world and I just accepted it. No one was talking about it.
There were now everyday twists and turns to navigate that were extremely hard and left me feeling so alone. I would wear long sleeves and pants to cover the spots, even in the summer. I didn't want to go to the beach or a swimming pool. I didn't want to wear dresses to our school dances. I thought everyone would think I was sick. I missed out on so much and dealt with so much anguish and stress. And I just waited, hoping it would get better.
After 4 weeks of the tar baths and creams, my skin was almost entirely clear of psoriasis. It was clear, but not cured.
As time passed, I made my way through each new loop of the roller coaster – a flare up of symptoms where my world would be turned upside down. Each time, I'd try a new treatment: a topical cream, steroid ointment, biologic drug, or even prescription shampoo for my scalp psoriasis. I would have periods of remission, which my dermatologist said was completely normal. I'd get my hopes up that maybe my skin would stay clear. But inevitably, I'd be upside-down again with a flare-up of new plaques on my body. We found out that stress and environmental changes were – and still are – major triggers for my psoriasis. I was beyond frustrated. I couldn't just magically get rid of stress. And I couldn't change my environment of living in the extreme heat of Houston.
Throughout college, I started educating myself about psoriasis online. I read about different ways to manage my stress levels with yoga and meditation – daily practices I still do to this day. I started volunteering with the National Psoriasis Foundation (NPF) and met people just like me. I attended their conferences to hear the latest research, trials, and drugs that were out there. I wanted to educate myself so I could better understand my condition. I learned that following an anti-inflammatory diet could help minimize flare-ups. I learned to avoid certain ingredients in skincare products, like sulfates and parabens. I learned to advocate for myself and work with my doctor to find an effective treatment. I learned how to find support. I learned I wasn't alone.
I also wanted to share what I learned with others in a way that was easily digestible. I wanted to talk about it. I wanted to be the resource I needed when I was first diagnosed. I eventually started writing about my psoriasis experience on my blog, SabrinaSkiles.com, and connected with even more people in the psoriasis community.
Today, 22 years after my diagnosis, I'm still on this roller coaster ride. However, now I've got tools to help me stay balanced when things feel topsy-turvy, and I've got people sitting next to me holding my hands as we tear through the twists and turns together.
Was this helpful?