How Safe Are Biologics for Psoriasis?
Was this helpful?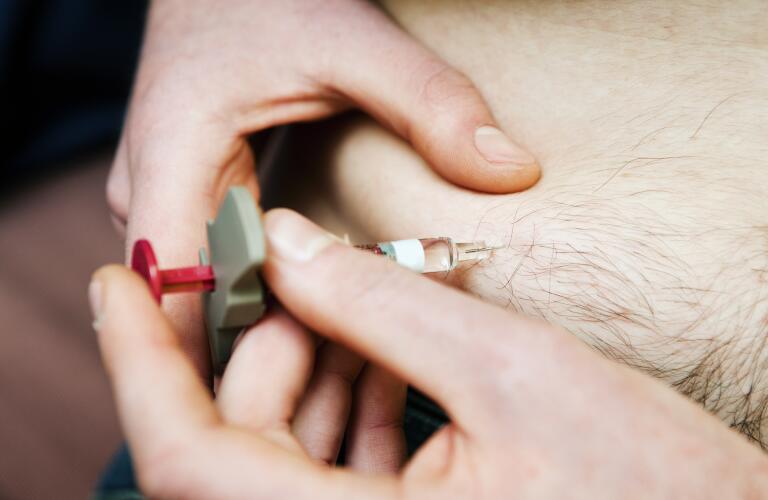 Biologic medications for psoriasis are making a huge difference in the treatment of the disease. Also called biologics, they're different from other psoriasis medications because they are proteins that come from living cells instead chemicals.
These drugs can treat psoriasis by targeting the specific cells in your immune system that are causing your symptoms; they block the actions of these cells; or they block psoriasis-causing proteins released by the cells.
Though we hear a lot about biologics these days, they have been around for about 100 years. Insulin, the drug used to treat diabetes, is a biologic. Biologics for psoriasis, however, are relatively new. There are six biologics currently approved to treat moderate to severe psoriasis.
Your doctor may prescribe a biologic medication if you have not gotten good results from other psoriasis medications. A biologic medication can be added to medications you are already taking for psoriasis. Biologics are given by an injection into a muscle or under the skin, or by an infusion (directly into a blood vessel). Biologics are not approved for children, and you may not be able to take them if you are pregnant or breastfeeding.
Although biologics cannot cure psoriasis, many people taking these drugs are getting good results with few side effects. However, because biologics change the way your immune system works, there are possible risks. Also, doctors do not yet know all the long-term effects of taking them.
Known risks of taking a biologic drug include:
Infections. Biologics may decrease your ability to fight off an infection or may allow an old infection to reactivate. Your doctor will ask you about any history of infection and may test to see if you have been exposed to tuberculosis. Before starting a biologic, you may need to be vaccinated against some infectious diseases.

Medication reactions. You may get flu-like symptoms after taking a biologic, such as fever, muscle aches, and chills. Reactions can take place at the site of the injection, including swelling, itching and pain.

Nervous system disorders. These are rare but can include multiple sclerosis, seizures, and vision problems.

Lymphoma and other cancers. This risk is very small, but it's one of the reasons that these drugs are not approved for children.

Before starting a biologic, it is important to talk to your doctor about all its risks and benefits. Let your doctor know if you have any history of hepatitis or tuberculosis, if you are breastfeeding, or if there is any possibility of pregnancy. If you are already taking a biologic, you may need to stop for a time if you have an infection.
Let your doctor know about any of these signs or symptoms while on a biologic:
Fever or chills

Rash or itching

Cough or sore throat

Abdominal pain

Headache or muscle ache

Dizziness

Visual changes

Burning or frequent urination

Trouble breathing or chest pain

Abnormal bruising or bleeding

Biologics offer new treatment options for moderate to severe psoriasis. If you and your doctor decide to try a biologic, your doctor will watch you carefully for any signs or symptoms of side effects. Common side effects are usually mild and usually will not require you to stop taking the drug.
Biologics are new medications made from living cells that may help moderate to severe psoriasis.

Biologics work by suppressing certain parts of your immune system that cause psoriasis symptoms.

Common side effects include infections, flu-like symptoms, and injection site reactions.

Rare side effects may include nervous system disorders and certain types of cancer.

Talk to your doctor about the risks and side effects of biologics to be a well-informed patient.

Was this helpful?