How Plaque Psoriasis Appears on Skin of Color
Was this helpful?
On skin of color, plaque psoriasis typically appears as purple, gray, or brown patches. Psoriasis in People of Color is often misdiagnosed, as doctors are not always trained to recognize psoriasis on skin of color. Without diagnosis and proper treatment, People of Color may experience severe psoriasis symptoms, which can significantly impact their quality of life. However, by learning to recognize the symptoms, connecting with a culturally competent doctor, and finding support, you can get an accurate diagnosis and effective treatment for your psoriasis.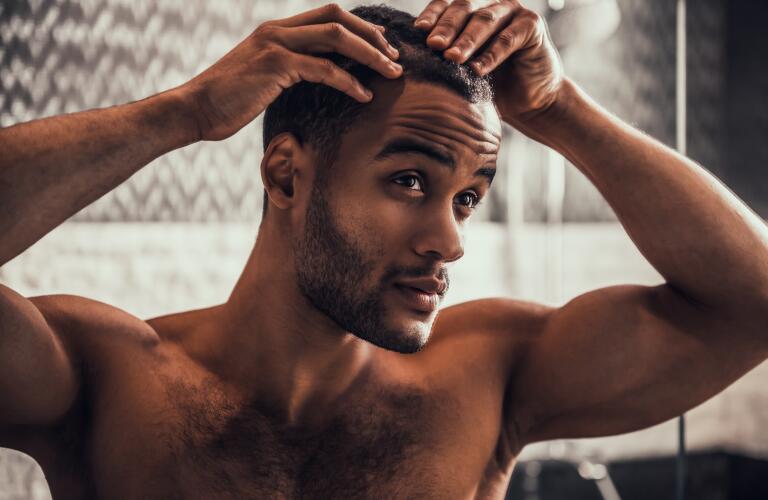 Plaque psoriasis is an autoimmune disease in which the immune system becomes overactive, causing skin cells to multiply too quickly. This leads to patches, or plaques, forming on the skin. These patches vary in appearance depending on skin color, but many doctors are only trained to recognize psoriasis patches on white skin.
As a result, People of Color with psoriasis may not receive timely diagnoses or proper treatment. Without treatment, psoriasis can worsen and greatly impact quality of life. Recognizing the symptoms and finding a doctor with experience diagnosing and treating psoriasis in People of Color can help you get the care you need.
While studies suggest psoriasis is more prevalent in white individuals, this may be because psoriasis is not always identified in skin of color. The most common plaque psoriasis symptom is one or more patches of discolored, thick, scaly skin. Plaque psoriasis patches tend to be pink or red with silvery-white scales on people with light skin tones. On medium skin tones, they can appear salmon-colored with silvery-white scales. On dark skin tones, psoriasis patches can look violet, gray, or dark brown, and may be difficult to see. Sometimes, on skin of color, the scale that accompanies psoriasis plaques is so thick that the underlying color is hard to discern.
After they clear, psoriasis plaques may leave behind hyperpigmentation (dark patches), or hypopigmentation (light spots). This is known as postinflammatory dyspigmentation (PID), and it is more likely to occur among individuals with dark skin. It is one of the biggest challenges in treating psoriasis in skin of color, as some individuals who experience it may confuse it with a psoriasis flare-up, and the hyper- or hypopigmented areas can take months to disappear.
As PID tends to develop in areas of skin previously affected by psoriasis, the best way to avoid it is to treat psoriasis flare-ups quickly to prevent plaques from spreading.
It's important to know the nuances of how psoriasis affects People of Color, because you may face challenges when it comes to receiving a diagnosis and effective care. Racial disparities in treatment for psoriasis may stem from medical professionals' poor understanding of and lack of exposure to psoriasis in skin of color. Medical professionals are often trained to identify how psoriasis looks on white skin, and this could be why People of Color are more likely than white people to receive a delayed diagnosis of psoriasis or even a misdiagnosis.
To avoid this, it may be useful to find a dermatologist who specializes in treating skin of color. Organizations such as BlackDoctor.org, the Skin of Color Society, and the American Academy of Dermatology can help you search for a specialist to meet your needs. There are also a number of Ethnic Skin Centers throughout the country that employ dermatologists with expertise and experience treating psoriasis in People of Color.
According to the National Psoriasis Foundation (NPF), psoriasis symptoms are more severe and have a greater impact on quality of life in People of Color than white people. Living with psoriasis can be isolating, but support is out there.
Consider connecting with other People of Color who are affected by psoriasis by joining a support group online or in person. Your doctor may be able to recommend a local support group, or you can turn to established organizations. The Skin of Color Society and the NPF are good places to start, as they provide a wealth of resources, including support groups, on their website.
It is important to remember that stress is one of the most common psoriasis triggers. However, confiding in loved ones and feeling comfortable asking for help may help lower stress levels and prevent flare-ups.
The more you familiarize yourself with the symptoms of psoriasis and how it presents on different skin tones, the better you can advocate for yourself. Work with your medical team, ask questions, and educate yourself about the possible treatment options.
This is important because research indicates that there are racial disparities in psoriasis treatment. For example, Black people with psoriasis are less likely than white people to receive biologic medications, which are often effective treatments. One study indicates that this could be due to a lack of understanding of biologics on the part of patients, which may be a result of healthcare practitioners declining to offer these medications as an option.
You also want to make sure your doctor has experience treating psoriasis in People of Color because some treatment options require special considerations in dark skin. For example, for people who take biologics, postinflammatory dyspigmentation or scarring is more likely to occur among individuals with dark skin tones than light skin tones. If you have concerns, speak to your dermatologist about this treatment as early as possible, as timely treatment of active psoriasis can prevent this side effect.
Likewise, phototherapy treatment – a common psoriasis treatment – may affect People of Color differently than white people. It involves exposing the skin to ultraviolet light. It is useful in slowing down the growth of skin cells, and may be effective for relieving pain and itchiness caused by psoriasis. However, it can also cause the skin to darken. If you have skin of color, phototherapy can cause dark spots on your skin to become more obvious. If you want to prevent skin darkening, be sure to speak to your dermatologist.
If you are a Person of Color, and you think you may have psoriasis, it is important to connect with a doctor as soon as possible to get an accurate diagnosis. It is not always easy, but advocating for yourself, finding the right doctor, and learning all you can about your condition can ensure effective management and treatment.
Was this helpful?