Black People with Psoriasis: 6 Things You Should Know
Was this helpful?
Racial disparities in healthcare have created obstacles for People of Color living with psoriasis. Due to a lack of representation in clinical trials and medical texts, some doctors may not recognize, diagnose, and treat psoriasis on dark skin complexions. Black people managing psoriasis can learn more about this skin condition, find a doctor with experience treating People of Color, and explore the latest biologic treatments as a way to advocate for care.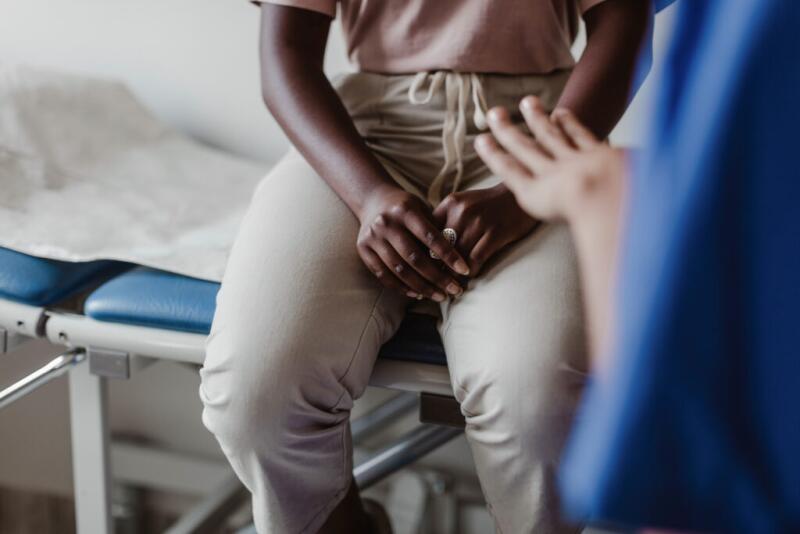 Racial disparities in the diagnosis and treatment of psoriasis led to believe Black people were less prone to developing this chronic skin condition.
However, according to the National Psoriasis Foundation, psoriasis plaques can vary according to the skin complexion. While on lighter-toned skin, psoriasis appears red, psoriasis flare-ups on dark complexions may appear brown or bluish purple and scaling can be thicker and include lesions.
You'll want to be sure your dermatologist has experience treating psoriasis on People of Color to avoid a misdiagnosis and improper treatment. Your dermatologist may not have experience with psoriasis on dark skin.
A 2019 study suggests that Black people may be less familiar or distrustful of biologic treatments, which typically involve injections of drugs that suppress the immune system. Also, the study notes the lack of representation — most advertisements for psoriasis prescription medications featured white people.
Psoriasis flare-ups affect the skin but can also cause emotional distress. A 2014 study suggests Black people with psoriasis may experience a lower quality of life than white people because of how hyperpigmentation (darkening) or hypopigmentation (lighting) appears on dark skin complexions.
If you're a Black person managing psoriasis, this article will detail how to become your own advocate.
A culturally competent medical professional will know how your racial and cultural background plays a role in your healthcare experience. Finding a culturally competent dermatologist — a doctor who specializes in treating skin conditions — who has experience treating dark skin will make you feel confident. You can reach out to your health insurance for dermatologists around your area and ask for their experience treating People of Color. You can also search for Black dermatologists using websites like HUED or the Black Dermatologist Directory.
Phototherapy, which involves exposing skin to ultraviolet rays, can be an effective treatment for psoriasis, but dark skin complexion may require stronger treatments. Phototherapy increases risks for burns or hyperpigmentation.
Some scalp psoriasis treatments include shampoos that must be used daily. This doesn't always align with a Black hair care regimen. Talk with your doctor about alternative treatments such as topical treatments or oral medications that won't interfere with hair care practices.
Consider minimizing some hair care practices as your treat scalp psoriasis. Avoid hard brushing, high heat, and tight hairstyles, all of which can aggravate scalp psoriasis. Speak with a dermatologist if you want to color, perm, or relax your hair.
Consider patient assistance programs. Talk with your employer and review your insurance plan to see the percentage of out-of-pocket expenses you'll need to cover your treatment. Remember to include the cost of prescription treatments.
The National Psoriasis Foundation offers in-person and online resources, such as treatment guides, mobile apps, and support groups — including a support group for children with psoriasis. Also, organizations like the Skin of Color Society advocate for and educate people with diverse skin complexions.
It may take some time until you start noticing results from psoriasis treatment, so be kind to yourself and keep going strong. Track your progress, stay in touch with your dermatologist, and make lifestyle changes to reduce stress levels.
Persistence and patience are the key to managing the symptoms of psoriasis. If you don't feel your current doctor is the best fit, find a new doctor and ask about different treatments.
Black people who are managing psoriasis can advocate for proper care. It's important to learn all you can about the chronic skin condition, find culturally competent care, and be proactive about your treatment.
Was this helpful?