Advocating for Psoriasis Care: 5 Tips for Hispanic Americans
Was this helpful?
Psoriasis care may be challenging for Hispanic Americans, but they can also become their own advocates by finding culturally competent care and confidently asking for the latest treatment options. Joining a support group can also create meaningful personal connections and provide additional resources for managing psoriasis.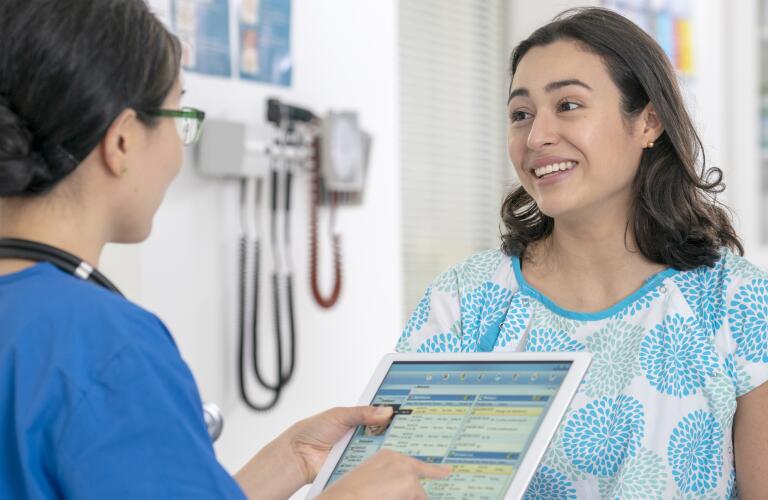 Hispanic people in the United States may be less likely to have psoriasis than white or Black people. Experts estimate that the prevalence of psoriasis in the Hispanic population in the U.S. is about 1.6%, which is lower than the 3.6% prevalence among white people and 1.9% prevalence among Black people. However, these numbers don't reflect other important elements about psoriasis in the Hispanic community. Research suggests that Hispanic people with psoriasis are more likely than white people to experience severe psoriasis, which can lead to potential psychological distress and greater difficulty keeping flare-ups under control. Managing psoriasis without the right tools can take a toll on your health and well-being, but learning how to be your own advocate can empower you to take control.
Learning how psoriasis affects Hispanic people can better prepare you to advocate for yourself when it comes to diagnosis and treatment.
First, consider what it means to have a more severe case of psoriasis. A case of mild psoriasis affects less than 3% of your skin's surface. When 3-10% of your skin is affected, it means you have moderate psoriasis. Experts reserve the "severe" designation for cases that cover more than 10% of your body's surface area.
Moderate and severe cases of psoriasis can affect your quality of life more than a mild case. They also require more intensive treatment. You might be able to manage a mild case with topical therapies and a few lifestyle changes. However, a more severe case might warrant systemic treatment like apremilast (Otezla), a pill that addresses inflammation, or biologics, which are treatments that strategically target part of your immune system. Biologics approved for psoriasis include adalimumab (Humira), secukinumab (Cosentyx), and risankizumab (Skyrizi). These treatments can be very effective, but they can also cause some significant side effects.
5 Tips For People With Psoriasis From People With Psoriasis
If you've started treatment and it just doesn't seem to be working, talk with your doctor about the severity of your condition and potential treatment options. Be sure to ask about the benefits and side effects of any treatment that your doctor recommends.
For a diagnosis and proper treatment of your psoriasis, turn to a dermatologist – a specialist with expertise in caring for skin conditions like psoriasis. You may feel more comfortable with a dermatologist who's familiar with your cultural background and its potential effect on your view of your health and the care you receive. Finding a culturally competent dermatologist who's devoted time to learning more about psoriasis in Hispanic people, as well as the cultural and linguistic aspects of providing care to People of Color, will make you feel at ease when discussing lifestyle changes and treatment options.
One way to find a Hispanic dermatologist is to search online for doctors who speak Spanish. Try using the language filtering feature on Healthgrades.com, which can be found on the search results page within "All Filters."
You may also be able to identify a Hispanic dermatologist through the American Society for Dermatologic Surgery, the Latinx Dermatologist Directory, or huedco.com, which connects patients with medical professionals who are also People of Color. Another resource that may be helpful is the National Hispanic Medical Association, which operates chapters across the nation. If you feel comfortable doing so, ask friends, colleagues, or neighbors for a dermatologist recommendation.
Once you find the right doctor, be proactive about communicating any other changes in your health. Psoriasis is associated with certain comorbidities, such as psoriatic arthritis (PsA) and Crohn's disease, as well as cardiovascular disease, type 2 diabetes, hypertension, dyslipidemia, uveitis, and other conditions. It's important to discuss your risk profile with your doctor and get an idea of how often you should undergo any screenings that might provide useful information.
Research suggests that stress can exacerbate psoriasis and psoriasis can create or exacerbate stress, which can lead to anxiety and depression. If you're living with psoriasis, it may be helpful to monitor yourself for emotional changes. If you notice you're persistently feeling sad, hopeless, empty, helpless, or fatigued, don't brush it off. Those are some common symptoms of depression and seeking out a mental health professional may help you.
The stigma attached to mental health disorders prevents some people from seeking the care they need, and unfortunately, that includes the Hispanic community. According to the National Alliance on Mental Health Illness (NAMI), Hispanic people are less likely to receive treatment for mental health conditions. If you're reluctant to seek care for feelings of anxiety or depression, you may feel more comfortable with a mental health professional who understands your cultural background. Some organizations like Therapy for Latinx and Mental Health America have resources to help you access care and find a mental health professional in your area.
Psoriasis is a chronic condition that can affect many aspects of your life and one way to make it easier on yourself is to remember that you're not alone. Other people are also managing this condition and living a fulfilling life. Consider joining an in-person or online support group to share resources, strategies, and create personal connections. The National Psoriasis Foundation and the Psoriasis and Psoriatic Arthritis Alliance (PAPAA) are great resources to find a support group.
Although living with psoriasis can be challenging, you have the opportunity to become your best advocate. Learn all you can about psoriasis, find support, and connect with a culturally competent doctor who makes you feel confident about managing psoriasis.
Was this helpful?