Advocating for Psoriasis Care: 4 Tips for Black Americans
Was this helpful?
Psoriasis looks different depending on your complexion, and some dermatologists may be unable to give an accurate diagnosis to a Black person due to a lack of experience recognizing psoriasis in skin of color. With the right tools and strategies, Black Americans can advocate for culturally competent healthcare.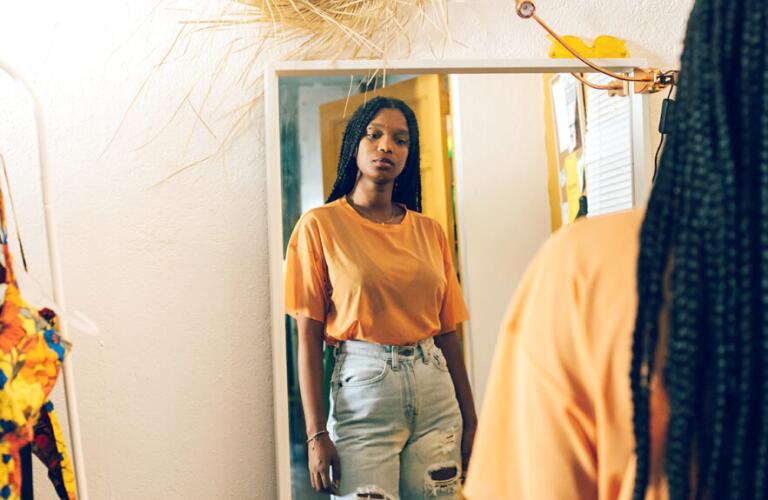 About 7.4 million adults in the United States live with psoriasis. Research suggests psoriasis affects 1.9% of African American adults, but these numbers may be higher than reported because many People of Color face challenges receiving accurate diagnoses and effective treatment.
Psoriasis looks different on darker complexions than lighter complexions, but doctors are not always trained or experienced in recognizing these nuances. This leads to delayed diagnosis and barriers to receiving effective care. Learning how to advocate for yourself as a Black person with psoriasis will ensure you receive the psoriasis care you need.
You can't get the right treatment if you don't get the right diagnosis. However, some dermatologists might not diagnose psoriasis in a Black person right away because they may not be experienced or trained in recognizing psoriasis on dark skin. In lighter skin tones, psoriasis plaques tend to be red or pink with white or silvery scales. Psoriasis on a person with a darker skin tone may look like purple or dark brown patches that can be hard to see. Also, the scales are more likely to be darker in color. In some cases, if a dermatologist is not familiar with the appearance of psoriasis in Black skin, they might be ill-equipped to make a diagnosis. That's one reason why finding the right dermatologist is so important.
Finding the right dermatologist is the first step to receiving a psoriasis diagnosis and effective treatment – but it can be difficult to connect with someone you trust, who understands the nuances of your experience. You may want to seek out aBlack dermatologist, who may have insight and experience treating this condition in other Black individuals. You can ask your primary care doctor for a referral, as well as friends, colleagues, or other people living with psoriasis. Resources like blackdoctor.org, huedco.com, and the Skin of Color Society can also help you find a Black doctor with relevant experience in your area.
5 Tips For People With Psoriasis From People With Psoriasis
Another option is to find a dermatologist who is trained in culturally competent care, or who has lots of experience treating psoriasis in People of Color. Don't hesitate to ask your doctor if they've completed any education or training in caring for Black people's dermatological needs or inquire how many Black patients they've treated with your particular skin condition. Since psoriasis can affect the scalp – which means treating it can potentially affect a person's hair – it's important for a doctor to understand how psoriasis and psoriasis treatments interact with Black hair and Black hair care products, too.
Once you receive a diagnosis, you can start treatment. If your psoriasis is relatively mild, your doctor might start you out on a topical treatment. If your psoriasis plaques cover more than 3% of your body, this is considered moderate psoriasis and may require phototherapy or other systemic treatment.
Some side effects of psoriasis treatments, such as dyspigmentation, are specific to Black people or other People of Color. This means that you might experience some discolored skin patches after undergoing certain kinds of treatment. Extended use of topical steroids can sometimes cause scarring or dyspigmentation. Also, compared to white people, Black people may need higher doses of phototherapy, or ultraviolet light therapy to effectively treat psoriasis. Talk with your doctor about potential side effects or if you experience an allergic reaction to the treatment. You can always ask for a different treatment. There's no reason to settle for a therapy that isn't working, or that comes with challenging side effects.
If you are still struggling to get your psoriasis under control, and your dermatologist has not suggested biologic treatment, it may be the next option. Biologics are targeted treatments that block the specific actions of certain types of immune cells or proteins in the immune system in order to lower inflammation. Biologics, which are given via injection or infusion, can be very effective in treating moderate to severe psoriasis, especially when someone has tried other treatments without success.
However, racial disparities exist when it comes to access to biologics. In a 2015 study of older adults, Black people were 69% less likely than white people to have received biologic treatment for psoriasis.
A number of factors may be at work, including lack of health insurance, lack of health insurance coverage for expensive biologic treatments, and misperceptions about biologic treatments among Black people. The latter may be a result of underrepresentation in advertisements and education about psoriasis treatments. In fact, in the 2015 study, Black participants were not familiar with many biologic therapies and were hesitant to embrace a therapy that involves needles. Also, they worried about potential side effects.
Talk with your doctor about the benefits and risks and decide how you want to proceed.
The best way to ensure that you get the psoriasis care that you need is by educating yourself about potential barriers and communicating effectively with your doctor. Although you may face barriers, effective, culturally sensitive care is available, and it's worth it to find relief and manage your psoriasis.
Was this helpful?