6 Things to Know About Scalp Psoriasis
Was this helpful?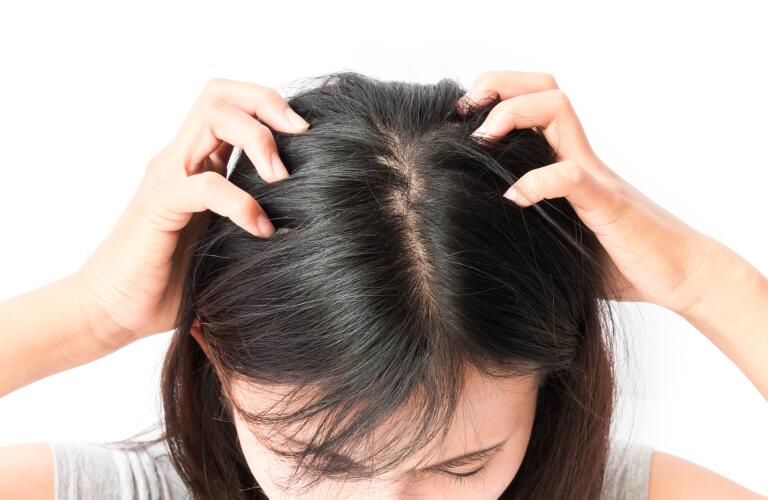 In North America, as many as 2% of the population live with psoriasis, a medical condition causing red, itchy, scaly patches on the skin. Psoriasis is a chronic condition, and most people experience flare-ups throughout their lives. You may think psoriasis occurs only on the visible parts of the skin, but the condition can affect skin anywhere on the body.
5 Tips For People With Psoriasis From People With Psoriasis
For many, psoriasis affects skin on the scalp. And while some psoriasis patches may be easy to hide with hair, others may be large enough to be noticeable. Fortunately, scalp psoriasis is treatable. With your doctor's help, you can develop a plan for managing the symptoms of scalp psoriasis.
Research shows as many as 80% of people living with psoriasis have patches occurring on the scalp. Psoriasis patches may appear anywhere on the head and may even cover the entire scalp. For some people, scalp psoriasis extends beyond the hairline, affecting the forehead, neck, and the skin around the ears.
If you have scalp psoriasis, your symptoms may include:
Changes to your skin. The skin affected by scalp psoriasis may be discolored or inflamed. In some cases, skin gets thicker where psoriasis patches appear.
Dry skin. The skin of your scalp may be much dryer than normal. In some cases, dryness leads to cracking and bleeding.
Flaking. For many people, scalp psoriasis resembles dandruff. Flaking, scaly skin may be present—but unlike dandruff, scalp psoriasis is usually silvery-white in color. A silvery sheen may also be present on the skin of the scalp itself.
Itching. Most people with scalp psoriasis report itching, which is sometimes severe. According to one poll, 43% of people said that itching was the most bothersome symptom of scalp psoriasis.
Bleeding. Dry, itchy skin on or around psoriasis patches may lead to excessive scratching. If this occurs, your scalp may bleed. Scratching may also actually worsen psoriasis, making patches larger and the underlying skin thicker.
Burning or soreness. In places where psoriasis occurs, your scalp may be sore or feel as though it was burning.
It's possible for scalp psoriasis to occur by itself—there doesn't necessarily have to be a flare-up elsewhere on your body for scalp psoriasis patches to form. Like psoriasis elsewhere on the body, scalp psoriasis flare-ups come and go over time. While doctors don't know exactly what causes a psoriasis flare-up, it's thought the condition occurs in response to certain stressors or environmental triggers.
Because scalp psoriasis often causes intense itching, you may be more likely to scratch your scalp during flare-ups. But excessive scratching, or using force to remove psoriasis patches on your scalp, can damage your hair and lead to temporary hair loss. Fortunately, hair usually returns when flare-ups disappear.
Many people with scalp psoriasis still get their hair done professionally. To date, there is no evidence that any hair dyes, sprays, or perms makes scalp psoriasis worse.
Because the skin of the scalp is covered by hair, scalp psoriasis can be more difficult to treat. In many cases, the condition requires different treatments beyond typical skin medications. Your doctor may recommend medicated foams, sprays, or shampoos to help manage your symptoms.
Doctors are working diligently on new treatments to successfully manage scalp psoriasis. As personalized medicine gains traction, research efforts are shifting toward the use of certain immune system cells, called monoclonal antibodies, to stimulate the immune system to stop psoriasis patches from forming.
Living with scalp psoriasis can be challenging, but the condition can be treated with your doctor's help. If you're concerned about scalp psoriasis or are interested in exploring therapies that may work for you, talking with your doctor is the first step in finding effective ways to manage your symptoms.
Was this helpful?