5 Tips for People of Color to Improve Quality of Life with Psoriasis
Was this helpful?
People of Color may be slightly less likely to receive a psoriasis diagnosis than white people, but the impact on their quality of life may be worse. Learning how to advocate for yourself and getting the care you need can help you manage your psoriasis and improve your well-being.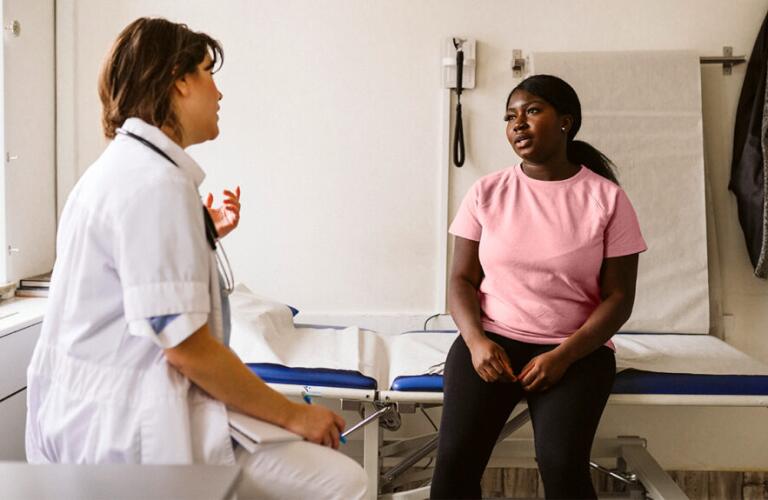 Psoriasis can have a significant impact on a person's quality of life, regardless of their race. However, research suggests the psoriasis experience is different for People of Color compared to white people. A 2019 study indicates that People of Color tend to have more severe psoriasis than white people – and a poorer quality of life as a result. However, if you are a Person of Color with psoriasis, you can advocate for yourself and find treatment that improves your quality of life.
One of the first ways to improve your quality of life is to understand how psoriasis affects you as a Person of Color. This can empower you as you make decisions about your care.
Psoriasis looks different depending on your complexion. A person with a light skin tone typically develops red or pink patches of thickened skin, often with silver scales. A person with a dark complexion is more likely to develop purple, violet, or even dark brown plaques with gray scales. Higher levels of melanin and increases in pigment can reduce the visibility of those plaques on dark skin.
Because psoriasis plaques may blend in with your natural skin tone, it may be harder for your doctor to diagnose you with psoriasis and, therefore, begin treatment right away.
A culturally competent doctor can make a big difference in your experience with psoriasis – they will have received training in the nuances of how race and cultural background impact how you experience psoriasis and navigate the healthcare system. They'll also be better equipped to recognize psoriasis in skin of color, make a timely diagnosis, and provide you with the most appropriate treatment. Finding a culturally competent dermatologist can make you feel more comfortable about expressing your concerns, such as the impact of scalp psoriasis or light colored patches that may develop as a side effect of treatments. A 2019 study suggests that Black patients are more satisfied with their treatment when receiving dermatology care in a specialized clinic for skin of color, which is more likely to staff Physicians of Color or culturally competent doctors.
You can ask your primary care doctor to recommend a dermatologist, or you can check with friends or acquaintances who are People of Color. Also, the Skin of Color Society offers a variety of resources to find culturally competent care.
The more you know about how psoriasis tends to affect People of Color, the more empowered you will feel to speak up. If you're unhappy with the treatment you're receiving – that is, you're not getting the results you want and you're still experiencing significant discomfort and pain – talk with your doctor about other treatment options. You might benefit from starting a biologic treatment, a medication that targets a very specific part of your immune system. Research suggests that People of Color are less likely to undergo biologics treatment for psoriasis, so you may need to be more specific with your doctor about asking if certain medications are appropriate for you.
You may feel nervous about advocating for yourself and that's completely normal. Remember that getting the care and treatment you deserve is your right. Although advocating for yourself requires you to be proactive, it will improve your health, well-being, and quality of life.
The right treatment can make a huge difference in your day to day, but making a few lifestyle changes can also be helpful. Experts often suggest the following strategies to improve your overall health and reduce psoriasis flares:
quit smoking
limit your alcohol consumption
eat a healthy diet
maintain a healthy weight
exercise regularly
see your dermatologist as recommended
The American Academy of Dermatology (AAD) also recommends getting regular screenings for other health conditions, such as diabetes, high blood pressure, and glaucoma.
Embracing lifestyle changes and following your doctor's recommendations can help you manage psoriasis and improve your quality of life.
Having psoriasis can be isolating, because you are managing a chronic disease that your friends and family may not understand. They might not appreciate your needs or the toll this disease takes on you. You may even feel uncomfortable enough to withdraw from your social circle, which can compound the feelings of isolation. Isolation may also contribute to feelings of anxiety and depression.
A support group can help you connect with other people living with psoriasis in your community. You may also prefer the convenience or anonymity of an online support community. The National Psoriasis Foundation offers resources and mentorship programs for people navigating psoriasis.
Living with psoriasis can impact every aspect of your life, but you're not alone and you've got tools to help you navigate. By understanding how psoriasis affects you, connecting with the right doctor, committing to lifestyle changes, and leaning on others for support, you can improve your quality of life and keep your condition managed.
Was this helpful?