4 Unique Challenges Facing People of Color with Psoriasis
Was this helpful?
Living with psoriasis can be difficult, and People of Color may experience additional obstacles with diagnosis and treatment. Due to disparities in healthcare, some doctors may not diagnose psoriasis on dark skin complexions. Black people can advocate for themselves by learning more about psoriasis and finding culturally competent care.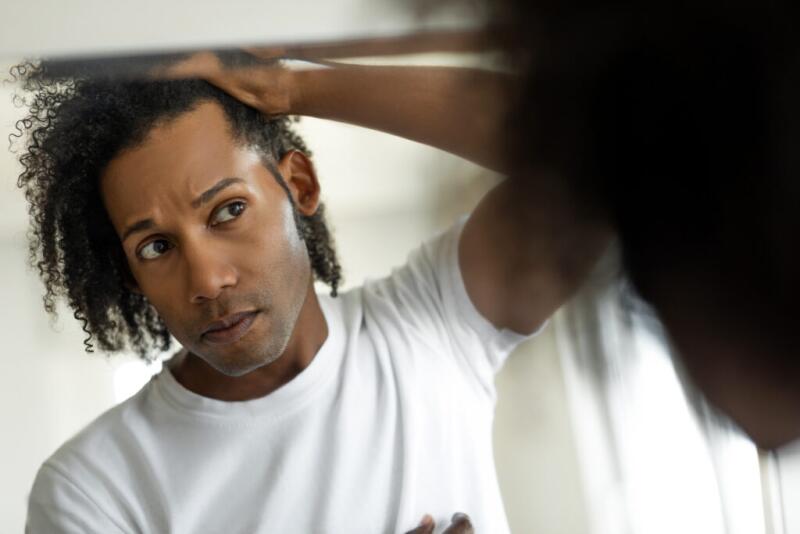 Psoriasis is a chronic skin condition caused by an abnormal immune system response. Psoriasis is most prevalent among non-Hispanic white men and women but also affects people from other racial and ethnic groups, including Black, Hispanic, and Asian communities.
However, diagnosing, treating, and living with psoriasis can be more challenging for People of Color. It's important to learn all you can about this skin condition, find doctors with experience treating psoriasis on dark skin complexions, and explore the latest treatment options.
This article details the challenges People of Color with psoriasis face and how to advocate for improved treatment.
Plaque psoriasis is the most common type of psoriasis, and it's often described as dry, red, and scaly patches of skin. However, People of Color with dark skin may notice gray, brown, or purple patches, which can be difficult to diagnose.
Also, People of Color are more likely to experience changes in skin pigmentation after psoriasis heals. Both hypopigmentation (lighter areas of skin) and hyperpigmentation (darker areas of skin) may occur, and changes can take months to resolve.
Psoriasis on dark skin can also be hard to differentiate from other skin conditions, such as lichen planus and sarcoidosis. A skin biopsy and a thorough skin examination to look for other distinguishing features of psoriasis may be needed for a proper diagnosis.
The severity of psoriasis also appears to vary among racial and ethnic groups. A 2017 study suggests Asian and Hispanic people may have more severe psoriasis than white people. Asian Americans, in particular, may have a higher percentage of their skin surface covered with psoriasis.
Although psoriasis is a skin condition, it can also have emotional and social effects. Compared with white people, Asian, Hispanic, and African Americans have all been reported to experience greater impacts on their quality of life. A study of Latino Americans with psoriasis also found higher rates of preexisting medical conditions, such as depression, obesity, and diabetes than white people in the United States.
In addition to experiencing more severe cases of psoriasis and lower quality of life, racial disparities in healthcare can cause other obstacles for People of Color seeking treatment. A 2018 study suggests Black and Asian Americans are 40% less likely than non-Hispanic white people to see a dermatologist for a psoriasis diagnosis.
Biologics are a newer and highly effective treatment for more severe psoriasis. However, Black people with psoriasis were less familiar with biologics as a potential treatment option. Also, some research notes a lack of representation of People of Color in advertisements for psoriasis treatments — leading to the lack of knowledge about treatment options. A 2019 study suggests Black people are less likely to receive biologics for skin disease than white people.
A culturally competent doctor will take into consideration your racial and cultural background when approaching care. , They will have experience diagnosing and treating psoriasis in different skin complexions.
If you're a Person of Color, it can be beneficial to find a culturally competent doctor who can help you create a plan for psoriasis management. Your insurance provider can help you identify doctors in your area and you can call their offices ahead and ask questions. Also, the Skin of Color Society has a database to help you find medical professionals.
Living with psoriasis as a Person of Color may come with different challenges, but it's also an opportunity to be proactive about your care. Learn all you can about psoriasis, find a culturally competent doctor, and make any lifestyle changes that help improve your well-being.
Was this helpful?