Choosing a Doctor for Your Pregnancy
Was this helpful?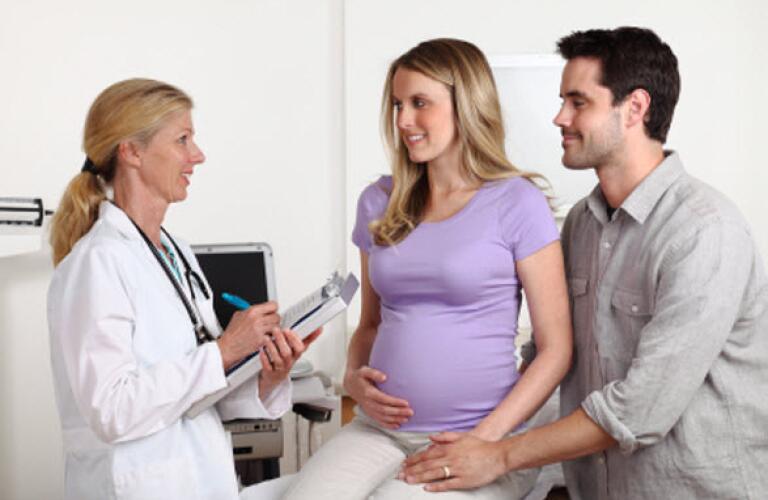 If you're pregnant or planning to conceive, having the right doctor is an essential part of your experience—and your regular Ob/Gyn may not fit the bill. Aside from trusting this person to bring your baby into the world, you'll also being seeing him or her regularly throughout the pregnancy. Whether you're evaluating your current doctor or seeking a new one, keep these factors in mind to find the best fit for your family.
More than one kind of healthcare provider can help you have a successful pregnancy.
Obstetricians are doctors who specialize in caring for pregnant women and delivering babies. They also perform surgery including cesarean section (C-section). Women who have health problems or are considered at high risk should be seen by an obstetrician or maternal-fetal medicine specialist—a doctor who specializes in complicated pregnancies.

Family medicine doctors and midwives are other healthcare providers who can also see you through pregnancy and delivery, but they cannot perform cesarean births.
To get started, ask your primary care doctor for a referral list. Family, friends and other healthcare professionals are good sources for referrals. Ask people you respect which doctor they recommend for pregnancy and what specifically they like about the doctor. You can learn a lot by talking with others.
If you're starting without any referrals, or you're looking for more options, search for obstetricians and other providers on Healthgrades.com. Healthgrades.com shows patient satisfaction ratings, which give you insight into how your own experience might be with the doctor. Patients rate the doctor and the doctor's medical practice, and say if they would recommend the doctor to family and friends.
Take time to research the doctors' credentials and experience. Look for a doctor who is board certified in his or her specialty and sees pregnant women on a regular basis. The more experience a doctor has, the better your results are likely to be.
Also, confirm the doctor is in good standing with state and federal agencies and he or she has no history of malpractice claims or disciplinary actions.
You'll find all this information on Healthgrades.com.
Pregnancy and delivery often requires a team of highly skilled and experienced healthcare providers. So you should also consider the overall quality of maternity care at the hospital where the doctor practices.
Find out where the doctors on your list can deliver babies. Then research those hospitals on Healthgrades.com. Ideally you should find a hospital in your area that performs better than expected (5 stars) for maternity care. Then find a doctor who can admit and deliver babies at this hospital. As an added precaution it's best to choose a hospital that has a qualified neonatal unit. Avoid hospitals with lower than expected (1 star) results.
If a particular hospital falls short in quality, ask if the doctor also operates at a different facility. Otherwise, find a doctor who delivers babies at a hospital likely to offer you the best possible outcome.

Although you may have many excellent doctors to choose from, not all will fit your practical needs. For example, does the doctor accept your health insurance? How close is his or her office location, and what are the office hours? Will you always see the same provider at each visit? At which hospital does he or she deliver?
Keep in mind, just because a doctor participates in your insurance plan or is convenient doesn't mean he or she is a high-quality doctor. You still need to consider the doctor's experience and expertise.
Once you've gathered all this information, compile a short list of providers you're considering. Then, call their offices to double-check that the doctor fits your practical needs. For example, confirm he or she participates in your insurance plan, and ask if the doctor is accepting new patients. As you narrow down your list, call each doctor's office and ask to schedule an introductory meeting to learn more about the doctor's style and experience.
It's important that you feel comfortable with your doctor. You'll work closely with him or her during your pregnancy and need to be able to share your concerns. When you meet with a doctor, consider how comfortable you feel. Does the doctor listen to you and answer your questions in a way you understand?
The doctor should also respect your personal desires for your birth experience—such as, a water birth or having the baby stay in your room. Finding a doctor who's willing to discuss your desires and who delivers at a hospital that offers the birth experience options that are important to you.
Was this helpful?